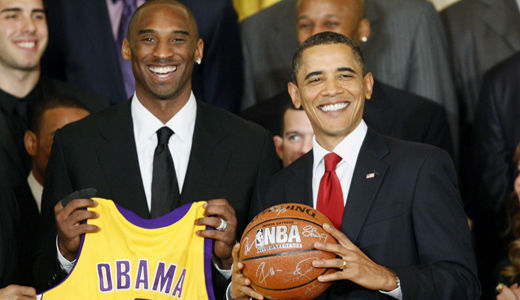 U.S. troops injured in the line of duty, often called "wounded warriors," along with participants in the White House mentoring program got to see what many people dream of, watching NBA's superstars do what they do best. And basketball fan President Barack Obama was out on the court playing with them to celebrate his birthday, August 8.
Among the remarkable list of athletes playing that day at Ft. McNair in Washington, D.C., were Miami's trio LeBron James, Dwyane Wade, and Chrish Bosh. The list continues with Carmelo Anthony, Derek Fisher, Chris Paul, Chauncey Billups, Grant Hill, Derrick Rose, David West and Paul Gasol.
Women's basketball college star Maya Moore of the Connecticut Huskies, the team that has won its last 78 games, also joined the friendly pick up game, as did the recently retired Alonzo Mourning.
Hall of Famers Bill Russell and Magic Johnson were also there to meet the troops, as was NBA Finals MVP Kobe Bryant, who just underwent arthroscopic knee surgery and is also healing from a finger injury.
Reporters who were assigned to keep tabs on the president were shut out of the gym and had to wait in vans outside. When asked why media coverage was blocked, White House press secretary Robert Gibbs said Obama "just wanted to play."
With Mrs. Obama and his daughters on vacation, the president apparently decided to do some things alone this past weekend. He played golf Saturday with friends at Andrews Air Force Base. On Sunday, his birthday, a small tent and tables decorated with sunflowers and yellow and white tablecloths were set up on the South Lawn for the post-game celebration. The meal included shrimp from the Gulf of Mexico.
During the 2008 campaign Obama reportedly played basketball on the morning of each primary for good luck. He has attended many games in recent months from Duke to his hometown Chicago Bulls, and on Aug. 1 took his youngest daughter Sasha to see the WNBA's Washington Mystics.
Photo: President Obama with LA Lakers guard Kobe Bryant, in the East Room of the White House, Jan. 25, during a ceremony honoring the 2009 NBA basketball champions. (AP Photo/Charles Dharapak)