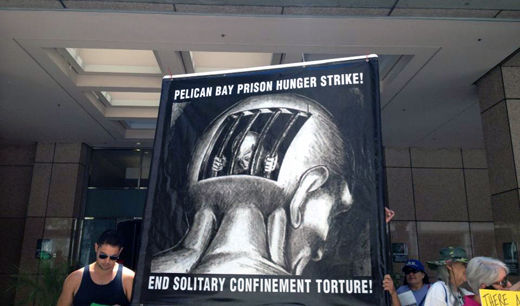 A hunger strike by California prison inmates protesting prolonged solitary confinement is now well into its third week, despite harassment of strikers including moving strike leaders into even deeper isolation.
The strike, which started July 8, resumed protests begun two years ago when inmates held two three-week-long hunger strikes . This time some 30,000 inmates across the California prison system started refusing meals – the largest prisoner protest ever in the state. As of July 22, prison officials said over 700 were still on strike in 10 prisons.
Over 3,000 inmates are reportedly in solitary confinement in California; some are serving specific terms for particular offenses while others are confined for an indefinite period.
Nearly all inmates who land in solitary confinement in Secure Housing Units, or SHUs, are there because of alleged ties to prison gangs, including being seen talking with gang members, having gang-related tattoos or reading materials.
Though the California Department of Corrections and Rehabilitation (CDCR) says a program it started last fall eases the criteria for assuming gang ties and sets up a path to move out of solitary confinement, inmates say the main way to get out of the SHU is still "debriefing," or informing on another inmate.
While the new procedures do offer a path out of the SHU without snitching, the process is still tortuous, Laura Magnani, program director for healing justice with the American Friends Service Committee's San Francisco office, said in a telephone interview.
Prison authorities "are holding hearings on everyone, but so slowly that most inmates in solitary confinement don't feel it," she said. "Half those who have been interviewed are transferred to the general population. But at the current rate it would take eight years to get through the whole population. They feel they've heard the more difficult cases and the pace will pick up."
Magnani said two big problems remain: CDCR "still has tremendous discretion" in how gang association is defined, and there is still no limit on the number of years someone can be held in solitary.
The prisoners say placing them in prolonged isolation – in some cases for over 20 years – amounts to torture. Their "core demands" include ending group punishment, changing the way inmates are determined to be gang members, ending long-term solitary confinement, providing enough nutritious food, and providing more constructive programs and activities for SHU inmates.
Early in the strike, 14 inmates publicly identified as protest leaders were moved into deeper isolation in "Administrative Segregation." Attorneys said authorities had taken legal papers from some of them. One attorney was barred from meeting with inmates.
Security Housing Units were set up in 1989 and were originally intended for punishments of no more than 180 days. But at Pelican Bay State Prison, about 500 inmates have been in SHUs for over 10 years, about 80 of them for over 20 years. Each SHU is a windowless 80 square foot cell with a meal slot in its perforated steel door. Beds and desks are formed from concrete slabs molded to the wall. Inmates exercise alone in a tiny concrete pen. Occasional visitors provide the only human contact.
Amnesty International issued a report last year detailing conditions in the SHUs.
State legislators have also expressed concern. Earlier this year, Assemblyman Tom Ammiano, D-San Francisco, who chairs the Assembly's Public Safety Committee, held a hearing on solitary confinement. In a statement, he urged prison officials "to make more progress in establishing fair and humane policies."
The Coalition for Constitutional Rights has filed a lawsuit on behalf of 10 SHU inmates at Pelican Bay State Prison who among them have spent over 200 years in solitary confinement.
Inmate advocates are urging calls and a petition to California Governor Jerry Brown, to press CDCR to negotiate an end to the strike. Their petition is posted on the web site of the Prisoner Hunger Strike Solidarity Coalition, along with updates including support actions around the state.
Photo: Rossana Cambron/PW