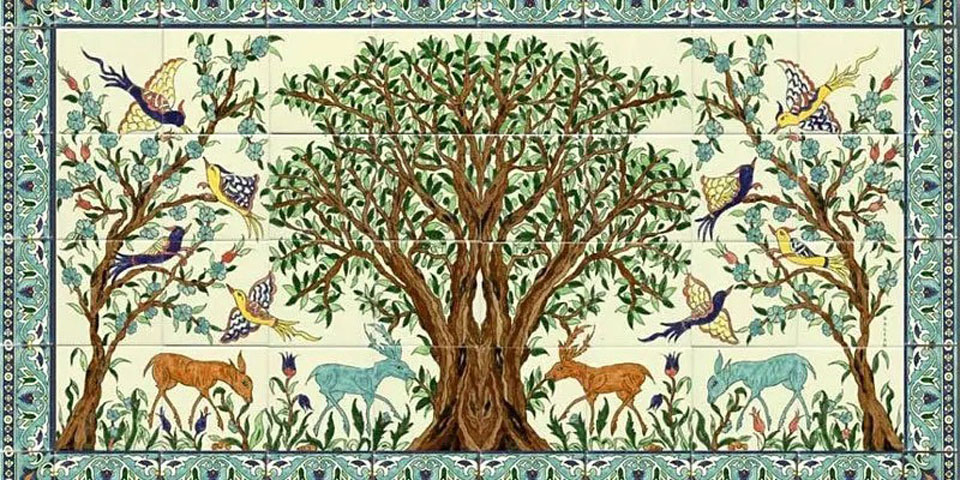 Have you ever attended a birthday party for trees?
Now's your chance! The Jewish holiday of Tu B'Shvat (meaning the 15th of the Hebrew month of Shvat) celebrates the birthday, or new year, of trees. Originally, this date in the late winter/early spring was set to enumerate trees and calculate the beginning of the agricultural cycle for the purpose of tithes. Trees being vital to the welfare, health and economy of any society, especially one in such an arid part of the world, they were naturally also a source of tax collection.
Nowadays, Tu B'Shvat carries a more generalized and universal resonance as a celebration of the many gifts of trees, including their fruit.
A forthcoming virtual Tu B'Shvat event to honor the "birthday of trees" and promote equal rights and social justice in Israel-Palestine will include a group reading from Jews, Palestinians, and other activists as they acknowledge and mourn the ongoing suffering endured by Palestinians from the founding and expansion of the modern state of Israel.
You can plan your own home seder, or ceremonial meal (such as at Passover) with wine, fruits, nuts and seeds from trees as readings are offered from an original "Haggadah" or program book, for which registrants will be sent a link.
The seder takes place on Sunday, Jan. 23 starting at 2:00 pm Eastern Time, and will last for an hour and a half.
Since 2000, the uprooting of more than one million olive trees by the State of Israel to make way for Jewish settlements and the Apartheid Wall in the West Bank has wreaked incalculable damage on a primary source of food and income for thousands of Palestinian farmers. Jewish Voice for Peace (JPV) Detroit joins the Jewish tradition of updating tradition by observing Tu B'Shvat as a festival of healing and reconciliation.
The online seder will be an opportunity to reexamine the history of Israel-Palestine, and advocate for equal rights and social justice. Tikkun calls Rabbi Brant Rosen of Tzedek Chicago "the voice of a new generation of American Jews who are refusing to allow the right-wing voices of the Jewish world to define Judaism." Rabbi Lynn Gottlieb is known as one of the first women to become a rabbi in Jewish history. She's a pioneer Jewish feminist, human rights activist, writer, visual artist, ceremonialist, community educator and master storyteller. Both will take part in the program.
Aside from the history lesson, the seder will explore options for creating equal rights and social justice in the area and promote environmental consciousness. Donations are encouraged—but not required—for Palestinian farmers to replant olive and other trees destroyed by the Occupation. These can be made here through the nonprofit MECA (Middle East Children's Alliance).
Attending the seder is free, though of course you'll have to supply your own tree fruit, nuts and seeds. The contact person is Barbara Barefield at jvpdetroit@gmail.com. The website where you can register is here.
Happy birthday to trees, happy birthday to trees….