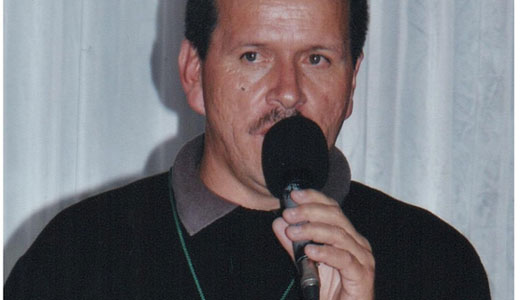 PITTSBURGH (PAI) – International union organizations are joining a drive, started by Steel Workers President Leo Gerard and the USW's European union ally, Workers Uniting, to free top Colombian labor leader Huber Ballesteros "without delay."
Ballesteros is vice-president of Fensuagro, Colombia's largest farm workers union, and on the executive council of the United Workers Center (CUT), Colombia's largest labor federation. He's also an activist in trying to settle Colombia's long war against groups of insurgents – a war that made Colombia the deadliest nation in the world for unionists for the last two decades.
But Colombian police jailed Ballesteros on vague charges of "rebellion" and "financing terrorism" on August 25, as he planned to pick up a visa to fly to England. That prompted Steel Workers President Leo Gerard and Workers Uniting General Secretary Len McCluskey immediately to demand his release. In mid-October, other unions joined their movement for his freedom.
"It is somewhat alarming that in spite of assurances the current government is committed to demonstrating respect for trade unionists, opposition movements, and their activities, a trade union and peasant farmer leader as respected as Huber Ballesteros is arrested in what we understand as a clear effort to disrupt the work of the trade unions currently involved in organising industrial action in different parts of the country," Gerard and McCluskey wrote to Colombia's attorney general and its presidential human rights monitor.
"We know that since August various trade unions have been organizing strike action and that Mr. Ballesteros, in addition to his roles in the CUT and Fensuagro, which are both involved in the strikes, was one of 10 spokespersons in the Mesa de Interlocución y Acuerdo, the body set up to negotiate with the government.
"Democratic protest is a fundamental part of any democracy and we are extremely concerned that one of the lead organisers and strike spokesmen has been treated in this way."
Last week, the British Trades Union Congress – the UK's equivalent of the AFL-CIO – and the online labor group LabourStart joined the drive to free Ballesteros. No response has been received from Colombia yet.
On his trip, Ballesteros had been scheduled to address the Workers United convention in September and meet lawmakers and labor leaders. Ballesteros is a also a top member of the Latin American nation's Patriotic March, a coalition campaigning to make social justice a key part of any peace settlement in Colombia.
Photo: Huber Ballesteros. Change.org