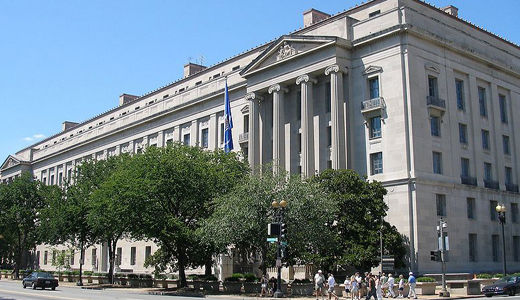 Many social networks are filled with false information about people – from fake screen names to false details about appearance. Now, reports Digital Trends, the U.S. Department of Justice wants to exploit an existing anti-hacking law to make it a federal crime to tell lies on the Internet.
In what could become a troubling violation of both privacy and freedom of expression, the DoJ's pretense is thus: They only seek to make it a federal crime to specifically violate a website's terms of service by lying. Even so, this would mean, for example, that dating site users could be deemed criminals if they lied about their hair color. Facebookers who lied about their age, or used a fake name instead of their real ones – even if it were a pen name – would also be targeted by the law.
The exact anti-hacking law being manipulated here is the Computer Fraud and Abuse Act, a 1986 amendment made to the Counterfeit Access Device and Abuse Act passed two years prior. This law was only meant to target hackers and perpetrators of serious cyber crimes. But reportedly, on Tuesday, DoJ deputy computer crime chief Richard Downing argued in a statement before Congress that, through use of this law, prosecutors must be given the ability to charge people based on terms of service violations with website and social network providers.
Despite the fact that the proposed CFAA exploitation would inhibit the privacy of casual social networkers, Downing makes the counter-argument that concerns over identity theft and privacy invasion have resulted in the proposal.
This aspect of the CFAA has been explored before. In 2006, reports CNET News, a woman named Lori Drew created a fake MySpace account and posed as a teenager named "Josh Evans" to troll and verbally assault her daughter's ex-friend – 13 year-old Megan Meier. After a particularly hurtful barrage of comments came Meier's way, she committed suicide in October of that year. The CFAA was then utilized to indict Drew for violating MySpace's terms of service, after Missouri prosecutors could previously not prove that Drew broke any laws. Her conviction was later thrown out.
While this example was certainly troubling, Drew's attorney had noted that the law was "flawed, unconstitutionally vague, and tried to criminalize behavior committed by millions of people online every day."
While cyber-bullying is a serious issue, Drew's attorney was not incorrect. The DoJ's proposed usage of the CFAA would indeed implicate millions of American social networkers and web browsers as guilty of federal crimes.
A letter was sent to the Senate in August by a coalition that included the American Civil Liberties Union and the Electronic Frontier Foundation. In it, they argued, "If a person assumes a fictitious identity at a party, there is no federal crime. Yet if they assume that same identity on a social network that prohibits pseudonyms, there may be a CFAA violation. This is a gross misuse of the law."
Photo: Department of Justice building in Washington D.C. Coolcaesar/Wikipedia