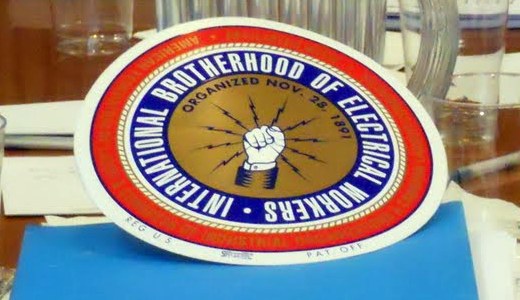 Laptops might forever replace leaflets as the way people get the word out when they want to form unions at their workplaces.
A union organizing campaign at a can plant north of New York City finally succeeded this year after workers at the Anheuser-Busch InBev Metal Container Corporation in Newburgh had failed twice, in recent years, to form a union.
The workers at the plant attribute their victory to a totally new form of union organizing. It involved no leaflets, no T-shirts, no secret meetings in people's homes, no bosses singling out the individuals responsible for the organizing drive, no fear of talking among themselves on the shop floor and a company management unable to harass or fire a single worker.
Did the city of Newburgh pass its own private version of the Employee Free Choice Act in order for this to happen?
No.
The organizers from Local 363 of the International Brotherhood of Electrical Workers decided to scuttle the traditional methods of organizing and set up a slick, anonymous website with a special blog for the 164 employees to debate, strategize, and ask questions. The website then served as the vehicle for the workers to come together and eventually win their battle.
Sam Fratto, the local's assistant business manager who served as lead organizer, filled the Peoples World in on the details:
"We responded to their call for help," Fratto said. "Previous attempts to organize with the Steelworkers and the Teamsters had failed. The told us how afraid they were to even talk to one another on the shop floor. Some remembered how the company retaliated against previous organizers, even firing some of them.
"So, we said, 'Okay, get us signed pledge cards and we're going to do something completely different this time. They got 100 out of 163 to sign, more than enough. We immediately set up an anonymous blog.
"It was basically a 24-hour-a-day union and campaign meeting. The workers got involved and it allowed people to weigh in with concerns and issues before and after their shifts. 2 a.m. in the morning, if they wanted to. Gone was the fear they had, like the last two times, to speak their minds."
Rick Lewis, a 20-year veteran at the plant who had been through the previous union election defeats, said, "the blog made the impossible possible."
He said that it didn't even matter when workers realized the company was monitoring the website. "What mattered was that workers felt comfortable coming forward with their ideas about how to build a better workplace."
The company tried to counter with its own website, but it lacked two-way communication and fell flat on its face, according to Fratto.
"The beauty of what we did," the organizer said, " is that the company couldn't stop it. They had their captive audience meetings. On the website, the workers had already discussed what they would do: go to the meetings and remain silent. They tried to get people to spill the beans about the campaign. But we had already planned our response on the website. The workers remained silent. And since nobody wore any T-shirts or carried any fliers or stickers – who could they put the pressure on? No one."
The blog started one night last June with a direct, dramatic posting: "Fellow Can Plant Workers: Follow Us Here. In these tough economic times, it is very stressful for every middle-class family when it comes to worrying about work or what will happen at work. It is less stressful when you work under a written contract. This election will be successful because it is being handled by the workers themselves – as a group."
Workers were anxious for union representation because InBev, the Belgian company that took over Anheuser-Busch in 2008, has been pushing for reductions in wages, benefits, for larger health care co-pays and for numerous other concessions.
Now that negotiations are underway, workers are continuing the website where they discuss issues such as overtime, disciplinary procedures, scheduling and medical leave.
"This site is great," said 22-year veteran Joe DeStefano. "There's been a significant improvement in company/worker relations since it started."
"We need a safe place away from work to share our thoughts," another worker wrote anonymously."
Image: An IBEW sticker sits atop the table used for contract negotiations. Courtesy of the workers' blog.