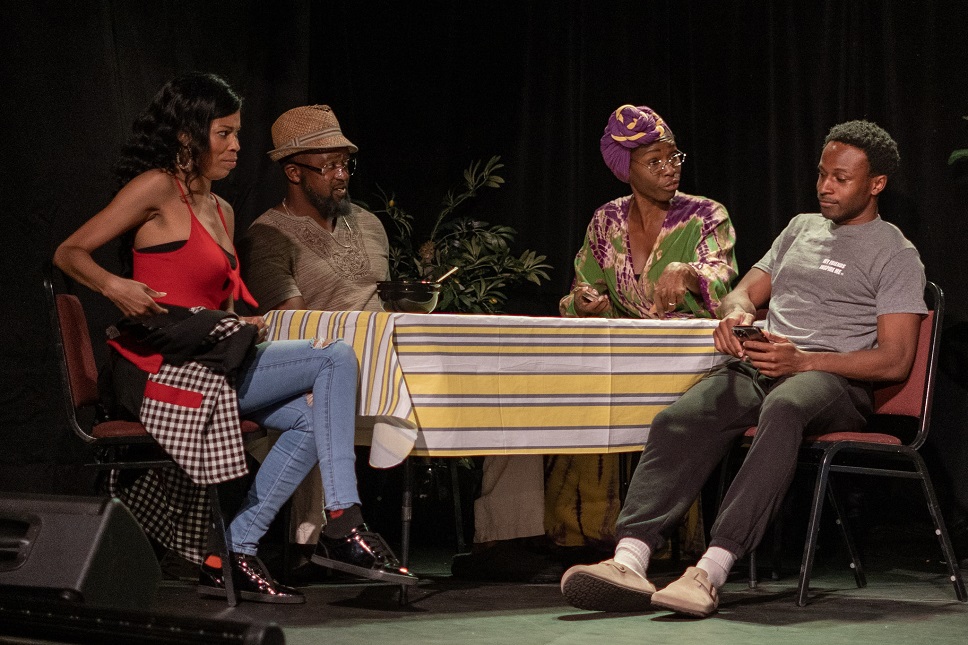 LOS ANGELES — For two nights only, July 28 and 29, at the Skiptown Playhouse, audiences here enjoyed performances of All Things Considered, a new play "crafted and written" by Nattalie Gordon (no relation), a writer originally from Westmoreland, Jamaica. The production was a project of Charlie T. Savage, a Navy vet who has made a career out of raising consciousness "about the challenges faced by Creole, BIPOC, and LGBTQIA+ communities." Director Geronica Lee Moffett pulled together a valiant cast to enact a striking, complex story of secrets, betrayal, and tested loyalties.
The play focuses around the character of Jamaican-born Sunny (Phire Whitaker), who's barely hanging onto the lower rungs of an acting and writing career in L.A. Now 36, she is working with a therapist to understand the trauma of her early childhood. She originally came to the U.S. when she was 12, in the immediate aftermath of a tragic car accident in Jamaica that claimed the lives of both her parents. Her father's sister Miss Donna (Dazelle Yvette) and husband Uncle Lester (Chimele George) took her in. They also have a child of their own, son Dorian (Francis Edemobi), who has a budding career in IT and as a Jamaican influencer. Sunny was placed into grade school, where, on top of her own grief, she was seen as "different" and made few friends.
In the course of her maturation, Sunny embraced her lesbianism. She is now in a committed relationship with Sade (Dawn Aneada), who is a successful TV and network actress and much more of a public figure. Sade and Sunny share a home. But there is a complication: Sade has another girlfriend on the side, the successful influencer Reign (Stevi Shari), who pops by quite a bit more frequently than Sunny would like. In fact, a photo of Sade and Reign together as an item has recently gone viral, threatening—at least in Sunny's mind—her erasure. How these women will negotiate the complexities of their unconventional, out-of-balance relationships is one plot element in the play, left to the audience's imagination at the end.
The other theme in the play is cultural and familial erasure. Why is it that Miss Donna and Uncle Lester have never returned to Jamaica for a family visit, and never corresponded with their relatives there? Why has Sunny been deprived of knowing her own kinfolk there, including a 103-year-old great-grandmother? As part of her healing, her curious mind wants to find out what family secrets are being hidden from her. With all the stories and rumors about family members with children by multiple men and women, is there even some question about her own paternity? Perhaps some direct contact with remaining family in Jamaica will provide some answers. And maybe it's time for a family gathering in the homeland and a proper funeral and headstones for her parents.
As Dorian says, "We're not in Jamaica any more."
Gordon's play is very contemporary, taking on controversial, difficult topics involving national and cultural identity, class and privilege, sexuality, trauma and its roots in a tortured family history. It's a play for now in another sense: Its almost telenovela esthetic is a product of our "influencer" age, where the reality of public personas' lives can often be quite at odds with their manufactured internet image. Fame on the public level and respectability on the family level can both impact a sensitive young person in not the best way: Feelings, emotions, truths, have to be sacrificed for the sake of appearances.
The actors, many of them using a Jamaican patois, are refreshingly unique, revealing aspects of immigrant lives that many theatergoers will not be familiar with. With only two performances, the cast barely had time to settle into their roles on opening night (word on the street says the second night's performance went more smoothly). In future stagings, perhaps the transitions between the family home and Sunny's den with Sade will go a little less jerkily.
In any case, Nattalie Gordon is an author worth paying attention to, and kudos must go to Ms. Savage who produced her play. Finally, though, I wonder if All Things Considered is an effective title, as it's inevitably going to be confused with the long-running public radio news program.
The entire cast and creative biographies for the play can be viewed here.
We hope you appreciated this article. At 

People's World

, we believe news and information should be free and accessible to all, but we need your help. Our journalism is free of corporate influence and paywalls because we are totally reader-supported. Only you, our readers and supporters, make this possible. If you enjoy reading 

People's World

 and the stories we bring you, please 

support our work by donating or becoming a monthly sustainer today

. Thank you!