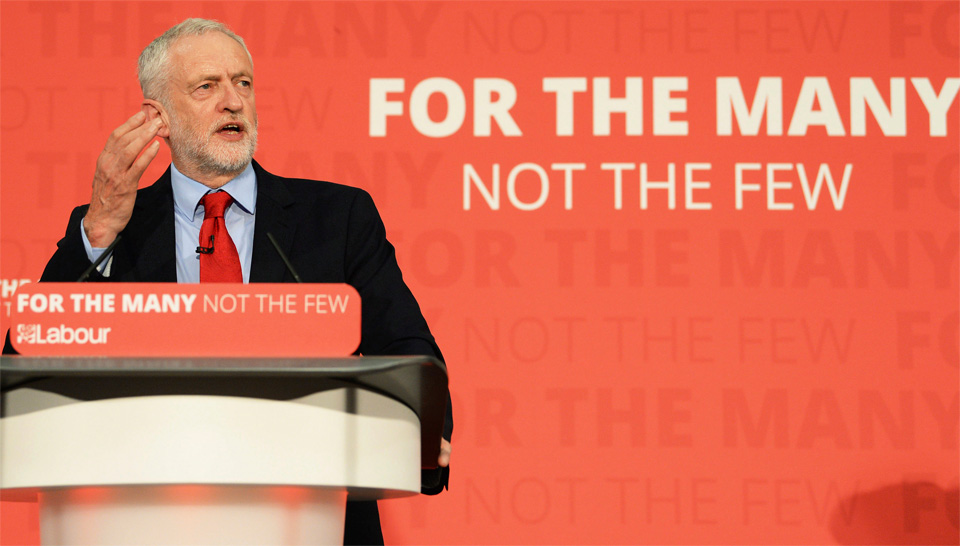 The following Q&A with Jeremy Corbyn originally appeared in Morning Star, and then on June 2 in the People's World.
Corbyn is the leader of the British Labour Party and is taking on Conservative Prime Minister Theresa May in the election campaign currently underway. In this interview, Corbyn talks about what Labour will do if it wins, the connections between wars abroad and terror at home, and what it means to be a modern-day socialist.
Morning Star: The Conservatives say you can't be trusted on the economy – but can they be? What would Labour do to ensure ordinary people have more money in their pockets?
Our national investment bank and regional investment banks will finance growth by funding infrastructure projects and supporting new industries. Labour's 20-point plan for a fair deal at work will give equal rights to all workers from day one and introduce a real living wage of at least £10 ($13 USD) an hour by 2020.
The choice at this election couldn't be clearer. Continuing low wages, under-funding of the NHS [National Health Service], head teachers forced to collect money from parents to pay for the teachers, the horrors of unfunded social care, and a growing housing crisis under the Tories.
Or a Labour government that will invest in the future to build a high-wage, high-skill, high-growth economy that works for the many, not the few. And Labour's positive program is fully costed and matched against revenue-raising measures, unlike the Tory manifesto.
Your enemies say that you're soft. Is Labour up to the job of keeping people safe?
Ensuring the safety of our communities demands properly resourced action across many fronts. It means upholding and enforcing our individual rights, promoting community relations, supporting our emergency services, tackling and preventing crime, and protecting us from danger, including threats of terror and violence.
Only a Labour government will meet these challenges. As we set out in our manifesto earlier this month, Labour will recruit 10,000 more police officers, 3,000 extra firefighters, as well as additional prison officers and border guards.
We will also legislate to ensure safe staffing levels in the NHS, including for our ambulance services. Labour will also increase staffing levels at the security and intelligence agencies in order to better ensure our collective safety.
As well as change at home, there will also be change abroad under a Labour government.
As I said in my speech on Friday last week, many experts, including professionals in our intelligence and security services, have pointed to the connections between wars our government has supported or fought in other countries and terrorism here at home.
That assessment in no way reduces the guilt of those who attack our children. Those terrorists will forever be reviled and held to account for their actions.
But an informed understanding of the causes of terrorism is an essential part of an effective response that will protect the security of our people. We must be brave enough to admit the "war on terror" is simply not working. We need a smarter way to reduce the threat from countries that nurture terrorists and generate terrorism.
The old, state-owned companies like British Rail, British Telecom, and British Gas were criticized as inefficient and indifferent to customer service. When you say you'll bring back public ownership, is this what we're going back to?
No. Our public utilities like water and energy have been given away, often to foreign companies and state-run firms. Profits have gone to the shareholders, while the prices we pay have gone up and the quality of service has often deteriorated.
Enough is enough of this rip off.
Compare your experience of services run by and in the interests of the public – like our NHS, police, and armed services – and the privatized rail, energy, water, and bus services. Remember when recruitment for the Olympics was outsourced to G4S, which was paid millions of our money for it, and then bodged the job? The armed services had to step in and sort it out.
Labour will take back control of what belongs to us – so we, the many, not the few, can benefit.
This will be a good investment for the British people because privatization has failed. Many countries around the world have public ownership of their utilities and they run better than they do in Britain. The privatized water companies have paid out £18 billion ($23 billion USD) in dividends to private shareholders in the last ten years.
In the last year, the privatized water companies paid out 1,000 times more in dividends to private shareholders than they paid in corporation tax. Under Labour's plans, the British people, not private shareholders, would benefit from the sector's profits.
Water bills have risen 40 per cent above inflation since privatization. With this investment, we can reduce water bills by around £100 ($129 USD) per year per household, the equivalent of a 25 percent reduction.
Overall, we estimate that bills could fall by £220 ($283 USD) a year across energy and water under our plans.
You're a socialist – that hasn't been in fashion for a long time. What first brought you into politics and what motivated you to keep going for all the decades when your own party had turned its back on these ideas?
I have always stood up for what I believe in – the principles of equality, peace, and social justice. This is what keeps me going and is exactly what I'll do as prime minister.
Recent People's World coverage of British politics:

– Corbyn poised to shift UK's Labour Party to the left

– British unions to government: Don't sacrifice workers in Brexit negotiations

– British union leaders: Corbyn's the one we've been waiting for
Many newspapers are accused of bias against you and the Labour Party. How do you think the media can be improved?
I think media diversity is extremely important in a democratic society. I am a member of the NUJ [National Union of Journalists] and have worked on a newspaper in the past. I greatly value the role that journalism can play. Unfortunately, too many of our papers are owned by press baron billionaires. They attack us because we will transform Britain in the interests of the people.
Labour says the National Health Service is in crisis. Have you or your family ever been in a position where you really needed the NHS?
Every family in Britain has relied on our NHS at some stage in their life. It is the most civilized thing about our country. I am so proud of it and will always defend it and preserve its core founding principles.
Isn't it the case that with people living longer, Britain can't afford an NHS any more, as the Tories say?
The Conservatives are failing our health service, which has been pushed into financial crisis and soaring deficits. Patients are facing longer waits, with hospitals overcrowded, understaffed, and threatened with closure.
Labour will stand up for our NHS. We will always make sure the NHS has the funding it needs and will join up services from home to hospital with a properly integrated health and social care service.
Labour created the NHS to care for us all, now it's time to care for the NHS. The choice is stark: a properly funded NHS under Labour or accelerating NHS privatization and underfunding under the Tories.
You've taken a lot of abuse and insults, not just from the Conservatives, but sometimes from your own party. How has that affected you?
I never ever rise to it because I didn't become a politician in order to win praise or to avoid difficult decisions. I have always stood up for what I believe in and nothing has changed.
What's at stake in this election? Why should people vote Labour?
This election is about the kind of country we want Britain to be. The choice is between Labour's plan to transform Britain for the many, not the few and a Conservative Party that has held people back and put the wealthy first. On June 8, let's vote to move forward in the interests of the many.