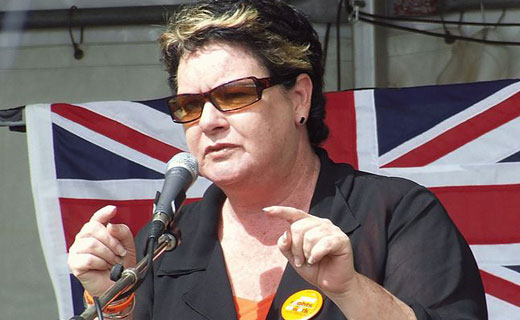 WASHINGTON – A top international union leader has a grim message for the leaders of world financial institutions: Things are bad for the world's workers, they're getting worse, and the institutions must act decisively to change that picture.
That was the message Sharan Burrow, general secretary of the al International Trades Union Confederation (ITUC) and 40 other union leaders took to the International Monetary Fund and the World Bank in long closed-door meetings in .D.C. on Feb. 15.
"The world of work is very bleak," Burrow said in a telephone interview with Press Associates Union News Service after the meetings.
ITUC has been sounding that message even before the Great Recession began. Whether financial institution leaders are listening is another matter, but her observations to them were particularly gloomy. They included:
84 percent of the additional workers who lost jobs during that crash have not found new employment.
Worker productivity isn't benefiting the workers. Instead, it's going to the corporate executives and shareholders. "In the U.S., you have the lowest share of worker productivity" going to employees "in six decades," Burrow warns.
Youth unemployment is high, including jobless rates in high double digits in several developed nations, such as Spain, Italy and Greece. Another 5 million people worldwide are expected to join the jobless rolls this year, ITUC says.
Companies that sign social compacts, and obey them, in Europe, turn anti-union and retaliate against their workers when they operate in the U.S.
Burrow underlined that point by leaving Washington, after the meetings, to join Communications Workers members at a T-Mobile call center in Charleston, S.C. Deutsche Telekom, which has good relations with its unions in Germany, owns T-Mobile. And T-Mobile has a consistent record of labor law-breaking against CWA organizing in the U.S.
"This is a European company going offshore" from its home country "and behaving worse than any American company does," Burrow told PAI before leaving D.C. She said she told the international financial officials that "the American corporate model," which includes "refusal of collective bargaining rights," driving down wages and working conditions "is being aggressively exported around the world."
That only makes conditions worse for workers, she adds. "It's threatening the social contract" that has held societies together, both in the U.S. and Europe, she explained. And European efforts at austerity only aggravate the workers' ills.
Burrow declined to describe the exact reactions of the IMF and World Bank officials, saying their consultations with ITUC and other union representatives "are ongoing.' In the past, unions and workers have sharply and justly condemned the two institutions for paying too much attention to financiers' needs and not enough to the workers whom the financiers' actions impact.
But she noted before the talks in D.C. began that least the World Bank, in its latest report on world development prospects, realized that lack of jobs was a top problem.
At the community labor rights session in Charleston on Feb. 18, Burrow made it clear the international union movement strongly supports the T-Mobile workers at the call center there – as well as other T-Mobile workers nationwide – in their right to organize. German Deutsche Telekom call center workers, unionized with ver.di, CWA's German union partner, also came to Charleston for a week-long visit and the hearing.
"The multinational communications company negotiates with the German union for workplace conditions with union representation a key part of the company culture, but the management does not allow the same practices in the U.S.," says an ITUC statement released at the Charleston hearing.
Deutsche Telekom CEO Rene Oberman should reverse course and order his U.S. managers to follow the firm's own labor rights standards, Burrow said in Charleston. If he doesn't, the German government should step in and pressure Deutsche Telekom and T-Mobile to change their anti-union anti-worker attitude in the U.S. Oberman "has a responsibility to fix abuses" by his company, she added.
"There are companies respected in Europe, behaving badly right here in the U.S. German people need to know what is happening to workers in the U.S. They would be appalled to think the company they are so proud of, that bears the German name, could be treating workers to fear and intimidation. Workers rights don't stop at the German border, they're for all people."
Photo: Sharan Burrow speaks at a Labor Day event in Queensland, Australia. Wikipedia