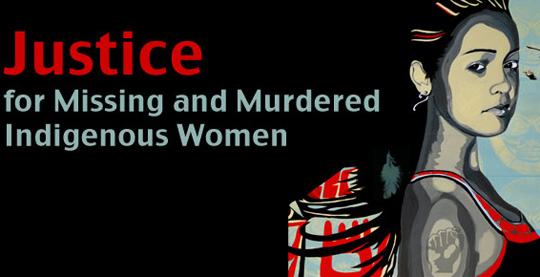 In April 2015, Quebec's Protecteur du Citoyen, or Ombudsperson, took a tour of detention cells in northern Quebec. Among other things, what Raymonde Saint-Germain found was seven Inuit women locked up in a tiny cell originally intended for one or two people. None of the women had slept all night; there was not enough room for them to lie on the floor even if they had wanted to. In some detention centers, she found suicidal detainees held right alongside those who were booked for intoxication.
Saint-Germain's special report, released in February this year, has put the media spotlight on a bitter social contradiction in Canadian society. Billions of dollars flow out of Quebec's north through natural resource exports like mining. A massive scheme for further exploitation of the region involving new railways, ports, and energy lines is just starting, called Plan Nord (Plan North). And yet social conditions faced by Indigenous communities are comparable to the Third World.
As Indigenous activists and allies across the country celebrate the promised federal inquiry into Missing and Murdered Indigenous Women and Girls by the newly-elected Liberal government of Justin Trudeau, this reality will likely continue to come forward, weaving together more threads in the story of genocide already exposed by the recent Truth and Reconciliation Commission into Residential Schools.
Nunavik is the homeland of the Inuit peoples who live in what is now Quebec and, like vast regions of Canada, has never been covered by any Treaty. The Inuit (who have long rejected the label "Eskimo") are recognized in Canada's Constitution as an Indigenous people distinct from the First Nations and Metis. Located north of the 55th parallel, and bordered by Labrador in the east and Hudson's Bay to the west, their homeland is larger than the state of California.
Nunavik also includes several villages and hamlets which were subject to the forced High Arctic Relocation during the 1950s, when the Canadian government asserted sovereignty over the Arctic during the Cold War by moving entire Inuit families to artificially create the most northernmost communities in Canada – Resolute and Grise Fiord.
Saint-Germain's report on Nunavik describes a judicial system which shows no respect for the fundamental rights of the accused – particularly their right to dignity. Cells are dirty and overcrowded with limited access to water, clean laundry, janitorial services, or even fresh air. Seven to twenty-five detainees are often packed into cells intended for two. In Puvirnituq police station, the stench can apparently be smelled when you walk in, with traces of blood and excrement staining the walls.
Saint-Germain said it reminded her of the worst jails she had visited in Africa. The Quebec government has known about this probably for at least ten years, according to the report, yet appears to have refused any action. (Two years ago, a similar report on Nunavut detention centers on Baffin Island suggested they were also likely non-compliant with the Canada's Charter of Rights and Freedoms.)
The justice system currently shuttles Inuit from Nunavik detention centers down to Montreal for court – a distance greater than that between New York and Miami. It then ships them back to the community, or to jail. As no roads enter the region, travel is by plane via Iqaluit on Baffin Island, which is actually even further north.
According to the newspaper Le Devoir, Inuit represent 7.6 per cent of the First Nation population in Quebec, but 43 per cent of incarcerated Indigenous people. And that number is rising. Total Inuit in Quebec jails increased by 64 percent in the last five years.
Quebec is not alone, however. Canada's violent crime rates are falling, yet prison populations are at an all-time high as jails become what some call "the new residential schools." In the Prairies, the overwhelming majority of people in the criminal justice system are First Nations. And to top it off, Indigenous people in jail spend more time in segregation and isolation than prisoners of other backgrounds.
An extension of this prison crisis is the incarceration rate of Indigenous women, in particular. Overall, while Indigenous people represent less than 4 per cent of the Canadian population, 36 per cent of female inmates are Indigenous – up 109 per cent in recent years.
These numbers are just part of the context of the gendered colonial legacy of oppression against Indigenous peoples which recent events in the Quebec city of Val-d'Or have again exposed. Last fall, a group of Indigenous women told Radio-Canada's investigative program, Enquête [also available in English from CBC], that provincial police officers in Val-d'Or routinely picked up women who appeared to be intoxicated, drove them out of town, and left them to walk home in the cold. Some allege they were physically and sexually assaulted.
Quebec First Nations leaders have rallied behind the women who have come forward, and support demonstrations were held in Val-d'Or as well as Montreal. Indigenous activists have condemned the lack of support received by Indigenous people in the region, which is in the north-east of Quebec (and many kilometers to the south of Nunavik).
An open letter to the Premier signed by the Quebec Native Women's Federation, as well as twelve other groups including the main Quebec labor union federation, CSN, called the investigation now taking place into the allegations at Val-d'Or by the Montreal Police "fundamentally flawed". Citing strong skepticism towards "police investigating police" inquires, the group is calling for an independent investigation.
The Quebec Federation of Women (FFQ) has also expressed support for the women's demands, calling them "whistleblowers" for a more systemic problem. Their statement echoed the message at the annual march for Missing and Murdered Aboriginal Women in Montreal last month.
As the federal inquiry comes into shape, it will no doubt be an immensely painful yet important development, worthy of close attention by all democratic-minded people – both inside and outside Canada, Indigenous and non-Indigenous, women and men alike.
A shorter version of this article appeared in the March edition of People's Voice newspaper. It is reprinted here with permission of the author.
Photo: Genderadvocacy.org