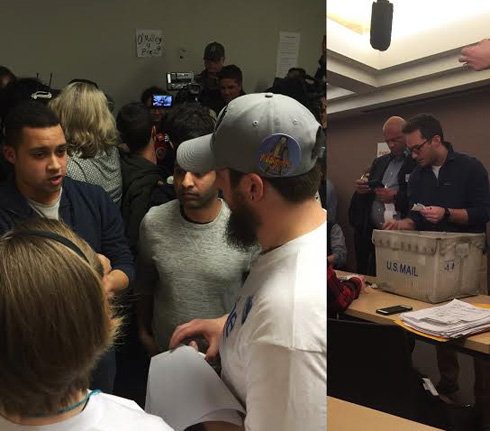 DES MOINES, Iowa – As about 1,000 Iowans filed into the Iowa State Historical Building to participate in one of six caucuses being held there – three Democratic and three Republican – a sign-in volunteer kept reminding them that "the whole world is watching."
At the same time across the state, 357,983 people were meeting in caucuses in close to 1,700 locations. 186,874 Iowans participated in the Republican caucus and 171,109 participated in the Democratic caucus, for a turnout rate of 15.7% among those eligible to vote.
Iowa caucuses – both Democratic and Republican – are exercises in genuine, local neighbor-to-neighbor democracy; with one difference. Most small town politics stay in the small town. The opinions you express and the votes you cast are rather private matters.
But, as Iowa Democratic Party State Chair Andy McGuire says, "We take our first in the nation role very seriously … Iowa plays an important role in the nomination process for the President of the United States.
"Iowans prepare for [caucus] night all year – by, among other things, attending events and asking candidates tough questions." Most caucus participants go to meetings with many candidates.
That's one reason why spending big bucks does not necessarily assure victory for a candidate.
And, in part because they are first in the nation, Iowans want to demonstrate what real grassroots democracy looks like.
There's a caucus for every voting precinct in Iowa, some 1,700. Caucus participants remind each other over and over again that the most important thing is to listen to each other. And they do.
Also, there's on the spot voter registration. Just sign up as a Republican or Democrat and go right into their caucus.
Republican caucuses are rather formalized. Supporters of each candidate make their pitch and caucus participants decide by secret ballot how many delegates representing each candidate will go to the county conventions, which is the next step in the process of determining who will be supported by Iowa delegates to the national conventions of each party.
On the other hand, Democrats take great pride in conducting caucuses through planned chaos.
A Democratic microcosm
Take, for example, the Democratic Precinct 47 caucus, which took place in a classroom on the first floor of the Historical Building. Precinct 47 covers a small, urban part of Des Moines.
Participants divided themselves into small groups. Sanders supporters stood on one side of the room, Clinton supporters on the other, and O'Malley supporters in the middle.
To be eligible to run as a delegate for a candidate, you must get the support of at least 15 percent of those participating in a caucus. In caucus talk, this is called being "viable."
The precinct chair did an initial count and found that neither the O'Malley folks nor those calling themselves "undecided" were viable.
That's when the real action began.
A woman jumped up on a chair in the middle of the room and urged the O'Malley and undecided groups to join the Sanders delegation.
She said that where a candidate gets his or her money is important, and that Bernie is financed 100 percent by small contributions from grassroots people. She added that no candidate can do what he or she promises without a "political revolution."
Then another woman did the same on behalf of the Clinton folks. She warned that Sanders "aims to raise taxes." She said she works in healthcare and that Sanders "doesn't understand how complicated it is."
Soon, both Sanders and Clinton partisans were talking, cajoling and shouting. The free agents were urged to join one side or the other.
The gloves had come off: Sanders supporters shouted that Clinton was "bought" and Clinton supporters responded with shots at Sanders' age.
Three young people from the O'Malley camp went over to Sanders and were met with cheers and high-fives.
A nurse who was concerned about national security issues went over to Clinton to an equally fervent reception.
In the end the tally was close: Sanders 88, Clinton 87. Each side will be sending three delegates to the county convention.
Photo: Patrick J. Foote/PW