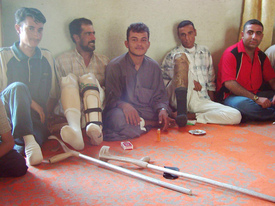 Editor's note: While not stated in this article, the United States has an obligation to finance and give support to this project. Supplemental monies for Iraq — and Afghanistan — should include de-mining projects.
BAGHDAD, 8 June 2009 (IRIN) – Iraqi Environment Minister Narmin Othman has appealed for more international support to clear the country of landmines and unexploded ordnance (UXO).
"It is impossible to depend on the government. We need international support to bring in qualified specialists and we need financial support, as the government's budget can't cover the expense," Othman told IRIN on 6 June.
Othman did not know specifically how much money would be needed but could only say "billions of dollars" were necessary.
She described the explosive remnants of war (ERW), UXOs, landmines and pieces of tanks and military vehicles as "Iraq's biggest environmental problem".
According to the Environment Ministry, there are some 25 million landmines in Iraq and more than 25 million UXO pieces, including cluster bombs.
Three companies are working with Iraq's Environment Ministry in mine clearance operations and 17 others are expected to have their licenses "within days", she added. Iraq must be declared free of landmines by 2018, she said, in reference to the country's obligations after signing in 2007 the Ottawa Convention banning anti-personnel mines.
Since 1980, Iraq has endured three major wars: the Iran-Iraq war from 1980-88, the first Gulf War in 1991 and the US-led invasion that toppled Saddam Hussein in 2003. All have had a part in making Iraq one of the most heavily mined countries in the world.
"Seventy years to clear Iraq"
Zahim Mutar, head of Baghdad-based NGO Iraqi Mine and UXO Clearance Organization, called for immediate action from the Iraqi authorities and international bodies, saying that Iraq needed far more support than it was currently receiving to deal with the deadly threat.
"Over the past few years many civilians have either been killed or maimed by these landmines and UXOs in agricultural and residential areas," Mutar told IRIN. "Iraq is on the brink of a social and environmental crisis if the situation stays as it is now."
Mutar said figures for the numbers of victims were not available but that the latest incident occurred about a month-and-a-half ago in the southern province of Missan: Six children were killed and five others severely injured when a bomb exploded as they were playing football.
Since September 2003, his NGO, which has 225 staff, has removed more than 174,000 landmines and UXOs nationwide. It has also held mine clearance training courses for Iraqi security forces and NGOs.
Mutar said there are about 2,000 people engaged in mine clearing in Iraq, including security forces and NGOs, but the country needed 20,000 people to remove half its mines in 10 years.
"If the situation stays as it is, we will take 70 years to clear Iraq," he said.