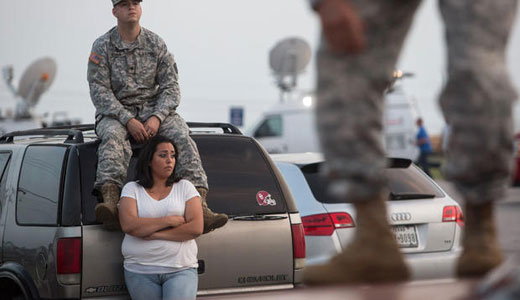 Less than five years ago at Fort Hood, U.S. Army psychiatrist Nidal Hasan went on a killing spree that left 13 dead and dozens injured. In 2013, he was sentenced to death by a military jury.
On Wednesday afternoon, Army Spc. Ivan Lopez, armed with a .45 caliber Smith & Wesson handgun, took aim at his fellow soldiers at Fort Hood. His rampage ended during a stand-off with a military policewoman when Lopez took his own life. The toll this time (including Lopez himself) stands at four dead, and 16 injured, some critically.
Lopez, who transferred to Fort Hood in February from another Texas post, was assigned to the 13th Sustainment Command (Expeditionary) at Fort Hood, which is a logistics and support unit.
Lopez served for four months in Iraq in 2011. Army Secretary John McHugh said Lopez did not see combat in Iraq. He was not wounded in action while serving overseas, but self-reported a traumatic brain injury upon his return to the U.S.
A male civilian employee at the installation who preferred not to be named, spoke to the People's World. He remarked, "It was scary as hell. We had to shelter in place. We couldn't leave the building until it was all clear. Some of the people I work with have family and friends who work other sites [on Fort Hood]. They couldn't get through on their phones for the longest time. When I got off base, I had so many voice-mails I'm still catching up. I'm lucky. Nothing happened to me or anyone I know. I feel so bad that we had to go through this again."
Over 40,000 military personnel are stationed at Fort Hood, which is the largest active duty armored post in the U.S. Army. The post, located in the heart of Texas, also employs around 9,000 civilians.
Lt. Gen. Mark Milley, the senior officer at Fort Hood, said that Lopez had several mental health issues. He was taking medication and receiving psychiatric help for depression and anxiety, and was undergoing a process to determine whether he had post-traumatic stress disorder.
"We do not know a motive," Milley said. "We do know that this soldier had behavioral health and mental health issues, and was being treated for that." He had not previously displayed signs of violence.
A female medical professional who has treated soldiers and who also asked not to be identified, said to PW, "What's important for the public to understand is that the shooter had been stationed at Fort Hood only since February. I'm sure investigators will be looking not only at his jacket [individual military record] from the previous posting, but also digging deep behind that. What can soldiers from his previous unit tell them about the individual? Another red flag for me is his military record in Puerto Rico. [Lopez served for a time with the Puerto Rico Army National Guard.]
"Stressors can be cumulative," she continued. "What I'm saying is that, while there may be a precipitating event or events in Iraq, despite the shortness of his stay, I'd want to look at what led up to his claim of a traumatic brain injury. The roots may go back a long way. In the meantime, the therapeutic community at Fort Hood has a great deal of experience with trauma victims, including families. I'm sure they jumped into action as soon as the siren sounded all clear. Let's not forget the shooter's own family, who are among the emotional casualties of this terrible event."
Lt. Gen. Milley laid out the sequence of events as follows: Lopez walked into one of the unit buildings where he opened fire. Subsequently, he entered a vehicle, still firing his weapon, and then ran into another building and opened fire again.
When confronted by a female military police officer on the parking lot, Lopez shot himself.
"He was approaching her at about 20 feet. He put his hands up, then reached under his jacket, pulled out the (.45) and she pulled out her weapon and then she engaged, and he then put the weapon to his head," Milley said.
A female military retiree also spoke to the People's World. "It makes me feel sick, knowing what their [the victims'] families are having to go through. People have no idea what it's like being over there [in Iraq]. The conditions we put up with. The shooter was over there I don't know how long-four months, you say-that doesn't sound like a long time. He may have had a lot of problems before he went over there. I wouldn't blame him being deployed for doing what he did. Not until we have enough facts to draw that conclusion."
She pointed out that "it is a hard life soldiering. Not many people are cut out for it. Some people are attracted to the weaponry. I wasn't. We're here to serve our country. Civilians think blowing things up is an everyday thing, but most of the time I spent in service had nothing to do with that. People who think that are naïve. The shooter had a weapon and he used it. He probably would have done the same thing if he'd never been in uniform. You need to look at it like what it'd be like if he'd gone into a mall and drawn his weapon. It's horrible for everyone who gets hurt, wherever it goes on."
In immediate response to the shooting, the base went on lockdown. As military police secured the base perimeter and emergency responders sped to the scene, helicopters flew overhead and officers roamed in search of the shooter.
Thus far, officials report no motive for Lopez's actions nor do they at this time believe terrorism is a factor. Fort Hood had overhauled its security to better deal with deadly incidents after Hasan's attack in 2009.
A female civilian employee whose work involves therapy, said, "I was here for the last one. People need to understand that the people dealing with issues from their deployments aren't necessarily violent, and even the ones who have anger management concerns mostly direct their acting out at themselves. Or at their families. I'm not saying that's not awful enough, but the vast majority of cases you don't have to worry about it ending up like this…It's for the most part substance abuse, hurting themselves, you know? They're not monsters. That's what I want people to understand. The vast majority of soldiers aren't a danger to the public."
Photo: Lucy Hamlin and her husband, Spc. Timothy Hamlin, wait for permission to re-enter the Fort Hood military base, where they live, following a shooting on the base, Wednesday, April 2, 2014, in Fort Hood, Texas. AP