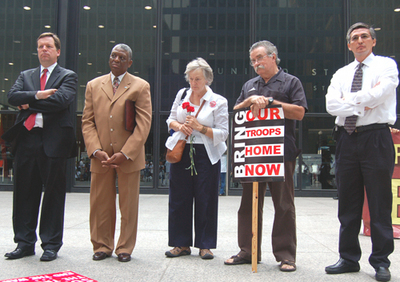 CHICAGO — Dozens of peace activists, covered in white sheets, some stained with fake blood, lay motionless on the concrete with red carnations atop their bodies in a "die-in" at Federal Plaza here Sept. 21, symbolizing the mounting death toll of the Iraq war.
As onlookers watched and crowds gathered to pay their respects, names were read of some of the estimated 655,000 Iraqis who have died since the 2003 U.S. invasion and occupation of that war-torn country. Many of the names were of children under 10 years old. Organizers of the die-in say that an estimated 100 Iraqis are dying each day. Over 3,700 U.S. soldiers have lost their lives in Iraq.
Local peace activists, elected officials, and religious, labor and community leaders joined the event calling on Congress to bring U.S. troops home. The American Friends Service Committee and Peace Pledge-Chicago sponsored the event as part of a series of nationwide Iraq moratoriums which, organizers say, will continue to intensify every third Friday until the war ends.
"People everywhere should be doing anything to show public opposition to the war," said Carl Davidson with Chicagoans Against War and Injustice. Davidson said peace activists should wear buttons or black armbands, refuse to purchase gas, hold vigils or host film screenings to voice the growing antiwar majority. Thousands of actions are taking place throughout the country, Davidson said.
"We have to be organized right at the nitty-gritty to represent popular power," he added. "If you really want politicians to pay attention, then we need to organize independent peace groups in every neighborhood."
But some politicians, including Chicago City Council members Joe Moore of the 49th Ward and Ricardo Munoz of the 22nd, are helping to lead the antiwar fight. They are calling on other elected officials, church groups, trade unions, immigrant rights groups, and student and community organizations to join the Midwest regional mobilization that will culminate in a mass peace demonstration here on Oct. 27. (For more information, visit www.oct27chicago.org.)
Over 110 local groups have signed up for the Oct. 27 protest and busloads are expected from Iowa, Wisconsin, Michigan, Missouri, Indiana, Ohio, Minnesota and Kentucky. The Chicago demonstration will be part of a mass outpouring of regional actions taking place in 10 different urban centers calling an end to the Iraq war. Other cities include Boston, New York, Philadelphia, Orlando, New Orleans, Salt Lake City, Seattle, San Francisco and Los Angeles.
"The Chicago City Council has passed twice a resolution to end the war and withdraw troops," Alderman Moore told reporters after the die-in. "This is an unjust, immoral and illegal disastrous war led by President Bush."
The war has cost the city of Chicago alone $4.7 billion, according to organizers. "That money could be used toward education, or health care, and to improve the quality of our communities,"
Moore said.
Munoz agreed, saying, "I'm here, not as an alderman, but as a citizen of the world — and I want justice and peace." He added, "Everybody — city councils, state representatives, moms and dads — should take the war seriously and join this campaign."
William McNary, co-director of Citizen Action/Illinois, also called on people to join the mobilization for Oct. 27. "Every human being has equal worth, born in America or Iraq," he said. "The war has cost us $453 billion. This is about priorities, and we need to change our priorities."
He added, "If we could prove that President Bush and Vice President Cheney were lying about invading Iraq, then they should be impeached."
Reports say that in the wake of the U.S. invasion, 80 percent of Iraqis lack effective sanitation and 70 percent lack access to clean water. Chronic child malnutrition is estimated at 21 percent and an estimated one-third of the 34,000 doctors who lived and worked in Iraq before the war have left the country. And unemployment has risen from 25 percent to 60
percent.
Michael McConnell, regional director for AFSC, said the die-in was to show people what it looks like in Baghdad, especially since the Pentagon hides what Americans cannot see when it comes to the horrific death toll there.
"We hope to have over 10,000 people marching to express the outrage of this war on Oct. 27," said McConnell. "Congress needs to cut funding for the war. It's leaving our communities bleeding."
Melissa Stanley brought her 14-month-old daughter to the event. She represents a local peace group on the north side of town.
"Being here today really hit home with me, especially when they called out little children's names," said Stanley. "It's devastating." She said she could not possibly imagine what it would be like
to raise a child in Iraq under such
circumstances.
"It's scary to think of the war as a mother," Stanley said, adding that if mothers ruled the world there would be no wars. "We would be thinking of our own children first."
plozano@pww.org