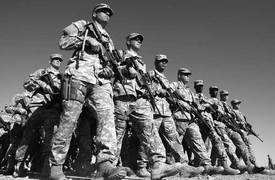 Bush plan geared to helping GOP in November
Withdrawing U.S. troops from Iraq is a political struggle both here and in Iraq.
President Bush has announced plans to pull some 8,000 troops out of Iraq by early 2009. This leaves 138,000 U.S. troops there, higher than pre-surge levels.
Despite the Bush administration's vehement opposition to setting a timetable for withdrawing U.S. troops, the latest draft of a U.S.-Iraqi agreement says all U.S. combat troops must be out of Iraq's cities and villages by June 30 next year, and withdrawal of all combat troops from Iraq must be completed no later than the end of 2011, according to the Iraqi newspaper Al-Mada.
In Oman's al-Watan newspaper, a commentary headlined "Why the talk of troop reduction in Iraq?" suggests Bush is trying to drum up support for GOP presidential candidate John McCain. The author notes that while Bush is eager to finalize a U.S.-Iraqi agreement as soon as possible, Maliki's government may be interested in lengthening the negotiations. Iraqis are undoubtedly aware that if Democrat Barack Obama wins in November it could open up better possibilities for both stabilizing Iraq and ending the occupation. (Of course some Iraqis may have bet on the Bush/McCain horse.)
The commentator is not alone in his speculation on Bush administration motives. But a political debate is also unfolding in Iraq.
Iraqi Communist Party spokesperson Salam Ali said the latest draft agreement clearly contains "wording open to interpretation" and loopholes, and will need "close examination."
The draft makes no reference to the role of military forces that are not classified as "combat" troops, and appears to contain a number of contradictory formulations regarding who has the authority to shorten or extend these deadlines, or make other changes.
Iraq's Political Council for National Security, composed of all major political blocs, will review any final draft, Ali said in a phone interview last week.
He disputed speculation by some U.S. commentators that Iraqi Prime Minister Nouri al-Maliki will try to get an agreement signed before the end of this year without consent of Iraq's Parliament.
"There is no way that Maliki or anyone else can push this through without, at least, the agreement of Parliament," Ali said.
Underscoring that sentiment, a Sept. 7 conference of the Southern Arab Tribal Council, comprising 130 tribal sheiks and 700 prominent figures from three southern Iraq provinces including oil-rich Basra, said any U.S.-Iraq agreement must be closely scrutinized by Iraq's Parliament before it is signed, the Voices of Iraq news service reported.
U.S.-Iraqi talks on a "status of forces" agreement governing the U.S. military role in Iraq had stalled over Iraq's insistence on a timetable for U.S. troop withdrawal, and on its resistance to Bush administration demands for immunity for U.S. personnel accused of crimes in Iraq.
The Bush administration first pressed for open-ended U.S. military presence, then, faced with strong counter-pressure from Iraq, started talking of "time horizons" and "aspirational goals."
The Iraqis first demanded withdrawal by the end of 2010. While the 2011 end date in the latest draft for pulling out the bulk of U.S. troops is a long way away for Americans who overwhelmingly want troops brought home promptly, it is evidently something of a tactical retreat for the Bush administration.
From the Iraqi side, the draft reflects the overwhelming desire to be rid of foreign occupation and at the same time fears of being left in a security vacuum, vulnerable to terrorist and sectarian violence, if Iraq's security forces are not ready yet.
Reflecting this outlook, Amr Moussa, the Arab League's secretary-general, said last week, "The question is, is Iraq today ready with a national army, a national police force, a national judiciary, a national educational system?"
"If they are ready, the troops have to leave," he told The Associated Press. But the U.S. already committed the mistake of invading Iraq, he said, and "it would be another mistake to create chaos in the country and then leave it in chaos."
Although war-related violence in Iraq has decreased, it is still high — in August at least 360 civilians were killed in Baghdad alone and more than 470 wounded, AP reported. Crises continue in health care, electricity and water services and other basics of day-to-day security.
Iraq's Parliament is unlikely to act quickly on the U.S. agreement. It just returned from recess and has other pressing business, including attempting to resolve differences over procedures for provincial elections that were originally supposed to take place in early October. Those elections are considered as significant for Iraqi politics as the 2006 mid-term congressional elections were for U.S. politics.
With Iraqi public opinion turning away from sectarian religious parties, many political figures are adopting a more nationalist tone with their eyes on the provincial elections, Ali said. This includes Maliki, who appears to be trying to build on his recent successes in combating sectarian militias by taking a stronger nationalist stance, including in his dealings with the United States.
In any case, action by Iraq's Parliament could come after the Nov. 4 U.S. presidential elections, when an Obama victory could introduce a new dynamic. In addition, the U.S. Congress and public will want to weigh in.
suewebb@pww.org