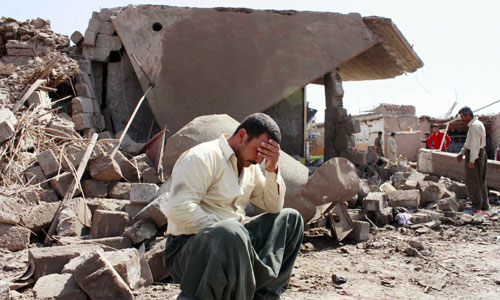 Violence in Iraq is down sharply compared to a year ago, and has also changed its nature, analysts say.
Targeted assassinations of politicians, government officials and police and security officers are now the incidents being reported. For example, recent violence around the country reported in the news media includes several car bomb killings or attacks on leaders and members of various political parties, a car bomb exploding in front of a judge's home, a district chief killed by gunfire, so-called sticky bombs attached to the car of a provincial official, car bomb attacks on mayors and district or provincial officials, and so on.
These and similar incidents targeting specific individuals are different from the broader-scale sectarian violence that was rampant a year or two ago. The aim now, U.S. and Iraqi analysts say, is more directly political: to undermine the government of Prime Minister Nouri al-Maliki and hurt his chances of re-election in next January's vote.
Violence in Iraq, while fluctuating monthly, is down across the board, according to an analysis at The Ground Truth in Iraq, a project of the Education for Peace in Iraq Center. "The number of security incidents in 2009 is down almost 66 percent compared to 2008."
The turn to targeted assassinations, commentator Joel Wing writes, "closely follows major political events."
"The assassinations are a sign that militants are still active in Iraq," he says. "At the same time it shows their relative weakness and change in tactics."
It is a complicated situation. In Diyala province, northeast of Baghdad, shadowy groups identified as "Al-Qaeda in Iraq" are proclaiming the establishment of an "Islamic State of Iraq," the Niqash web site reports. The province has experienced an uptick of attacks lately, including a suicide bombing of a public market in Baqouba, the provincial capital, that killed four and injured 13 recently.
At the same time both Sunni and Shia leaders in Diyala say sectarian violence and armed actions in general have lost public support.
Sadeq al-Hussaini, deputy president of the province's council for the Shia United Iraqi Alliance, told Niqash that "today, the Islamic State of Iraq is unable to gain the loyalty of Sunni citizens in Diyala, unlike the success it achieved after the Samarra bombings and the subsequent sectarian tensions." He was referring to the 2006 attack on the renowned "Golden Dome" mosque that touched off two years of bloody sectarian violence.
Similarly, Mahdi al-Jibouri, a leading member of the Sunni Iraqi Islamic Party, told Niqash that "the current political situation is radically different from that which prevailed in the past. Political forces and blocs have now realized that the existence of armed groups and sectarian militias is wrong."
The last two years "have witnessed an unprecedented 'Sunni coup d'état' against extremist groups," and integraton of Sunni parties into the political process, the Niqash article says. As a result, it says, "the fighting strength and political support of extremist groups has collapsed."
Sunni and Shia tribal leaders have held a number of conferences to initiate the national reconciliation process in the province. Committees have also been formed to oversee the return of families displaced by the sectarian violence and to ensure that these families are provided with necessary protection.
Sheikh Naseral-Hazzal, a prominent tribal leader, told Niqash that in the present security climate, the people of Baqouba prefer to support political parties rather than the Taliban vision espoused by al-Qaeda.
Photo: AP