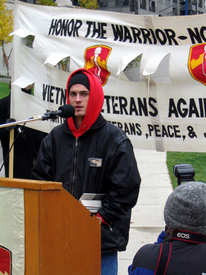 CHICAGO — Gathering at the Vietnam Veterans War Memorial alongside the Chicago River to the musical refrains of "I ain't gonna study war no more," veterans and their supporters helped bring a distinctly antiwar cast to Veterans Day 2006.
It was cold and windy, but that didn't dampen the spirits of the 60 or so participants.
Among the speakers was Kyle Snyder, 23, an Iraq war refuser who is seeking a negotiated end to his contract with Army because he believes the war to be immoral and unjust.
"I was recruited into the Army in 2003," he told the crowd. "I was given promises of a $5,000 signing bonus and medical benefits. I believed at the time what I was doing was right."
Originally told he would be operating heavy equipment rebuilding schools and other infrastructure in Iraq, he said it wasn't until he arrived in Kuwait that he learned he had been reassigned to handling a .50-caliber machine gun as part of an escort for high-ranking officials.
Once in Iraq, Snyder soon began to grow uncomfortable with what he was seeing.
"Iraqi children were flipping us," he said. "Iraqi civilians I saw were really angry at us. It looked like they were fed up with the occupation. And the people who were called terrorists or insurgents were just like me — 17- or 18-year-olds, defending their homes, doing the same thing I would be doing if someone attacked my home here in the U.S."
"I really changed my mind after I saw the shooting of a civilian that wasn't properly investigated," Snyder said. "My chain of command basically told me that I could pick up my weapon and shoot anyone I wanted to because it was wartime and it would be OK.
"That was the wrong answer for me," he said.
Snyder said he rejects the "demonizing" of the Iraqi people, the claim they are "lesser beings than we are."
"That's what keeps the war going," he said.
As a result, after he returned to the U.S. for a leave, he decided he could not in good conscience return. He went AWOL in April 2005 and moved to Canada.
Snyder recently returned to the U.S., believing the Army had agreed to a deal in which he would get a less-than-honorable discharge and be released after three to five days. However, when he appeared at Fort Knox, Ky., with his lawyer Jim Fennerty to conclude the deal, the Army reneged and told him to report back to his old unit.
He refused and is once again AWOL.
"I followed my conscience and now I am being persecuted for it," he said. "I suffer from post-traumatic stress. I can't get the medical attention I need. I'm sick of it. I'm also sick and tired of seeing what's being put on the news to drive this war for another five years. It's absolutely disgusting to me."
Snyder joins a growing number of active-duty GIs who have refused to return to Iraq for reasons of conscience.
Snyder was in good company this Veterans Day, where veterans of several wars — World War II, Vietnam, Kosovo, the Gulf War, Afghanistan and the current war in Iraq — were on hand to share a similar message. Some referred to the Nov. 7 election.
Joe Miller, a national coordinator of Vietnam Veterans Against the War, said, "We need to celebrate the results of the recent elections. Young people came out in large numbers. Now the challenge is to give Congress, which is the primary branch of government, the backbone it needs to end this war. Young people, especially, should help keep Congress' feet to the fire."
"Voting is not the end of the process," he said.
malmberg @ pww.org