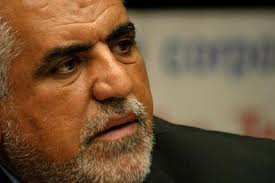 WASHINGTON – Nine years after the Bush government invaded Iraq and overthrew dictator Saddam Hussein, Iraqi unions are still repressed and toiling under the former ruler's labor law, a veteran U.S. unionist who recently toured there says.
Gene Bruskin, a former organizer for U.S. unions and co-chair of U.S. Labor Against The War, added that Iraqi union leaders face arrest for standing up to the government there. Union headquarters are trashed and other forms of repression, starting with Saddam's law itself, still exist.
He backed his comments on May 7 with videos shot during his trip, with another U.S. Labor Against The War leader, to the southern Iraqi port of Basra for a conference of organizations of civil society. The videos are available on USLAW's website.
U.S. Labor Against The War convinced the AFL-CIO in 2005 to break with U.S. foreign policy for the first time ever and denounce the Iraq War. It has continued to support Iraqi unionists. Bruskin noted that after the U.S. takeover in Iraq, other Hussein-era laws were repealed, but not the labor law.
That law bans unionizing in state-owned and controlled industries, including oil, which effectively cover 80 percent of Iraqi workers, he told a group of activists in D.C.
"We certainly believe the Iraqis will get the best labor law in the Middle East, if we back them up," Bruskin told the D.C. group.
Bruskin said, "there's a tremendous amount of hope in the resistance" to anti-worker actions by current Iraqi Prime Minister Nouri al-Maliki. He also said al-Maliki lacks credibility with many Iraqis, since he was "among the self-interested group" of exile leaders "who were put in power because they played ball with the U.S."
Iraqis overall, including the labor leaders and provincial sheikhs whom he met, generally welcomed Hussein's overthrow, Bruskin said. But the predominant view was, "Thank you for throwing him out. Now please leave." But the U.S. didn't, until now.
The Iraqi labor movement was able to come out from the underground it toiled in during Hussein's rule, Bruskin said. But with Iraqi labor law barring organizing and unionizing in most of the Iraqi economy, the unionists have had to turn to other methods to win their struggles. "What's Inspiring is the vibrancy of the labor movement," he said.
"They have walkouts, they have strikes, they have sit-ins, they have demonstrations – and they win.
"In one example, thousands of workers walked out, demanding the management throw the general manager of a petroleum plant out, because he was repressive and abusive." The management capitulated and the workers marched back in. In another petroleum plant case, a walkout saved 3,000 jobs, Bruskin said.
But the repression continues from al-Maliki's government, he warned. In the latest case, which U.S. Labor Against The War is publicizing, the state's Oil Ministry lodged a criminal complaint against oil workers union President Hassan Juma'a Awad. It claimed he was responsible for oil workers' strikes and threatened him with thousands of dollars in fines and up to five years in jail.
"Persecution of union leaders for exercising rights promised by Iraq's constitution and protected under international treaty must not be allowed to stand unchallenged," a flyer from U.S. Labor Against The War adds. Its website includes a solidarity petition.
"They're asking for our solidarity, and you can never underestimate the incredible power of the genuine solidarity they have, being literally in the belly of the beast," facing both al-Maliki and the U.S. government in back of him, Bruskin said.
Those two entities also want to denationalize Iraq's oil industry, he noted. Bush wanted U.S. oil companies to get control, and Democratic President Barack Obama tried to negotiate a withdrawal agreement that would have included that goal, Bruskin said. But the elected Iraqi parliament rebelled and no agreement was signed.
"The only thing standing against denationalization of the oil industry is the oil workers," which is why Awad faces trial, he said. But the Iraqi government has a weak case, Bruskin said. It's scheduled the opening hearing of the trial five times – and postponed it each time.
Photo: Hassan Juma'a Awad