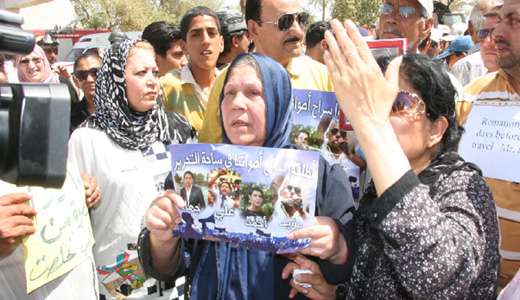 BAGHDAD – Iraqi authorities yesterday released four young activists who had been arrested on May 27 while on their way to participate in a demonstration in Tahrir Square in central Baghdad. But their release was made on a "bail guarantee."
In an interview with the daily newspaper Tareeq Al-Shaab today, the four youths stressed that the charge against them (forging identification papers) was "fabricated."
They said that they had been arrested for participating in demonstrations calling for political reform, ending corruption and providing services to the people.
Ali al-Jaf, one of the released youths, said the morale of his colleagues has been high because of the big local and international solidarity which their cause received, noting that the solidarity campaign helped to stop the maltreatment to which they were subjected.
He described the treatment they received during their detention in the intelligence headquarters of Karkh district as being "like the treatment of terrorists." He confirmed that they were beaten and insulted, and subjected to blackmail and intimidation by security men.
Al-Jaf, who is a 24-year-old university student, said the process of their release took two days, and that the "fabricated" charge against them has not been dropped.
His fellow activist Jihad Jalil said that they were "not satisfied" with their release on bail, "because we are innocent of this charge which was fabricated against us." Jihad demanded an apology from the government "for the physical and psychological harm that was inflicted on us, as well as defaming our reputation."
He explained that "it was not an arrest, but an act of kidnapping. Plain-clothed security agents arrested us and hit us, in full view of security forces present near Tahrir Square, and they shoved us into ambulances."
Jalil, 27, a worker and leader of the Mechanics' and Printers' Union, described how they were treated during their detention. He said that in "the first day of our detention, we spent nearly 10 hours in the prison yard, under the scorching sun, while being handcuffed and with our heads covered in black bags. This continued for three days."
The international campaign for their release included Human Rights Watch, Amnesty International, and the International Federation of Chemical, Energy, Mine and General Workers Unions.
Photo: A June 3 demonstration in Baghdad's Tahrir Square demanded the release of the four youth activists. Protesters hold signs with pictures of the four young men. Al-Nnas.com