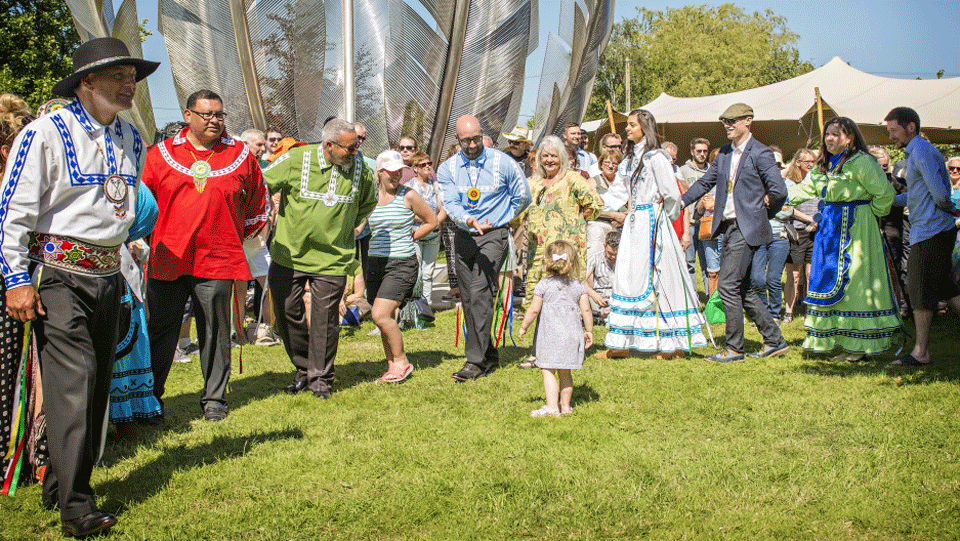 Our nation is suffering through the coronavirus pandemic, without leadership and with a death toll in six figures. Especially hard hit are people of color. "First Nations" people, Native Americans, are suffering horribly, with our national administration making this situation worse.
The national administration has not been helpful and has cut off badly needed U.S. contributions to the World Health Organization (WHO).
In this horrible situation, the people of Ireland have stepped up to help Native Americans here in the U.S. Donations from Ireland have sailed over $3 million, going to a GoFundMe account set up by the Navaho/Hopi People's Relief Fund.
Cassandra Begay, a founder of the fund, was happy but surprised. She didn't understand why all the donations are coming in from Ireland. She looked at the "comment" sections and found statement after statement thanking the Choctaw for their solidarity with Irish people during the time of the British-engineered famine, over 170 years ago.
"Our leadership team was confused but glad, and we started checking 'comments.' Many of us broke down, it is so beautiful! Finding out we had brothers and sisters across the world, learning of this solidarity connection is so powerful!"
To many on the Emerald Isle, it was time to repay a long-forgotten, and unexpected, gift of solidarity from another people, embattled, beaten down by racism, in their own time of desperate need.
One who felt a personal connection is Dublin native John Romano, of Choctaw ancestry. "You rarely ever get the opportunity to repay such a deep debt of gratitude, that our ancestors passed on to us. Bonds of human solidarity are strong!"
In 1847, in the depth of the British-controlled famine in Ireland, thousands were starving as victims of British colonial brutality, foreclosures, imprisonment, and murders – causing the death of a million Irish people. In this time of misery, they heard of donations that came from America, from Native peoples called Choctaws.
The Choctaw people in 1847 had just been forced by the U.S. administration off their ancestral lands and had been beaten and starved on the Trail of Tears. They felt a strong kinship for other embattled peoples in Ireland, an ocean away. The tribe carried out a collection and sent around $170 to Ireland to help. While that seems small, it would be around $8,000 today; it was huge to the Choctaw. It, likewise, became another story of heroic sacrifice and solidarity during the 800 years of brutal British colonial rule of Ireland.
In 2017, a memorial was unveiled in County Cork commemorating the aid sent in 1847 from Native Americans to the starving people of Ireland. It is a wide circle of 20-foot-high steel eagle feathers. That same year, the Irish parliament passed a scholarship program that allows Choctaw students to study in Ireland free of charge, starting in 2019. Taoiseach (head of state of Ireland) Leo Varadkar came to Oklahoma that same year to announce the program and proclaim Ireland's strong bond of solidarity with Choctaw/Native peoples here.
"The bond of friendship and solidarity is strong, will never be broken between our peoples," said Wilbur White Deer. "When we help each other in our times of need, that is never forgotten."
The Navajo nation, and home of the Choctaw peoples, covers Arizona, New Mexico, and Utah. Rates of heart disease, asthma, hypertension, and diabetes are among the highest in the U.S. Native peoples are plagued with extremely high levels of unemployment, lack of medical care, alcoholism, and suicide. COVID-19 rates among Native people are now among the highest in our nation, with little aid coming from the government.
The Irish Republic, meanwhile, has swung politically left in recent years. Defying the strong conservative influence of the Catholic Church, referendums in Ireland passed, with strong majorities, legalizing divorce, stronger women's rights, and then recognizing basic rights of LGBT folks there.
Correction: The last paragraph of an earlier version of this article was incorrect. Sinn Fein is not part of the Irish government despite the fact that it led in the 2020 popular vote, 24.2%-23.5% over Fianna Fail, but FF got 38 seats in the lower house of parliament, to Sinn Fein's 37, and FF is tasked with forming the government. It leads a minority government kept in power only through a power-sharing arrangement with the other traditional main party, Fine Gael (32 seats). But even combined, they don't have a majority. The talks about a real coalition have foundered, according to the Irish Times, because of boycott-divestment-sanctions (BDS) legislation. Fianna Fail, Sinn Fein, and other opposition parties—including Labour and the Greens—backed it, and Parliament passed it in late 2018 and early 2019, over Fine Gael opposition. The Irish BDS legislation would apply to Israeli-produced goods using Occupied Territories labor. The Irish attorney general tossed the BDS bill out as illegal, however, saying it violates Irish membership in the  European Union, which controls all external trade relations of EU member nations. The talks about the new government revolve around how to square that circle: Their support vs. the EU's rule. Palestinians rejoiced over the parliamentary passage and media such as Al Jazeera published on the topic, thought the last story appears to have been published in early 2019. The Irish Times reported the situation surrounding the current coalition talks, mentioning the BDS bill as the stumbling block, on May 27, 2020.