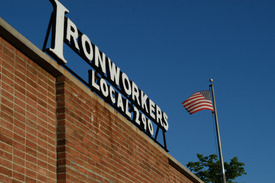 Ohio Ironworkers offer career training
The following is reprinted from the Ohio AFL-CIO newsletter with permission.
"Yea, Grampa, we know. You built that building."
In many households across Ohio and the country, that statement has been spoken over and over again by many grandchildren looking more for toys than history lessons. Old men, proud of what they've done over their working lifetime can't seem to help themselves when they drive over a bridge or past a hospital, pull in a parking garage or stop at a mall. When you've put your life's blood building something as solid as a hospital or a factory building, it's tough to dismiss it casually.
You see, that's what the Ironworkers of Local 290 do. We build things. We build the buildings where your cars are assembled, we build the hospitals where your babies are born, we build the schools where you kids learn their ABC's and get their degrees.
We build; but we build more than just buildings. We build families, we build communities, and we build careers.
We have many second-generation and even some third and fourth-generation members of the Ironworkers and that clearly indicates that this trade has "legs." Those stories we heard from our dads as kids made a lasting impression on many of us. So did a steady check, health insurance and a retirement plan. Once, we might have been tainted with the stigma of closed doors and closed minds, but those days are far behind us.
In the Dayton area we have both sons and daughters of Ironworkers who take up the trade. We are now enjoying the second generation of minority members with sons and daughters of Hispanics and African Americans finding their place in ironworking. The nature of family is reflected in our fish fries, the Ironworkers' Picnic and our annual academic scholarship.
Aside from constructing the bridges and buildings in our cities, Ironworkers also help build our communities. Small-town citizens sleep at night knowing that dedicated volunteer fire-fighters are ready to respond in a moment's notice to the call for help. Like those firemen, Ironworkers also train hard for years to keep our neighbors safe. Dedicated men and women come home weary from a day in the "rod-patch" or dragging deck but stand tall because Ironworkers know their strength and skills to help protect the communities in which we live.
Across the country, hardworking Ironworkers change from greasy jeans or rusty carhartts and pull on shorts or sweats and head for ball fields where they coach Little League, ref a basketball game or teach Golden Gloves. Ironworkers are scout masters and Sunday school teachers. We are school board members and city commissioners. Because we appreciate the value of community, Local 290 has endowed the Charles Henry Black Leadership Development scholarship at the Dayton Urban League.
But most importantly, Ironworkers build careers for its members. Some might make the mistake in thinking that ironworking is temporary employment, only in the summertime when the orange barrels are out. That is far from the truth. We build year round. When you belong to a trade union, you realize that you are a part of something much greater than just a job or a company. You know that you share a rich heritage that spans over a century in this country and has its roots in ancient tradition.
In earlier times when individuals began to practice specialized skills, guilds were formed to provide a sense of fraternity. Guilds also offered an opportunity to share knowledge, techniques and set standards of performance. Long before Joint Apprenticeship Training programs, mature, skilled craftsmen identified eager and willing youngsters and took them under their wings. The tradition of journeyman-apprentice dates back to the middle ages where the knowledge of a trade was passed from one generation to the next.
That early system has evolved into the comprehensive training program we have today. It is designed to prepare every participant in all the required skill sets needed to perform as a journeyman Ironworker. Local 290 has a four-year program that covers every aspect of our trade from reinforcing rods to roof decking, from setting steel to installing machinery, from curtain-wall to stairways and much more. We also offer a two-year program specializing in reinforcing rods and post-tensioning. In addition, our program stresses safety at every step of the way. Our apprentices receive OSHA 10, Sub part R, CPR, confined space, lead abatement, lift handling and other training to insure that everybody goes home safely at the end of the day; both our workers and our neighbors.
Beginning in the late 1950s with classes at Patterson Co-op, Local 290's program has matured into a multimillion dollar operation with a state of the art, ODOT approved weld training and testing facility, six classrooms and work stations to train on material handling systems and process equipment.
Following the old tradition, our instructors come from the ranks of our own membership and benefit from years of hands-on experience. In addition, many receive extensive training at our International Apprentice Training facility in San Diego, California where they learn the latest in tools and techniques. Since ours is a changing craft, we also offer continuing education in the form of Journeyman upgrades covering a wide range of subjects.
The apprentice program is overseen by a joint labor-management board of trustees represented by union leaders and business owners. All are committed to sustaining an operation designed to produce well-trained, highly skilled craft men and women who are capable of building and maintaining the structures that serve our society. Funding is provided by the membership of the Local through an hourly dues check-off. Our program is approved by the Department of Labor, the Ohio Bureau of Apprenticeship and Training and the International Association of Bridge, Structural, Ornamental, and Reinforcing Iron Workers. Additionally, we work in conjunction with Owens Community College to provide a pathway to their degree program.
Ironworker locals across the state accept applications year round. Applicants interested in a career path that leads to excellent wages and benefits in the challenging field of ironworking should contact Mike Yauger at 937-222-1622 or 937-604-5072.
If you are looking for something more than just a job, more than just a place to collect a paycheck, check us out. If you want to build a future for yourself, your family and your community: we might be what you're looking for.
You can also visit .
See the Ohio AFL-CIO Ironworker video, below, to hear two apprentices from Iron Workers Local 290 discuss how joining the union has changed their lives.