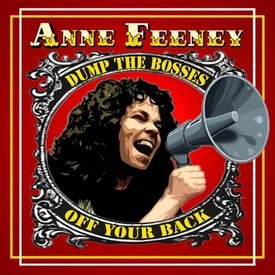 CD Review
Dump the Bosses Off Your Back
Anne Feeney
www.annefeeney.com, $14.99
As the organ music begins on labor singer Anne Feeney's new CD, the tune is easily remembered. In churches we sing it as, 'What a Friend We Have in Jesus,' but for Anne, it's just a good tune to be ramped up and re-used for her new album, 'Dump the Bosses off Your Back.'
Track two is the infamous Joe Hill song, 'The Preacher and the Slave,' to the tune of the religious, 'Sweet Bye and Bye.' The question arises, 'Is Ms Feeney irreverent, or even anti-religious?' By the time we get to track 14, 'Brave New Christmas,' wherein Santa's elves get layoff notices and all the toy building moves to Mexico, we can be pretty sure she is.
But consider track 11, 'Business News/Hallelujah I'm a Bum.' I don't think I had ever understood that old Industrial Workers of the World anthem until I heard Feeney's new version. While news announcers give business statistics about piles of corporate wealth, Feeney slowly croons those old lyrics such as 'How the hell can I work when there's no work to do?' Sung with almost dirge-like sorrow, the song finally makes sense.
And consider track 3, one of the six original new Feeney-written tunes, 'You Will Answer.' It is as religious as religion gets. Feeney blasts the corporate slave drivers with the finality of eternal judgment before a God that loves workers.
Then the mystery is solved. Anne Feeney is not anti-religious but anti-boss. Her reverence is thorough and complete, but it's reserved for the workers' side!
Anne Feeney spends more time roving the United States than she does in her Pittsburgh hometown. Usually, in springtime, she tours Texas towns while on her way to the Kerrville Folk Festival. At every stop, Feeney looks for audiences among the nation's workers. One might be surprised at how small an audience she will consider acceptable, and how hard she will work. She doesn't look for the most lucrative gigs, but for those that will advance the workers' movement most. In Dallas, she even got up early to promote a community radio station for no pay at all. In fact, she scraped together a donation!
Feeney's voice, on this new CD and her previous five, is clear brass ringing an alarm bell for the workers' movement. All her CD's are available from www.laborheritage.org or by calling 1-800-BUY-MY-CD.