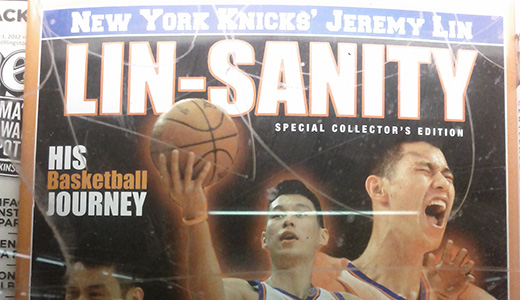 Try googling "Ben & Jerry's fortune cookie ice cream" and you will see pages and pages of news items on the "Taste the Lin-Sanity" frozen yogurt flavor, which featured fortune cookies and lychee swirls in honor of Knicks basketball sensation Jeremy Lin. After complaints about the ethnic stereotyping of Lin, who is Taiwanese-American, the company replaced the fortune cookie ingredient with a waffle cookie on the side, and apologized "if anyone was offended" by the product.
An article we ran yesterday reviewing the Ben & Jerry's incident, and also mentioning racial slurs used by ESPN and other media regarding Lin, drew a number of comments on our Facebook page. Some doubted that the fortune cookie ice cream was really a problem.
Yet on Feb. 22 the Asian American Journalists Association felt impelled to issue a "Media Advisory on Jeremy Lin news coverage."
"In the past weeks, as more news outlets report on Lin, his game and his story, AAJA has noticed factual inaccuracies about Lin's background as well as an alarming number of references that rely on stereotypes about Asians or Asian Americans," the advisory says.
Among the "danger zones" the AAJA lists "Food."
"Is there a compelling reason to draw a connection between Lin and fortune cookies, takeout boxes or similar imagery?" the advisory asks. "In the majority of news coverage, the answer will be no."
In mid-February, the MSG Network featured Lin's face above a fortune cookie in a sign held by a fan, with the message "The Knicks' good fortune." Andrew Kang, senior staff attorney at the Asian-American Institute in Chicago, told USA Today that he feels it is a "tough call" whether MSG should be criticized for featuring the image.
"I would prefer maybe they didn't show that – although I could imagine people finding it humorous," said Kang. "But I think it does go to what people think when they think of Asians. They think of food. Because that is really their only point of contact, or awareness, with the Asian-American community."
Commentator Kristina Chew at care2.com says, "MSG's use of the fortune cookie in its graphic underscores how limited many people's understanding of Asian Americans is. Ben & Jerry's would have done well to take heed of the concerns."
Interestingly, fortune cookies are believed to have Japanese, not Chinese, origins.
Photo: mjpeacecorps CC 2.0