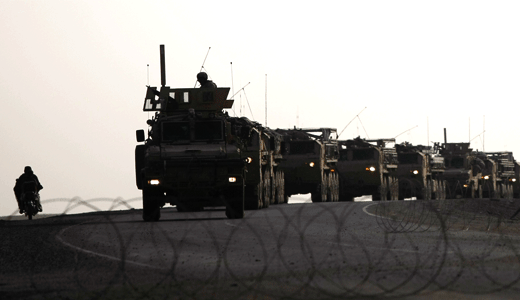 President Obama announced his Afghanistan strategy Dec. 1 to a U.S. public that has very mixed feelings about the war and openly wonder if this will be the president's "Vietnam."
Such a comparison refers to President Lyndon Johnson, who pursued an ambitious "Great Society" agenda but got caught in the "Big Muddy" as he escalated the war in Vietnam and was unable to achieve his generally positive domestic agenda, eventually leaving the presidency as a failed figure.
Obama is sending some 30,000 additional troops to Afghanistan. In a 35-minute speech to West Point cadets, he made his case for the surge with very few specifics on how he envisions finally exiting the eight-year long war.
Citing "eerie echoes of Vietnam," Rep. Jane Harman, D-Calif., considered a moderate, even hawkish on foreign policy issues, told a local news site, dailybreeze.com, that she disagrees with the troop surge.
"I think that will make it harder, not easier, to achieve the objective," she said. Harman said her recent trip to Afghanistan confirmed this view.
Harman said if there is a straight up or down vote in Congress on the surge, she would vote no.
Another California Democrat, Rep. Maxine Waters, known for her outspoken antiwar stands, said she was "saddened" by Obama's speech.
"I think that the president has trapped himself into trying to satisfy the military establishment," she told dailybreeze.com. "I think that people are weary of this war. We need to take care of the domestic agenda."
She questioned the strategic objectives of Obama's plan. "I don't see that he has laid out a program for winning or withdrawal," she said. "As a matter of fact, I don't know what 'win' is. I don't think that's clearly defined."
Polls show public sentiment on the issue in the U.S. is divided and contradictory. A USA Today/Gallup poll released Nov. 30 indicates a modest shift in support for troop level increases from a previous poll over two weeks ago.
Overall 47 percent favor some sort of increase in troop levels. Dropping 5 points from the last poll, 39 percent now want to see a reduction in troop levels, whereas 9 percent think current U.S. levels should be maintained.
Perhaps at the heart of the confusion is the deep concern among Americans about national security in the post-9/11 world. In his speech, Obama cited that concern as the main reason for the surge.
In an opinion piece on cnn.com, retired Col. Ann Wright, who served for 29 years in the U.S. Army and Army Reserves and 16 years as a diplomat, resigning from the State Department in protest over the Iraq war, and Paul Kawika Martin of Peace Action said it is time for Americans to insist on a nonmilitary way out of the regional disaster.
"The first step in providing Afghans security and weakening the Taliban and violent extremists is to remove recruiting incentives," they wrote. "It's time to stop air and Predator drone strikes that tend to kill, injure and terrorize civilians. It's time to stop arbitrary detentions and harsh treatment of prisoners that would be unacceptable here."
Calling for much more attention to human development, Wright and Martin said, "Investing in a living wage and pressuring Hamid Karzai's government to punish corruption swiftly will pay more security dividends than the $1 million a year it costs to send one U.S. soldier."
They agreed with the president's attention to securing the Pakistan-Afghanistan border, but said it could be achieved through "international pressure on Pakistan to strengthen their border patrols and rid their country of violent extremists such as al Qaeda."
Figures on the political left also took issue with the president's decision.
"It's not a wise decision on the president's part," said Sam Webb, national chairman of the Communist Party USA. "If we are hoping to achieve national security we are going in the opposite direction. The traditional belief is that if we add more troops on the ground we will pacify the country. But that has never worked."
"The troop build-up is about a lot more than taking Osama bin-Laden," Webb said. "We are intervening in a 30-plus-years-long civil war, which U.S. Cold War policies helped to create."
Webb worried about the July 2011 "beginning of the end" date. "A lot of things could happen between now and then," he said. "There will be lots of pressure on the president to not withdraw"
Webb said the president's argument in his speech that the U.S. has not had imperial interests is "ridiculous."
"Such an idea doesn't play well outside of the United States," since it is well known that the U.S. has "a track record of blowing up countries from Iraq to Vietnam to countries in Central and South America," he said.
It would be much better to send international peacemakers, and not more troops sporting NATO or U.S. uniforms.
The CPUSA, Webb said, renews its call for the withdrawal of troops and for diplomatic, nonmilitary solutions to the problems in the region. The organization will join vigils and rallies around the country to protest the president's decision, he said.
Photo: Associate Press