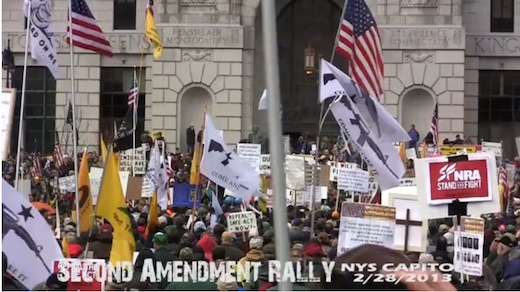 If you live in upstate New York or similar communities you've probably seen or heard of protests and rallies: against the affordable health care act, against raising taxes on the extremely wealthy, against raising the minimum wage, against marriage equality, and more than anything against stronger gun laws. These are the voices of the ultra-right, as of 2008, with the election of the first African American president. Neo-Nazi, tea party, Ku Klux Klan and militia groups have multiplied since then and exist in many small communities, across the Internet, on radio talk shows and even in Congress.
Much of the rhetoric varies from group to group however it is consistently anti-Muslim, anti-LGBTQ, anti-worker, anti-reproductive rights, and radically pro-gun. These groups have become more vocal and in many cases more violent.
Galway is the smallest incorporated village in New York State with a proportionally small surrounding town, in Saratoga County. Of Galway's 2,000 residents most know one another. Galway is home to a few local businesses, an animal hospital, three churches, a small public library and a small school whose senior class usually contains an average of 100 students.
Glendon Scott Crawford, a General Electric employee, was a prominent member of the community. He was married to the local high school's librarian and taught Sunday school in a local church. But Crawford was also a member of a radically right-wing tea party/militia group called "Americans Demanding Liberty and Freedom" as well as a self-proclaimed (but unconfirmed) member of the KKK.
On June 20, 2013, Crawford was arrested on charges connected with domestic terrorism. He had been attempting to build a truck-mounted radiation gun that he believed could be used to poison people from a distance. His targets included Muslims and leftists. According to members of the community Crawford was outspoken against Islam, women's rights, immigrants' rights, the presidency of Barack Obama and New York's SAFE Act, a state gun control law passed in January.
One girl, a Galway High School graduate, told me in an interview, that Crawford "was just really against Obama and really obsessed with guns, but that's normal around here. I never thought he'd try to kill anyone, I mean he was my Sunday school teacher." A student at Galway High told me, "Yeah, I talked to him a couple times, He just really hated Obama and it seemed like all he'd talk about."
Another disturbingly similar incident took place earlier this year, in another small town, Clarkstown, N.Y. Forty-nine-year-old Larry Mulqueen, another seemingly normal man also affiliated with a local tea party group, was arrested after his landlady alerted police to threats he made against local politicians via Facebook. When police went to Mulqueen's apartment they found a "liberal hit list," several rifles and bladed weapons. Mulqueen posted on a fake Facebook account: "I cannot wait to start killing the scum. I want these scumbags DEAD!!! That traitor scum. Obama subservient eunuchs, F***k them and death to them."
Again in 2013, a Minnesota man, 24-year-old Buford Rogers, a member of a far-right group called the Black Snake Militia, was arrested in connection with domestic terrorism. In his mobile home the FBI found Molotov cocktails, pipe bombs and multiple firearms including an AKM assault rifle.
There is no doubt that right-wing domestic terrorism has become a trend in the United States, seemingly in reaction to the election of our first African American president.
Some may think that the actions of men like Crawford and Mulqueen, despite becoming the new norm in the U.S., are of little significance politically, that people like them are "isolated incidents" which have no effect on the political mainstream. But this is sadly far from the truth.
In January 2013 Washington state Rep. Sherry Appleton was forced to withdraw legislation she had introduced to repeal her state's "stand your ground" law – similar to the Florida law which resulted in the 2012 shooting death of Trayvon Martin, an unarmed teenager. Appleton received threatening phone calls and emails stating, "We will be watching you" and "You will be sorry." Appleton withdrew the legislation, saying, "These people, when it comes to guns, they can be really threatening. People like that, you can't talk to. I mean it was shocking to me".
Republican/"libertarians" Ron Paul and his son Rand have achieved a new level of popularity, especially across the Internet and amongst young people. What many of the Pauls' supporters may not know about their candidates is that Ron Paul has a history with white supremacists and right-wing extremist groups and ideology.
In the late 1980s and early '90s Ron Paul published a newsletter that contained many racist and anti-Semitic remarks and often talked about the "upcoming race war." Years after these were published Paul denied having any knowledge or control over what was published in a newsletter with his name on it. But the full extent of Ron Paul's relationship with white supremacists came to light recently in emails leaked by the hacktivist collective "Anonymous." These reveal that Ron Paul and his son Rand exchanged emails with and regularly met with the American Third Position (A3P) – now called the American Freedom Party – a neo-Nazi group started by violent white power skinheads from southern California. According to these emails the A3P supported Ron Paul's 2012 presidential campaign financially and by organizing events.
Jamie Kelso, the A3P webmaster, has been very open about his support for Ron and Rand Paul, writing in 2009, "My own opinion is that the White revolution has already begun, and that the good White folks like Quinn [a member of A3P] that fills these Ron Paul crowds and marching armies ARE the start of the revolution."
Ron Paul has a long history with other white supremacists such as Don Black, the owner of a "white nationalist" message board called Stormfront, who also funded his presidential campaign.
The events cited here, as shocking as they may seem, have been happening more frequently every year since 2008. Not only do radical right-wing groups have record numbers of groups, demonstrations, mainstream news pundits and even politicians who represent their ideology in the Republican Party, but they also have Democratic politicians afraid of them – a fear that poses a threat to our democracy.
Photo: Screenshot of a 2013 New York State NRA rally video.