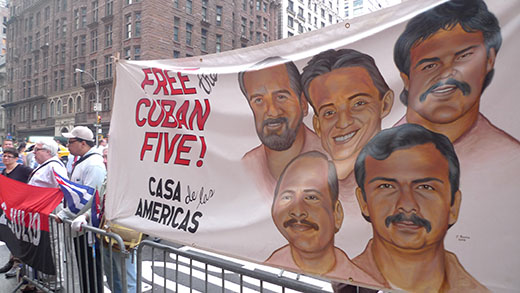 During the 2008 election campaign, Barack Obama stated that he would be willing to meet without preconditions with the leaders of countries with which the United States has had hostile relations, including Cuba.
At an April 2009 summit meeting in Trinidad, Obama repeated his willingness to try to open up a new chapter in U.S. relations with Latin America. These statements received a guardedly positive response from left-wing leaders in the area, including Cuba's President Raul Castro.
Some hoped that perhaps it was a sign that things would go back to the "high point" in post-Revolution U.S.-Cuba relations, during the administration of Jimmy Carter where some significant advances were made.
The Cubans, though reluctant to raise unrealistic hopes, felt so too. President Raul Castro began to drop very broad hints that as a start, if the United States would release the Cuba 5, Cuba might respond with a parallel gesture, perhaps releasing some individuals that the United States claims are "political prisoners".
There has been some softening of; U.S. policy toward Cuba. Talks about visas for Cubans wishing to immigrate to the United States resumed this spring, and the Obama administration cancelled restrictions that had been imposed by George W. Bush on Cubans-Americans visiting their relatives in the island or sending them money.
However, the main Cuban wish list has been left untouched: An end to the 50 year trade blockade, an end to restrictions on travel by U.S. residents to Cuba, a change of the "wet foot-dry foot" policy that encourages dangerous rafter trips from Cuba to the United States, an end to U.S. efforts to destabilize Cuba and the extradition of anti-Cuba terrorists in the United States, such as Luis Posada Carriles, if not to Cuba then at least to Venezuela to stand trial, and freedom for the Cuban Five.
Over the last month, Cuba has offered a major gesture by starting to free the last of a group of Cubans sentenced to prison terms of various lengths for having accepted money from the United States to carry out anti-government activities, a specific violation of Cuban law. The Cuban government, the Roman Catholic Church and the Spanish government worked together to achieve the humanitarian release of these 52 people.
But as yet no move has been made to free the Five, and two of them have not even been allowed to receive visits from their wives.
Now a new issue has arisen: The arrest of a U.S. Agency for International Development subcontractor in Cuba late last year on suspicion of immigration and espionage violations. The arrestee is Alan Gross, who worked for his own company, D.A.I., under contract to the U.S. "Office of Transition Initiatives" (OTI). OTI is a secretive and scandal ridden USAID program whose job it is to fund projects within Cuba which are supposed to return the island to capitalism. Gross had entered Cuba on a tourist visa (that was the immigration violation) and had been working to provide Cuban dissidents with high powered and very expensive satellite phones, which are not permitted in Cuba. The State Department claims he was trying to help Jews in Cuba to maintain contact with the outside world, and on June 13 Secretary of State Clinton called on Jews in the United States to come to Gross's defense.
However, journalist and filmmaker Saul Landau, who is very familiar with the Cuba scene, talked to Jewish leaders in Cuba who told him that they had no problem in communicating with the outside world, and that they had never heard of Gross. Click here for more information.
So it would appear that Cuban security caught Gross dead to rights.
Landau says the United States should simply exchange 5 for a "Gross" (pun intended).
Some news reports suggest that the Obama administration might be on the point of loosening up rules for getting licenses for trips to Cuba, which was made very difficult by the Bush administration (See Ginger Thompson ("U.S. Said to Plan Easing Rules for Travel to Cuba", New York Times August 17). No official public statement has been made, but there is a strong bipartisan campaign to end the Cuba travel ban completely to which this could be a response. A bill to this effect (HR 4645) passed the House Agriculture Committee by a vote of 25 to 20 on June 30 and is awaiting further action.
Senator Amy Klobuchar (D-MN) has introduced a companion measure, S 3112.
The success of any effort to bring U.S.-Cuba relations out of the deep freeze still depends on people in the United States pressuring the White House, State Department and Congress to make these changes.
Photo: http://www.flickr.com/photos/mario_carvajal/4739056675/sizes/o/