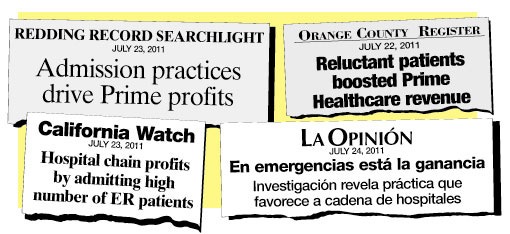 California-based Prime Healthcare Services owns acute care hospitals in California, Kansas, Nevada, New Jersey, Pennsylvania, Rhode Island and Texas. The for profit health provider is expanding its operations with approval from states' attorneys general. Prime Healthcare's chairman is Dr. Prem Reddy.
The New Jersey Attorney General and New Jersey's Department of Health have approved the acquisition of Saint Mary's Hospital in Passaic, N.J.,by Prime HealthCare Services. This move clears the way for the acquisitions of Saint Michael's in Newark and Saint Clare's in Denville, Boonton, Dover and Sussex. Prime has also recently acquired Lower Bucks and Roxborough Memorial Hospitals in Pennsylvania.
There have been multiple allegations about the Prime's questionable business practices. The Los Angeles Times ran a news story in 2007, which alleged that the policies of Prime HealthCare Services, Inc., resulted in above average profits at the possible cost of patient care.
Quoting the LA Times piece, "When [Dr. Prem] Reddy's company, Prime Healthcare Services Inc., takes over a hospital, it typically cancels insurance contracts, allowing the hospital to collect steeply higher reimbursements. It has suspended services – such as chemotherapy treatments, mental health care and birthing centers – that patients need but aren't lucrative… On four occasions since 2002, inspectors have found that Prime Healthcare facilities failed to meet minimum federal safety standards, placing their Medicare funding at risk."
Allegations have been made by Kaiser and by former employees of Prime Healthcare of transferring high numbers of patients from its emergency room to its hospital beds, particularly Medicare and Kaiser Patients, then refusing to notify doctors when their patients were in the facility, and not allowing the patient's doctors to treat their patients and then sending their insurance companies overly inflated bills.
This process is known as "trapping patients." Despite a recent ruling by a judge, as late as September of 2013, Doctors with the Inland Pulmonary Medical Group said they are still not receiving notices when their patients are admitted to Chino Valley Medical Center in California. The former Prime employees have stated that this is done with the view of changing hospitals from that of a money-losing to a "highly profitable" hospital.
In a process is known as "up-coding", Reddy (caught on tape) encouraged physicians to diagnose their patients with complications called "comorbid conditions" that qualify for thousands of dollars of Medicare bonus payments. He urged them to avoid secondary diagnoses that don't qualify for the payout.
He said, "I am just only scratching the surface of giving you how what you write in the charts is going to make a lot more difference going forward, both for doctors and for the hospital….For example, I am a cardiologist, so I can tell [you] atrial fibrillation [an irregular heartbeat] should be a comorbid condition, but they [Medicare] removed it a few years ago, three years ago. But atrial flutter [an abnormal heart rhythm] is still a comorbid condition. …So now knowing the rules of the game of atrial fibrillation, you now know how to document it."
According to an article in Wikipedia, "In Mount Shasta, Victorville and the Mojave Desert, Calif., Prime has had high rates of kwashiorkor, a form of malnutrition that occurs when there is not enough protein in the diet, among its elderly patients. Kwashiorkor cases occur in areas of famine or poor food supply. Cases in the developed world are rare. At Shasta Regional Medical Center, Prime reported 16.1 percent of their Medicare patients suffered from kwashiorkor, while California's average for Medicare patients is 0.2 percent."
The article went on to say, "Six Prime hospitals ranked in the 99th percentile of U.S. hospitals for septicemia and five were in the 95th percentile." A probe by the United States Department of Health and Human Services and the California Department of Justice found that Prime Healthcare inaccurately diagnoses infections by a reported spike in septicemia. The investigation centered around whether the spike in septicemia represents a large public health issue or multimillion-dollar Medicare fraud.
A growing coalition of community leaders and union members are starting to speak out seeking lawmakers to hold Prime Healthcare Services accountable. Service Employee International Union members who work for Prime hospitals have grown increasingly concerned that the company's profit-driven approach is hurting patients, workers, and communities.
Photo: via SEIU-UHW