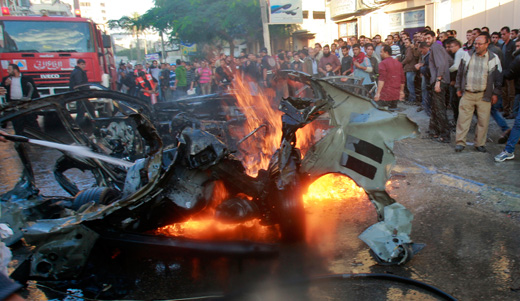 A senior military commander of Palestinian Islamist group Hamas was assassinated by an Israeli air strike Nov. 14.
Ahmed al-Jabari and another top Hamas official Mohammed al-Hams were killed during a wave of raids in retaliation for rockets fired into southern Israel.
The 46 year-old al-Qassam brigades leader is the most senior Hamas figure to be killed since Israel's last invasion four years ago.
An Israeli Defence Force spokeswoman told the BBC the killing was part of an effort to destroy Hamas and Islamic Jihad's ability to mount attacks.
More than 110 rockets have been fired into Israel since Nov. 9 with no fatalities, but Hamas appeared prior to the today's killings to hold to a ceasefire it offered the morning of Nov. 13.
The deaths are likely to be seen as a major provocation in Gaza and the West Bank.
The assassinations come a day after Prime Minister Benjamin Netanyahu convened a meeting of senior cabinet ministers to consider the controversial tactic, which provoked international outrage a decade ago.
Left-wing Hadash party Israeli MP Dov Khenin condemned the killings.
"Assassinating leaders is never the solution," he said.
"In place of the leaders killed, other will grow, and we will only get another cycle of fire and blood."
But the IDF warned that it was "ready to initiate a ground operation in Gaza" if necessary and that it had identified further targets for assassination.
Hamas supporters were also in fighting mood, with thousands gathering outside the hospital Mr. Jabari was taken to demand "retaliation" and an immediate attack on Tel Aviv.
Photo: Wreckage of the car in which was killed Ahmed Jabari, head of the Hamas military wing in Gaza City, Nov. 14. The Israeli military said its assassination of the Hamas military commander marks the beginning of an operation against Gaza militants. Adel Hana/AP