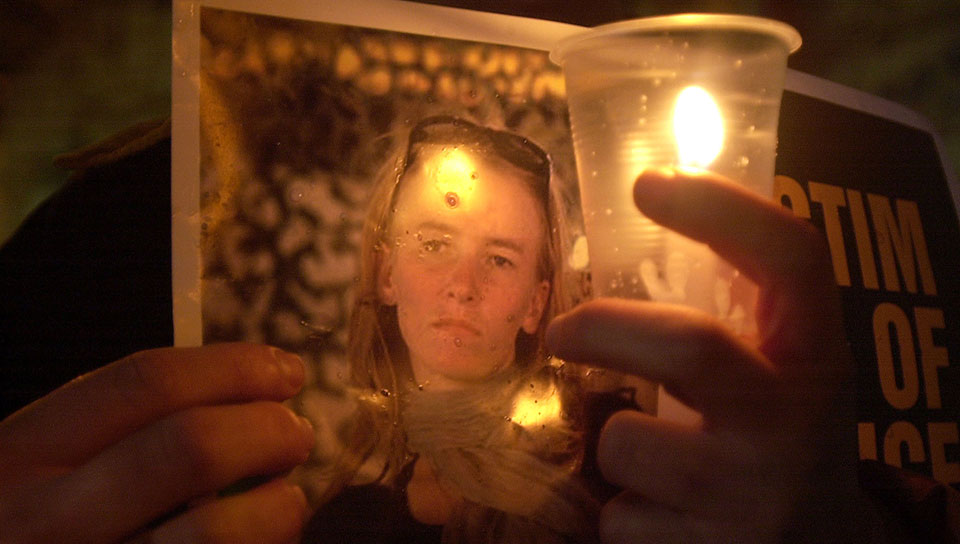 RAFAH, Gaza Strip – Rachel Corrie, a 23-year-old American woman from Olympia, Wash., who was a volunteer with the International Solidarity Movement (ISM), was killed by the Israeli Army on March 16. A March 17 statement by the ISM said, "Rachel was standing in the path of the bulldozer as it advanced towards her … The bulldozer continued to advance so that she was pulled under the pile of dirt and rubble. After she had disappeared from view the driver kept advancing until the bulldozer was completely on top of her."
The seven other ISM activists taking part in the action rushed to dig out her body. An ambulance rushed her to Al-Najar Hospital where she died.
Eyewitnesses reported that the bulldozer driver was able to see Rachel and that they were shouting to the driver to stop.
The ISM is one of a number of groups of international protesters that have gathered in the occupied territories, as "human shields" to try to stop these Israeli army "operations." Greg Schnabel, 28, from Chicago, said, "We stay with families whose house is to be demolished," he told the press.
Schnabel said the protesters were in the house of Dr. Samir Masri. "Rachel was alone in front of the house as we were trying to get them to stop," he said. "She waved for the bulldozer to stop. We yelled 'stop, stop,' and the bulldozer didn't stop at all. It had completely run over her and then it reversed and ran back over her."
The Israeli Army bulldozes Palestinian homes, particularly in Rafah, where over 100 homes have been demolished in the last two years.
"International civilians are in the Occupied Palestinian Territories attempting to protect Palestinian human rights and lives precisely because formal international bodies have refused to take action to do so. Dozens of Palestinian civilians are being systematically murdered weekly, and today, a beautiful, conscientious American defender of human rights was killed trying to protect the home of a Palestinian family," the ISM statement said.
The bulldozer that killed Rachel Corrie was an American-made Caterpillar D-9 bulldozer. The U.S. gives Israel $2.2 billion in military aid every year.
Rachel's parents, Craig and Cindy Corrie released the following statement, "We are now in a period of grieving and still finding out the details behind the death of Rachel in the Gaza Strip. We have raised all our children to appreciate the beauty of the global community and family and are proud that Rachel was able to live her convictions. Rachel was filled with love and a sense of duty to her fellow man, wherever they lived. And, she gave her life trying to protect those that are unable to protect themselves."