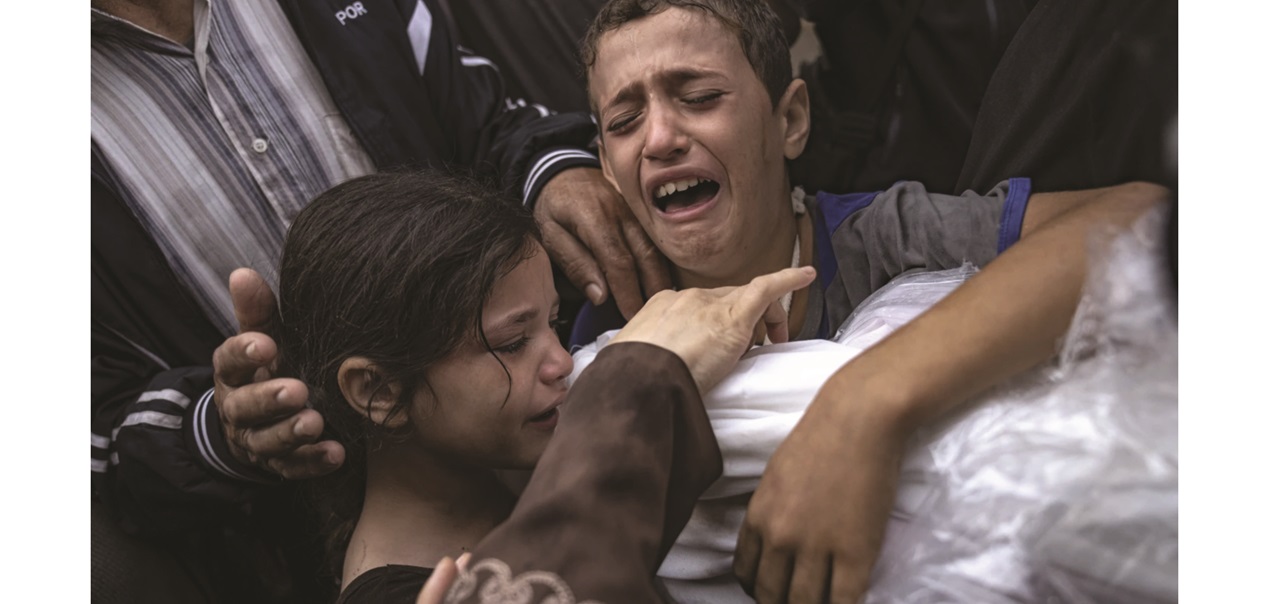 The leaked plans revealed it, the genocidal war on the ground demonstrated it, and now the words of a top government minister confirm it: Israel's ultimate plan in this war is the permanent expulsion of the Palestinian people from Gaza.
Bezalel Smotrich, finance minister in the cabinet of Prime Minister Benjamin Netanyahu, declared Tuesday, "The State of Israel will no longer be able to accept the existence of an independent entity in Gaza."
He said the only "humanitarian solution…after 75 years of refugees, poverty, and danger" is "the voluntary emigration of Gaza Arabs to the countries of the world."
In plain English: Get out now because we're not going to stop oppressing and killing you.
Smotrich's admission is emblematic of a government that increasingly feels no need to be inhibited when it comes to proclaiming its true intentions in the current war against Gaza.
His remarks were the second blatant call for Palestinian removal in as many days, a follow-up to a Wall Street Journal op-ed on Monday by his Knesset colleagues, Danny Danon and Ram Ben-Barak.
The two leading politicians—Danon is a senior member of Netanyahu's Likud Party and Ben-Barak is the former deputy chief of the Mossad secret police—audaciously criticized the United Nations for doing "nothing tangible to help Gaza's residents" and said the world has to find "solutions to help civilians caught in the crisis."
Danon and Ben-Barak recalled the history of Europe and the U.S. accepting refugees from wars in Bosnia, Kosovo, Syria, and other locales in recent decades. They suggested that the "countries of the world should offer a haven for Gaza residents who seek relocation" and "collaborate…to provide financial-support packages" to get Palestinians out.
With phrases reminiscent of a charity telethon host, the two Israeli leaders pleaded, saying that "even if countries took in as few as 10,000 people each, it would help."
Shockingly, they say that "the international community has a moral imperative…to demonstrate compassion" and "help the people of Gaza move toward a more prosperous future."
There is, apparently, no "moral imperative" for Israel to "demonstrate compassion" and "help the people of Gaza" by ceasing its bombing of hospitals, its flattening of apartment buildings, or its expulsions at gunpoint.
The supposed concerns for Gazans' safety shown by these "humanitarians" are intended to distract from the fact that they themselves sit at the pinnacle of power within the very state that is the source of Palestinian suffering.
While Danon and Ben-Barak were speaking largely to a U.S. audience in their Wall Street Journal appeal, Smotrich wrote in Hebrew and aimed his remarks at a domestic political base.
"The majority of Gaza's population is the fourth and fifth generation of the '48 refugees," he said, referring to what Palestinians call "the Nakba," or "the catastrophe"—the 1948 forced expulsion of Arabs from historic Palestine by militias to clear the way for the founding of the State of Israel.
"Instead of being rehabilitated…like hundreds of millions of refugees around the world," Smotrich said Palestinians remained "hostages" to their own hatred. Their continued presence in Gaza, he said, was "irreconcilable" with Israel's existence.
Smotrich heads the Religious Zionist Party, one of the extremist parties that make up Netanyahu's ruling coalition. He is himself an illegal settler who lives on stolen Palestinian land in the West Bank and has previously called for unrestrained Jewish settlement and the complete annexation of the Palestinian territories.
In 2005, before he was a politician, Smotrich was reportedly arrested on suspicion that he was part of a terrorist plot to blow up the Ayalon Highway, a major road then being used by Israeli troops departing from their occupation of Gaza. He was in possession of 700 liters of gasoline at the time of his arrest but denied the charge.
He has described himself as a "proud homophobe" and was involved in organizing an anti-Pride event that he called the "Beast Parade." He has proposed that Israeli maternity wards be segregated to keep Arabs away from Jewish mothers and babies, declared that "illiterate" Arabs only get into Israeli universities thanks to affirmative action, and said there is "no such thing as a Palestinian people."
He was given his powerful post at the finance ministry by Netanyahu following the 2022 elections and was also made governor of the West Bank, entrusted with further developing the illegal settlements there and integrating them with Israeli territory.
Smotrich, Danon, Ben-Barak—these are the leading figures in the Netanyahu government that the Biden administration continues to arm and unquestioningly support. Is there any way the White House can feign ignorance or honestly claim that this war is still just a response to the Hamas attacks of Oct. 7th?
For anyone who's been listening, this faction in the Israeli state has been openly declaring their objective. Several convenient "leaks" have already been telescoping the plan for weeks.
First, it was lawmaker Amir Weitmann's think-tank paper proposing "A Plan for the Resettlement and Final Rehabilitation in Egypt of the Entire Population of Gaza." He presented a full analysis of the economics of ethnic cleansing and how to carry it out in a cost-efficient manner.
Then came the revelation of the "secret" deportation directive drawn up by Israeli Intelligence Ministry laying out a multi-step program for systematically pushing Palestinians out of Gaza and into the Egyptian desert on the Sinai Peninsula.
They floated trial balloons and told the world exactly what they were planning to do. They did so in order to gauge reaction, wondering if the world—and especially their U.S. ally—would intervene to stop them. But Washington didn't blink.
So, now they are proceeding to carry out the scheme, and leaders like Smotrich are bold enough to openly say so.
Meanwhile, as the calls for a ceasefire become louder every day, President Biden still says "No possibility."
The power of the war-profiteering industries on Wall Street and the political muscle of the Israeli lobby in D.C. are apparently too strong to resist. In the face of growing opposition to the war, the president is sticking by Netanyahu—a strategy that risks splitting the anti-MAGA coalition and endangers his own chances of re-election in 2024.
No one can honestly say the true intentions of the right-wing elite around the Israeli prime minister are in doubt; Israeli claims of self-defense ring hollower than ever. If the U.S. doesn't stop its ally, there will be plenty of guilt to go around for this unfolding genocide.
As with all opinion and news-analytical articles published by People's World, this article reflects the views of its author.
We hope you appreciated this article. At 

People's World

, we believe news and information should be free and accessible to all, but we need your help. Our journalism is free of corporate influence and paywalls because we are totally reader-supported. Only you, our readers and supporters, make this possible. If you enjoy reading 

People's World

 and the stories we bring you, please 

support our work by donating or becoming a monthly sustainer today

. Thank you!