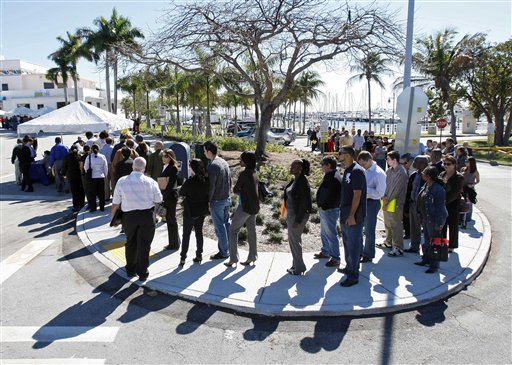 Passage of a jobs bill and extension of unemployment benefits was delayed again in the Senate Monday and today for a combination of reasons – a three-foot snowstorm and maneuvers by conservative lawmakers that an AFL-CIO blogger called "snow madness."
Only three senators showed up to vote on anything and the House yesterday cancelled all votes because of the weather.
The fate of the extension of unemployment benefits that the labor movement has been demanding is one of the major issues that remained unresolved.
Last year the Senate unanimously approved a measure that extended unemployment benefits from 79 to 99 weeks. But Republican lawmakers are signaling that the "party of no" may block an extension this year, particularly if it is included in a bigger jobs package.
Conservative Democrats favor extending the benefits temporarily, not for the whole year.
Liberal Democrats, noting that employers are not hiring, favor extending the benefits for the rest of the year.
Unions and their allies, meanwhile, are far from happy with what they see as the piecemeal approach Congress is taking so far on the unemployment crisis.
The labor-backed Economic Policy Institute says a much broader program is needed than anything Congress is considering right now.
Roger Hickey, co-chair of the Campaign for America's Future, said Monday, "There's an assumption that the economy is on the mend, an assumption most unemployed Americans don't share."
"Equally troubling," Hickey said, is that "the usual liberal warriors in the Senate of reform and pro-worker policies haven't stood up for large-scale programs."
One of the biggest failures, many say, is a lack of focus on the jobless crisis in the hardest hit low-income communities.
Writing in The New York Times yesterday, columnist Bob Herbert noted, "What you're not hearing from the politicians and talking heads is that joblessness and unemployment in America's low-income households rival their heights in the Great Depression of the 1930s and in some cases are worse.
"The same holds true for some categories of blue-collar workers. Anyone who thinks this devastating problem is going away soon, or that the economy can be got back on track without addressing it, is delusional."
Although the official unemployment figures in January showed a statistically insignificant downward tick, they actually increased dramatically for African Americans. The jobless rate for Black men over 20 rose a full percentage point to 17.6 percent.
Jared Bernstein, a leading White House economic adviser, defended the administration's record on the jobs crisis.
"Our policies, most notably the Recovery Act, have helped us move from a situation where we were losing a nightmarish 750,000 jobs per month, to one in which we've pulled back from the economic abyss and are moving close to adding jobs, on net, on a regular basis.
"But," he added, "we can't kick back for a moment and have to hasten the arrival of more robust jobs growth with a set of measures targeted at the facts holding back job creation."
Meanwhile, there were more signs this week that a bipartisan group of lawmakers in Congress will be anything but helpful in the job creation effort. Some are pushing deficit reduction and tax breaks for the rich as the way out of the crisis.
Claiming "a working couple making $250,000 is barely able to make ends meet," Rep. Mike McMahon, a conservative New York Democrat, signaled he was joining Republicans who favor those tax breaks.
Blue Dog Democrats are signaling that they intend to push hard for government spending freezes.
In a move that will challenge both their leaders and the president, a group of Democratic House centrists will reportedly soon introduce a bill capping discretionary spending at specific levels, The Hill reported yesterday.
Dean Baker, director of the Center for Economic Policy Research, derided the so-called deficit hawks, saying, "In spite of their whining, history and financial markets tell us that the deficit and debt levels that we are experiencing and currently seeing are not a serious problem.
"The story," Baker declared, "is that we are forcing people to be out of work – unable to properly care for their children, because billionaire investors are able to buy their way into and control the public debate. The reality is that we have an unemployment crisis today, not a deficit crisis."
Photo: Job seekers line up to register at a City of Miami job fair, Jan. 26. Florida's unemployment rate is at 11.8 percent, the highest in Florida in almost 35 years. Nearly 1,087,000 workers were searching for a paycheck in Florida in December. (AP/Alan Diaz)