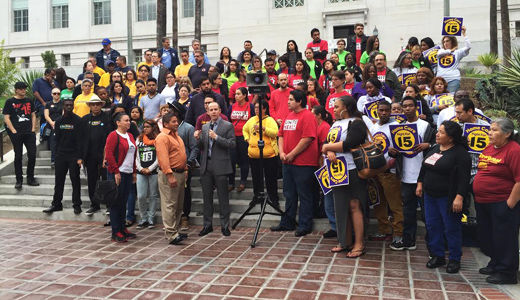 LOS ANGELES – The City Council has voted to raise the minimum wage to $15 an hour by 2020, for all workers in this city. Beginning July 1, 2016 the minimum wage will go up to $10.50, which is an increase of $1.50 for workers making the current minimum wage of $9 an hour.
It will go up gradually until 2020 when it will reach $15 an hour. Although many restaurant owners lobbied for including tips as part of the wage and some members of the council were considering it, city lawyers noted that such a move would be against the law. Tips are not guaranteed wages and rarely make up enough to comprise even a minimum wage.
The City Council also established a Wage Enforcement Division empowered to levy penalties for wage violations occurring within the City of Los Angeles. Councilman Paul Koretz noted that Los Angeles is the capital of wage theft. Twenty five million dollars a week, he said, are stolen from workers in Los Angeles. "We have to at some point criminalize wage theft," he said. "You can go to jail for stealing a pair of socks but steal millions of dollars from your employees and get off scot free; we have to change that."
A coalition of unions and community groups came together and waged a nine-month fight to raise the minimum wage and to demand enforcement of laws against wage theft. Meetings and rallies were organized in this effort.
The City Council, at the urging of these groups, held hearings throughout the city of Los Angeles. Members heard testimony after testimony from working men and women who in many cases have to work two jobs to make ends meet, or who have to make tough decisions on what their paycheck will cover each month. Women fasted for 15 days to demand a raise in the minimum wage.
Councilman Bob Blumenfiled commented that for many years the real value of the minimum wage has been going down. "That changes today," he declared, "because we are including in the minimum wage raise a cost-of-living increase that will keep up with the Consumer Price Index."
(story continues after a video featuring Rusty Hicks, Executive Secretary-Treasurer of the Los Angeles County Federation of Labor, AFL-CIO.)
Councilman Carren Price, who has been a leader in the push on the council to raise the wage in Los Angeles, said, "This is the most important vote I have taken and will take today. It's time for us to raise the wage, let's do it now!"
Small businesses with less than 25 employees have an extra year to comply and non-profits can seek exemption but must meet certain requirements not easily obtainable.
The struggle continues as mandated paid time off was left off the vote for further study. Many workers go to work ill because they cannot afford to miss a day of work and they tend to use more emergency services because they wait until they or a family member is very sick to seek medical attention. "This would all be avoided if workers had time off with pay," said Marta Munoz of Morena, a strong supporter of the measure.
"What you are doing today is the giving the opportunity to three quarters of a million people who are working hard each and every day in Los Angeles to restore their lives," declared Rusty Hicks, the Executive Secretary-Treasurer of the Los Angeles County Federation of Labor, AFL-CIO. Hicks was a co-convener of the victorious Raise the Wage Campaign.
The vote in the Council to lift many Angelenos out of poverty was 13-1.
Below is a video in which a car wash worker comments on the vote to raise the minimum wage (in Spanish).
Photo: Rossana Cambron/PW