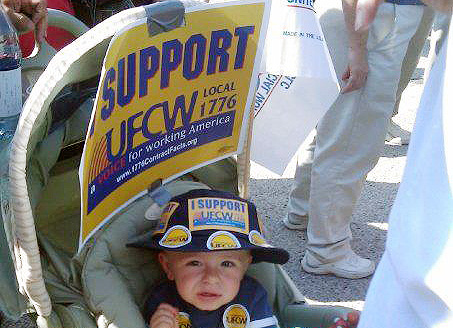 CHICAGO (PAI) – Citing the AFL-CIO's new dynamism and activism, the United Food and Commercial Workers (UFCW) formally rejoined the labor federation on August 8, leaving Change To Win, but not its organizing institute.
The re-affiliation vote, by the 1.3-million-member union's board, meeting in Chicago, came four days before UFCW's convention opens there.
UFCW President Joe Hansen said his union's leaders realized the "paramount" need for more labor unity, and the opportunity, as a result of the 2010 election campaign – one where labor and its allies got clobbered by the GOP and the radical right, in congressional and state gubernatorial and legislative elections.
Subsequent "attacks on workers brought UFCW into direct strategic partnership with the AFL-CIO and the entire labor movement. Our shared campaign revealed a dynamic and revitalized AFL-CIO and made it clear it was time for the UFCW to redouble our efforts to build a more robust and unified labor movement," he explained.
He also praised AFL-CIO President Richard "Trumka's bold leadership and strategic advocacy on key issues" such as immigration reform, fixing the Affordable Care Act to ensure workers keep their multiemployer health plans, and the campaign for a full, permanent "National Labor Relations Board that protects workers' rights."
"The UFCW is proud to affiliate with a transparent, strategic and innovative AFL-CIO – an AFL-CIO committed to bringing a union voice on the job to millions of workers from coast to coast," Hansen concluded.
Even after UFCW and six other unions left the AFL-CIO in 2005, also in Chicago, to form Change To Win, Hansen and his union kept friendly relations with AFL-CIO unions. Reports said then that many UFCW locals were distressed about the departure.
Though UFCW left Change To Win, it will stay active in the smaller federation's Strategic Organizing Center, and will "bring our AFL-CIO partners into collaboration with private-sector unions in an effort to build more power for workers," Hansen promised.
One key complaint the Change To Win unions-then UFCW, the Teamsters, the Farm Workers, the Carpenters, the Laborers, the Service Employees and Unite Here-had in 2005 was the AFL-CIO emphasized politics too much and organizing too little.
UFCW's return to the AFL-CIO follows that of the Laborers and most of Unite Here and the departure of the Carpenters for independent status. Hansen also stepped down as Change To Win chair, succeeded by Teamsters President James Hoffa. His union, the Service Employees and the Farm Workers are left in Change To Win.
Trumka welcomed UFCW back, calling it "great news for workers living in the 'new normal' of the low wage economy. A stronger, more-unified grassroots movement of working men and women is exactly what's needed to raise wages for workers and rebuild an American middle class. Together we are stronger. It's as simple as that."
Photo: UFCW Facebook page.