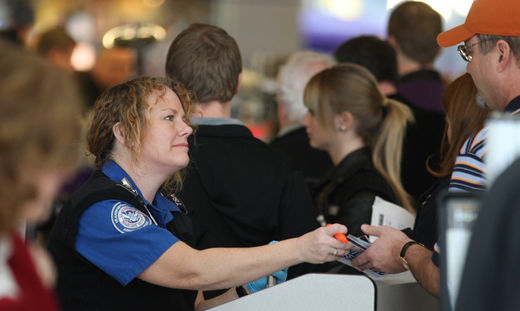 40,000 workers at 450 airports across the nation are celebrating today after choosing the American Federation of Government Employees as their union and sole bargaining agent.
Their victory ends a ten-year struggle that began shortly after 9/11 when then President Bush, on grounds of protecting national security, took away the collective bargaining rights of Transportation Security Administration employees at the nation's airports.
In the midst of unprecedented nationwide attacks on the right to join a union the workers have elected AFGE as their exclusive union representative. The 8,903 – 8,447 vote came in a runoff with the National Treasury Employees Union. In the union election earlier this year the workers had voted 8,369 for AFGE, and 8,097 for NTEU, with only 3,111 voting "no union." The runoff was necessary to achieve a majority.
"With all the attacks on unions these workers were given a choice and they said, 'We want a union," declared a jubilant Emily Ryan, an AFGE communications specialist, in a phone interview. "They said, 'We are Americans, we deserve a voice on the job, we have a right to a union and we are going to have that union."
Ryan said the victory was particularly sweet because, "In ten years the 40,000 workers have gone from having all their rights stripped away by President Bush to having those rights restored by the Obama administration, to having to fight for actual union representation, to the big victory they have just won. For them it is out of the darkness and into the light."
"We are thrilled with the election results, but more importantly we are overjoyed that the transportation security officers will have the full union representation they deserve," said AFGE President John Gage.
Also pleased, AFL-CIO President Richard Trumka said, in a statement. "Today's victory affirms the deep-seated desire of workers for a voice on the job and a seat at the table when given a free choice."
Ryan said the workers deserve credit for their willingness to fight even during the period when they had no collective bargaining rights. During the 10-year struggle to restore collective bargaining rights, she explained, more than 12,000 of them joined 40 AFGE local unions across the country. "They wanted their union to be in place as soon as they won back their rights," she said.
AFGE succeeded last year in winning one of its key battles when TSA announced that no more airports would be privatized.
Kim Adams, now a union member in Montana, said, "Within hours of our call to the union to help us save our jobs and stop the privatization of our airports in Montana they went into high gear in Washington. The airport officials in Montana told us we had no chance of stopping them but the union proved them wrong."
Veda Shook, president of the flight attendants union (CWA), said the newly union-represented security workers "play a vital role in transportation security. We count on them every day to ensure a safe environment for all our passengers and for ourselves."
Despite the celebratory mood Ryan said AFGE will remain "on guard" to defeat further attacks from the right on collective bargaining rights.
She said her union was outraged over the fact that GOP House members voted earlier this month to again strip from TSA workers their right to collectively bargain by passing an amendment by Rep. Todd Rokita (R-Ind.) to the House Department of Homeland Security Appropriations Bill.
"We are going after senators to make sure that this amendment goes nowhere," said Ryan.
The union says there is no evidence that collective bargaining rights impact negatively on national security. "Let us not forget," said Gage, "that the 9/11 police and firefighter first responders were all union members with a collective bargaining contract, and it was AFGE police at Fort Hood who didn't stop to check their collective bargaining contracts before taking down a killer."
He added: "We will not allow these corporate, right wing politicians to make being in a union un-American."
Photo: A TSA employee checks a passenger's ticket at DFW Airport in Fort Worth, Texas. Paul Moseley/Fort Worth Star-Telegram/AP