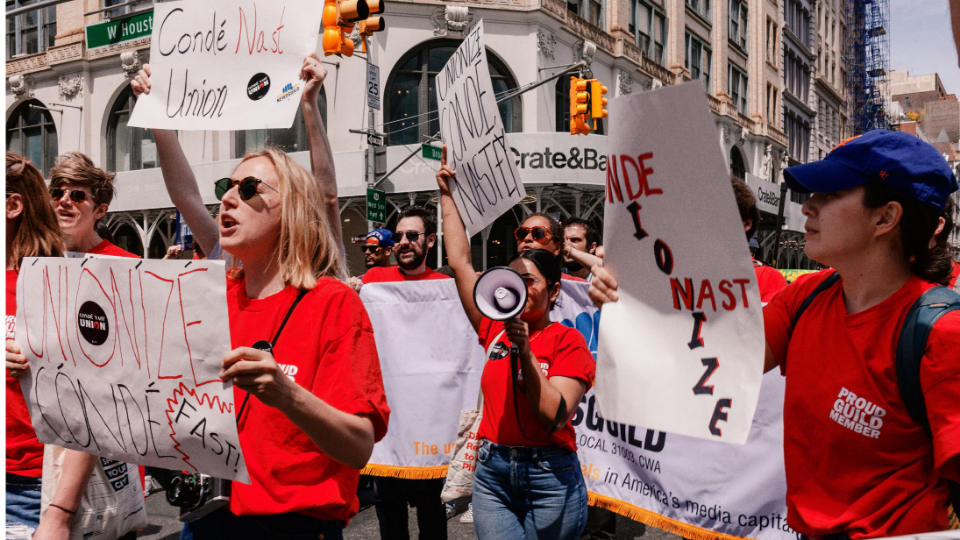 NEW YORK (PAI)—Sorry, but we can't resist this: It's now in vogue to be a New York News Guild member at Vogue.
That's right, staffers at Vogue magazine and 11 other Condé Nast publications signed so many union election recognition cards for the News Guild-CWA's New York local that bosses granted them voluntary recognition, a.k.a. "card check."
That means all of Condé Nast's properties are unionized, the News Guild said.
"WE DID IT! Condé Union has won our card count and we are officially recognized as a union! The era of 'prestige paying the bills' is over," the workers, organized under that Condé Union name, led off a series of seven tweets after the Sept. 9 announcement.
Low pay in the high-cost New York metro area, bad working conditions, erratic return-to-the-office standards, company tendencies toward subcontracting, and a say on the job to make their publications—and their work lives—better were keys to the five-months-plus organizing drive. Treating freelancers and part-timers equally was a key cause, too.
The workers gave full credit to the example set by another and even more prestigious publication, The New Yorker, whose Condé Nast workers were the first to unionize with the New York News Guild, in 2018.
The Condé Union members also lauded readers, and the general public, for support. Such backing was no surprise in The Big Apple, where workers are heavily unionized. The union warned it'll need continued support when it opens bargaining for a first contract.
"This card count is the formal recognition of our union, though we've been acting like one since day one. Our 500+ members and our 15K public petition supporters have helped us reach this milestone," a second union tweet read.
"After 5+ months of relentless organizing efforts, our card count showed we reached a supermajority of Condé employees who signed on to our union. We won in a landslide!
"Most excitingly, our 'permalancers' who have been at Condé for over a year now have official union protections. The incredible @newyorkerunion paved the way for this win!"
They're realistic about what they face, though. Bargaining, the Condé Union said, is "the next chapter of our fight…We're ready to fight for job security, better benefits, and higher wages.
"We've fought hard to get to this point, and every last employee deserves to celebrate our historic accomplishment of unionizing Condé Nast. Follow us to show your public support and help us win the best contract possible!" they appealed.
The Condé Nast Union covers full- and part-time editorial, video and production workers at Allure, Architectural Digest, Bon Appétit, Condé Nast Traveler, Epicurious, Glamour, GQ, Self, Teen Vogue, them., Vanity Fair, and Vogue, as well as Condé Nast Entertainment, said Sally Davidow, Communications Director for the New York local's parent News Guild, a CWA sector. "It also includes more than 100 subcontracted employees who work for a third-party staffing agency," added Davidow.
Condé Union organizing committee member Jess Lane told the New York Guild the workers "are ecstatic to have finally achieved this historic win, and proud to have fought to include myself and so many other long-term employees who have been unfairly divided between staff and 'permalance' work." Permalancers are permanent freelancers.
"My colleagues and I have shown through our organizing that we will not settle for these precarious working conditions. A lot of our problems exist across our industry and we hope that other companies and workplaces take notice," added Lane.
"Condé Nast's storied publications would be nowhere without the hard-working employees that put in the work day-in and day-out, and we are proud to say that they are now entirely union. We are so proud to fight side-by-side with our newest members to ensure they secure the strongest possible contract," responded News Guild of New York President Susan DeCarava.