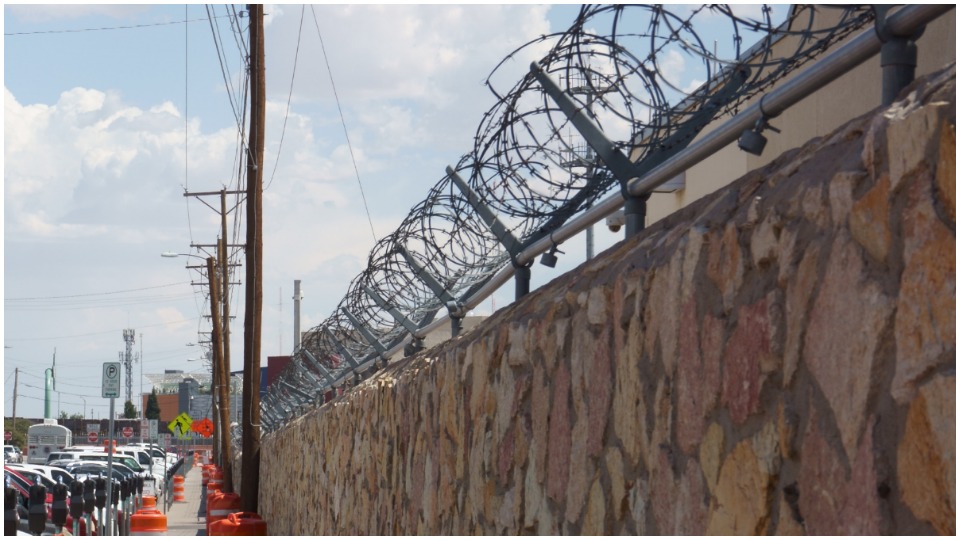 This article is part of the People's World "On the Border Series," which won a first place prize in the Best Series category at the 2020 Labor Media Awards, presented by the International Labor Communications Association.
People's World correspondent Al Neal is in the field reporting from sites all along the U.S.-Mexico border. In his dispatches, you will get a view of the towns and people caught up in Trump's "border crisis." You will see the women, men, and children impacted by the administration's immigration policies as well as U.S. foreign policy in Latin America. Other installments in the series can be read here.
"I come from Honduras, I left on April 22nd, I brought my daughter with me, because in Honduras they killed my brother, they had already killed my dad, there is no safety, two years later they killed my cousin just because. My daughter was studying and already those of the organized crime had told us that they would hurt our family, we were afraid because only myself and a brother who was handicapped were in charge of taking care of the family. My brother lost one foot when one time, in an attempt to come here, he fell from the train and lost one foot. The people from the organized crime threatened him because they knew he couldn't defend himself because of his condition. We have suffered a lot to get here…
"With immigration I was seven days in one place, they would wake us, up to five times a night to count us, they would tell us to line up, we barely managed to sleep for 15 minutes and again they came to wake us up, from there they sent us to another place and we were more than 30 in a single cell, all scrambled, there were very sick children in there, I realized that there were people who had more than two weeks without being processed, most were sick with flu and fever, the doctor only checked vital signs. My daughter brought medicine that I had bought her on the road because on one occasion she fainted in Mexico and when we arrived here, they threw the medicine in the trash. Our food was a cold sandwich and sometimes we would go days without water and with a biscuit nothing more." –Testimony of Customs and Border Patrol victim J.L. of Honduras to the Border Network for Human Rights (BNHR).  Date of incident May 9.
El PASO, Texas – It was dark when I arrived in Clint, Texas. The rural city lights twinkled in the distance, and for a moment it seemed like I was looking at a mirror reflection of the night sky—a rippled view you'd only find while staring into a cool, clear lake.
The scene of twinkling stars above and below the evening horizon, while beautiful, hid the ugliness embedded there, the Customs and Border Patrol Clint, Texas, detention center.
During daylight hours, the sprawling chainlink fence and razor-wired concrete walls of the detention center's campus can be seen pushing up right along family farms and cattle ranches. Manufactured homes and grassland surrounding it. It's strange to think how common this sight must be for residents of this town. How normal the constant green and white CBP SUV patrols must seem. And how out of sight the inhuman conditions found within those walls are.
We've heard of this controversial detention center. During June and into early July, this little-known facility became the site of media, political, and public scrutiny after immigration lawyers began reporting the abuse and unsanitary conditions within.
Children went without access to medical care, basic sanitation needs, exposed to extreme temperatures, and had minimal access to food and water.
As expected, I was denied access into the facility. And it was impossible to find a clear view of the center's inner space—I drove around it twice, hopeful.
Driving from each border town and city, I found small pockets of injustice littered in between.
We won't hear much about them. That is, unless another report of abuse makes it out to the public. And even then, it will only be a blip on the news radar—there's always something else needing attention, and from the reactions I've seen, even the worst humanitarian crisis is now just a dime a dozen.
Consequently, we've fallen back to the old way of doing things: sweeping it (injustice) under the rug.
******
The sounds of church bells and sirens welcomed me to downtown El Paso, Texas. Midmorning mass had let out, and I joined the throng of Sunday, post-church shoppers in the city's historic district—adjacent to Ciudad Juárez, Mexico.
By noon, temperatures had reached a little over 100 degrees of dry, breezeless heat. A sharp change from the sub-tropical temperatures and humidity found in other parts of the state closer to the Gulf of Mexico.
Colorful umbrellas could be seen at every street crossing and provided the much needed shade.
Street vendors were busy slinging their wares and produce, "fresh and ripe fruit here, two for four dollars or four for six, take your pick," was the usual speech given to everyone who walked by.
And little kids begged their parents for ice cream, each time they passed a strategically placed ice cream cart—always a few steps up from the pedestrian crossing, and slightly jutting out, making folks pause and redirect their steps. Plenty of time for kids to see the different types of ice pops and other treats advertised on the cart's side.
As I continued my trek toward the border crossing, I saw many of the shops and public buildings on the street featuring beautiful works of art and murals. The most famous was the "Sister Cities" mural paying tribute to the border communities found in El Paso, and Ciudad Juárez, Mexico.
It's a damn shame that such a beautiful culture, which has influenced the art, music, cuisine, and architecture of the entire American Southwest, is now seen as vile by the Trump administration and his fanatical supporters.
Before a wall was ever erected between these two cities, Mexican and American workers, farmers and families traveled back and forth, without suspicion or fear.
El Paso, while ranked one of the three safest cities in America, a fact Brandon, the Comfort Inn's night manager, was proud of, also houses one of the largest military complexes of the U.S. Army, Fort Bliss, Field division 7 of the DEA, the El Paso Intelligence Center—Joint Taskforce North, the CBP, and the CBP Special Operations Group.
It has a strong federal and military presence, made real by the number of armored vehicles I saw being shuttled across the city on 18-wheelers.
As I reached the wall, that familiar sense of dread and anxiousness lingered in the air.
One metal turnstile to get across was there, as were the many CBP field operatives—their Mexican counterparts barely visible through the cracks in the wall.
Earlier this year, the city made headlines when photos were released showing migrants and asylum seekers detained and fenced in underneath the Bridges of Americas border crossing, one of the four border points in El Paso.
They slept on gravel and rocks, withstood the elements without shelter, and were treated like wild animals.
The Department of Homeland Security, allegedly faced with the high number of migrants and asylum seekers coming over, 65 percent of whom are families with small children, began holding them in these "tent cities" while they awaited processing.
While the scene of children and parents huddling together for comfort and warmth under the bridge is no longer there, migrant families and asylum seekers are still being held in these makeshift encampments in the parking lot under the Paso Del Norte Bridge, at overcrowded CBP detention centers, and now, after pressure from Donald Trump, they will be housed and wait for their asylum hearings in Mexico.
"Given the dramatic increase in migrants moving from Central America through Mexico to the United States, both countries recognize the vital importance of rapidly resolving the humanitarian emergency and security situation. The governments of the United States and Mexico will work together to immediately implement a durable solution," reads the June 7 agreement.
"It's nothing but intimidation tactics used to harass and scare people from seeking asylum in the U.S.," said Fernando Garcia, executive director and founder of the Border Network for Human Rights organization.
Garcia, whose family immigrated to the U.S. from Mexico in the early 60s, spent the first part of his career as a photojournalist in Mexico.
"I worked with different newspapers during the 80s and 90s, but it wasn't until I ended up working in Ciudad Juárez that I came in contact with the issues of migration and with immigrants," he said. "Before that my experience with immigration was one based on people coming in on planes with visas…I'd never experienced the hardship of poor people's migration to the U.S. and that's what I saw in Juárez, where people tried to cross the border at points of entry in the late 80s early 90s—the early stages of the militarization of the border as a repose to those migrants."
After viewing the issues of migration as a journalist, Garcia moved to the U.S. and went around visiting immigrant communities on the East Coast, West Coast, Midwest, and Southwest.
"I went around in the mid-90s to try and better understand Mexican and Central American migration, to get to the 'why,' and when I came back to El Paso in 1998, that's when the decision to form BNHR came about."
The organization was a direct response to the militarization of the border and CBP.
And its mission is simple: "Facilitate the education, the organizing and the participation of marginalized border communities to defend and promote human and civil rights; to the end that these communities work to create political, economic, and social conditions where every human being is equal in dignity and rights."
"What is BNHR's main concern for migrant families and asylum seekers detained and released by CBP?" I asked Garcia.
"Well, there's always been two or three concerns we have when they are released into El Paso," he said. "First, is the concern about how to get them in touch with their families.
"The last two years, and historically people who petition for asylum would be released in the U.S. and would go live with their American family members while waiting for their asylum hearing—that's no longer happening."
He continued: "Second, in the last few months, migrants and asylum seekers have been telling us about the horrendous conditions in detention—being denied medication, food, and water, people getting sick, mistreated, psychologically abused…they were talking about a detention nightmare.
"Things that didn't happen before at least didn't happen systematically…there's always been cases of racist officers, etc., but this isn't that, this time around the entire institution has changed—from the officers to the supervisors, all the way to the top."
After interviewing over 50 released migrants, the BNHR found consistent systemic abuse of legal and human rights. Garcia's major concern is the whole DHS and CBP institution, and its trampling of human beings' Constitutional rights.
I went on to ask Garcia about the "Remain in Mexico" policy, and the effect it's had.
"Well, now the concern is either people stay in those CBP conditions or go back to Mexico," he said. "A major shift in the asylum process which is very wrong and very worrying.
"Let me just say, the components of the Mexico-U.S. agreement are shameful. Mexico should have never bowed to Trump's pressure or agree to deploy troops to the borders of the U.S. and Guatemala to detain asylum seekers and manage the immigration flow."
He took a moment to collect his thoughts and continued: "Mexico has made its case by saying they are prepared and safe to accept refugees and asylum seekers while they wait for a court hearing—this is very flawed. The Mexican government is lying about the situation, and there is a coverup taking place about what happens when they accept refugees and the conditions they live in.
"They are sent to a place with no community support, no legal support, no employment, no food. Violence is a constant in Juárez, and has increased in the number of people killed during this recent drug war."
His next words to me were a bombshell.
"Just this past week we have had at least four refugees killed in Juárez. We also just learned that a refugee family we helped from Honduras, a mother precisely, survived a kidnapping attempt of her and her children—they are being sent to experience a different nightmare.
"The only options people have is stay detained in inhuman conditions, or get sent back to Mexico with conditions equally dramatic," he said. "Refugees don't have a clear way to go, and what we are seeing today is a very aggressive attack against them by this administration."
I was speechless. What seemed like an eternity turned out to be only mere seconds of silence.
"If you want to see what's going on, we have an aid caravan going to the refugee camp in Juárez tomorrow, and you're welcome to join us," Garcia said.
"If it's all right with you, then count me in," I replied.
"Great, we can talk about it more at the office tomorrow."
And that was it.
We were going to Mexico.