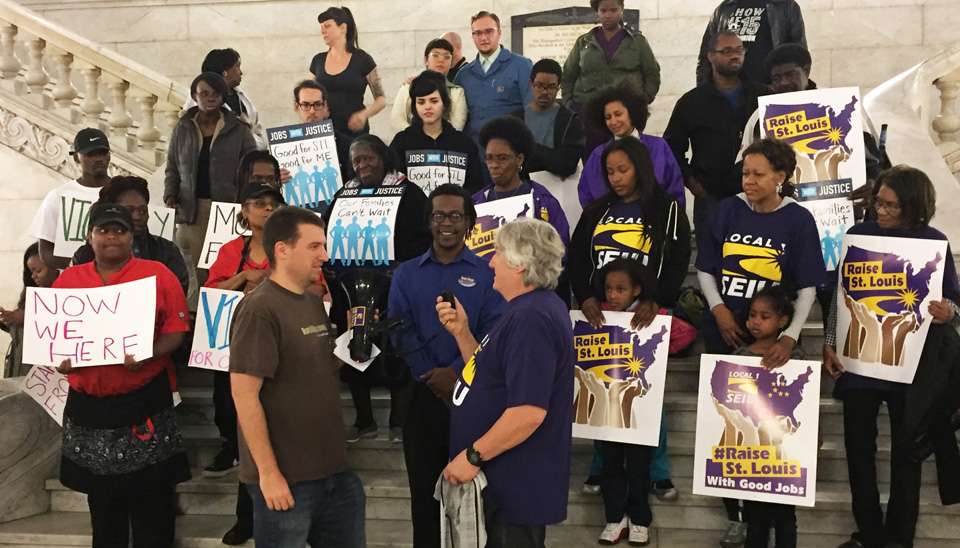 Alexis Straughter, a 27 year-old nursing assistant and mother of two, spoke with tearful eyes as she described how life-changing a city wide minimum wage increase would be for her family.
"This raise means that I no longer have to stress about how hard it is making ends meet. It means my kids will be able to get involved in extracurricular activities," She said.
Straughter, along with 30 other low-wage workers and community allies, gathered at the steps of St. Louis City Hall April 28 to celebrate the Missouri Supreme Court's decision to decline any reconsideration of its ruling upholding the $10-dollar-an-hour city minimum wage earlier this year.
The court's refusal, issued Tuesday, April 25, effectively ends the issue.
Low-wage workers throughout the city will receive around a 20% pay increase in the coming weeks and the city's minimum wage will rise to $11 an hour in 2018.
St. Louis now officially joins around 40 other cities, including Seattle, Los Angeles and Chicago that have raised the minimum wage.
But some small business owners and conservative economists are fearful of the increase, saying low-wage workers will likely lose their jobs, some businesses will close, and others will relocate.
"The city already has an economic deterrent with the earnings tax, so this high of a minimum wage difference, compared to St. Louis County, is really just another big incentive for business to move," said Graham Renz of the Show-Me Institute, a conservative think tank in St. Louis.
Renz's gloomy economic outlook has been debunked multiple times.
Economist Jared Bernstein, a former chief economist to Vice-President Biden, writing in the Washington Post last year explained that studies of San Francisco and Santa Fe, two cities with the longest history of having a higher minimum wage, revealed no statistically significant negative effects on employment or hours (including in low-wage industries.)
Back at City Hall, Rebecca Bolte of buttonmakers.net, a small business specializing in custom button making, supported the increase and reassured other small business owners that this raise would benefit them and city in the long-run.
"I know many small-business owners that already pay above the $7.70 state minimum. This is not going to hurt us, in fact, this is going to allow us to grow our local economy because low-wage workers will be able to afford buying local from now on."