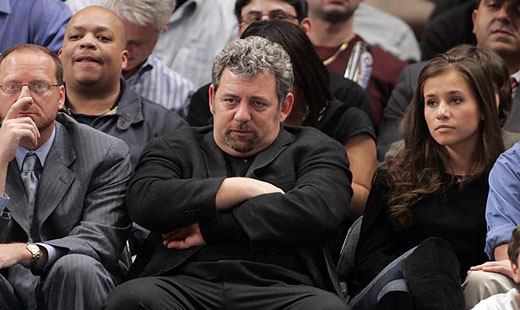 James Dolan, the owner of the New York Knicks, has often faced criticism for his front office decision making and the team's lack of on-court success. Journalists allege that they have faced repercussions for such criticism, including limited access to players for interviews. Earlier this year, Dolan threw a temper tantrum and temporarily fired a Madison Square Garden employee who didn't recognize him.
The Knicks have not won an NBA title since 1973, have had six head coaches over seven seasons (including paying coach Larry Brown $28 million in salary/contract buyout for one year of coaching), and have signed mind-boggling contracts with players who weren't worth the cost. Yet when it comes to Dolan's employees at Cablevision (fifth-largest U.S. cable operator by subscribers), he has a full court press going against their demands for a living wage and union recognition.
In January 2012, over 250 Cablevision employees in Brooklyn, NY voted to unionize and be represented by the Communication Workers of America. Since then, attempts to negotiate a first contract have been stymied by Cablevision's union busting tactics. These include hiring an anti-union firm and requiring workers to attend anti-union meetings. The company created a "Why Union Free" website and gave raises to all technicians except those involved in the organizing effort. This had the dual impact of illegally punishing the Brooklyn workers while also trying to influence workers in the Bronx who had begun their own organizing campaign.
Cablevision also took the step of unlawfully firing 22 workers at the Brooklyn facility this January because they used the 'open door' policy to speak with their managers about workplace concerns and the lack of good faith negotiations between the company and the union. Only after over 100,000 people signed an online petition were the employees rehired.
Angered by the myriad violations of labor law, the union filed complaints against Cablevision with the National Labor Relations Board. In April, the NLRB sent a complaint to Cablevision over its illegal tactics. True to form, Cablevision has tried to vacate the NLRB decision on a technicality rather than deal with the merit of the complaint. They are arguing that since two courts have ruled that President Obama's recess appointments to the NLRB were unconstitutional, the NLRB lacks a legal quorum to make decisions.
To put pressure on Cablevision and James Dolan, sports fans and union supporters have been asked to sign a petition demanding that the NBA keep the 2015 All Star Game out of Madison Square Garden, a facility that is also owned by Dolan. The NBA may have worse owners (looking at you, Donald Sterling) but Dolan's actions are similarly reprehensible.
Photo: James Dolan (center)