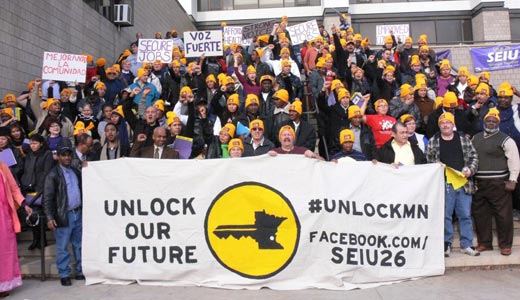 MINNEAPOLIS – Negotiators for Twin Cities janitorial contractors and security contractors are seeking deep contract concessions from SEIU Local 26. Both the janitorial contract, which covers 5,200 workers, and the security contract, which covers 1,300 workers, expired Dec. 31, 2012.
To inform the public, the union marched today through downtown Minneapolis skyways to highlight the workers' struggle for a fair contract. Hundreds of SEIU Local 26's janitors and security officers had marched through the skyways on Dec. 17, calling on the 1 percent to support living wage jobs and health care for their families.
The janitorial contractors seek wage cuts for more than half their workers, Local 26 reported. The contractors' proposal includes moving all suburban janitors to part-time status, which would mean significant cuts in wages and benefits.
Three years ago, union janitors won minor wage increases. With the latest proposal, even full-time janitors will need to rely on public assistance, the union warned.
The security contractors, meanwhile, have not yet offered a wage and benefit proposal. However, they have proposed contract language changes that the union says would wipe out worker gains achieved over the past decade.
"The proposals from the employers are moving the workers backward and locking them into poverty, rather than helping them move forward," said Javier Morillo-Alicea, president of SEIU Local 26.
The unionized janitors and security officers work for contractors servicing buildings that house the Twin Cities' largest corporations and government offices.
"I'm fighting for my family, green jobs, and the 99 percent," said Katra Arale, a Somali immigrant who works as a janitor at the Hennepin County Government Center in Minneapolis. Arale was one of hundreds of Local 26 janitors and security officers who marched with community allies through the downtown Minneapolis skyways on Dec. 17.
Their message: "We aren't just fighting for janitors and security officers, we're fighting for the whole community."
The janitors' and security officers' contract campaign's slogan is "unlock our future." They're calling on the 1% who lead Twin Cities corporations to unlock a better future for working families in Minnesota. They're demanding that the 1% be held
accountable for locking workers and their families into privation.
"The explosion of low-wage jobs is locking our communities into poverty," said Morillo-Alicea. "We need jobs to pay living wages so they can support their families, pay their mortgages and save for a better future."
In addition to these expired contracts, 1,200 security officers who work in suburban office buildings are negotiating for their first contract with subcontractors who provide services to Twin Cities office buildings.
Photo via Facebook.