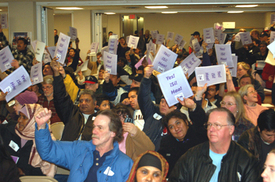 MINNEAPOLIS (PAI) — Hundreds of janitors jammed a meeting Jan. 13 to overwhelmingly authorize a strike if a settlement cannot be reached with Twin Cities cleaning contractors.
Rep. Keith Ellison (D-Minn.) joined several legislators, Minneapolis City Council members and community, labor and religious leaders at the strike authorization meeting.
"This fight is about the future of the Twin Cities and the state of Minnesota," said Ellison. "We can choose to live in a community with part-time jobs and no benefits, or we can stand up for full-time jobs that support a family and affordable health care for everyone."
Even before the vote, the janitors' stand had an effect. Javier Morillo-Alicea, president of Service Employees Local 26, said a federal mediator called him that morning to say the employers were interested in resuming bargaining. No date was set.
"That phone call this morning is progress," Morillo-Alicea told union members gathered at the Minneapolis Labor Center. "We have to keep the pressure up. As long as there is progress, there is no strike. But we can't back down."
Local 26 represents 4,200 union janitors who clean office buildings throughout the Twin Cities. They work for cleaning contractors such as Marsden, ABM and MSI.
Key issues in the talks are health care and full-time jobs. The janitors' pay is so low that of the 2,200 members with families who are eligible for the employers' family coverage, only 14 can afford to have it, the union said.
"I work full-time, but my family is buried under medical bills," said Lucrecia Mares, a janitor in Minnetonka. "My daughter has to get a test for her stomach condition, but without affordable insurance, we haven't been able to take her to the doctor."
Support from elected officials is part of a community solidarity campaign building around the janitors. In addition, several union janitors arrived in the Twin Cities starting Jan. 16 from Chicago, Cleveland, Milwaukee, Detroit, Houston and other cities to assist in the campaign, the union said. The janitors' situation in the Twin Cities echoes what SEIU has found elsewhere, from Miami to Houston to Los Angeles: large cleaning contractors, who do business nationwide, treating janitors in a wide range of ways, city by city.
Employers are offering only a 20-cent wage increase — leaving Twin Cities janitors far below their counterparts in cities such as Chicago and Philadelphia, the union said. Contractors also rejected the union's proposal to increase the number of full-time jobs.
Union members waved placards that said "yes" in three languages — English, Spanish and Somali — and cheered as they took the authorization vote. The diverse membership includes many recent immigrants from Somalia and Latin America. In recent months, they have conducted rallies, marches and other activities to demand a fair contract through the "Justice for Janitors" campaign.
Two weeks ago, contractors left the bargaining table after giving the union what they said was their final offer. The contract between the union and cleaning companies expired Dec. 31.
Barb Kucera writes for Workday Minnesota.