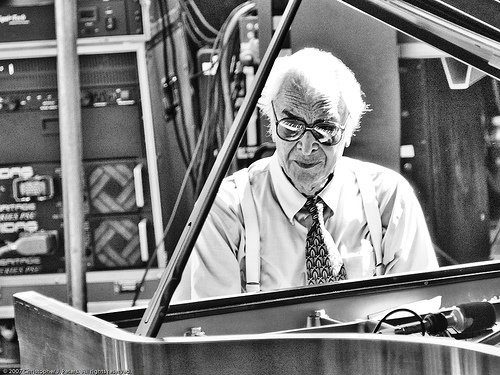 Pianist and composer Dave Brubeck died today, just one day before turning 92. Brubeck was one of the most active and popular musicians in both the jazz and classical worlds. With a career that spanned over six decades, his experiments in odd time signatures, improvised counterpoint, polyrhythm and polytonality remain hallmarks of innovation.
Born into a musical family in Concord, California on Dec. 6, 1920, – his two older brothers were also professional musicians — he began piano lessons with his mother at age four. He was 12 when his father moved the family to a cattle ranch in the foothills of the Sierras. Brubeck's life changed dramatically. Piano lessons ended and cowboy life began. He worked with his father on the 45,000 acre cattle ranch. When he was 14, he started playing in local dance bands on weekends. When he enrolled at the College of the Pacific, in Stockton, California, his intention was to study veterinary medicine and return to the ranch. While working his way through school as a pianist in local nightclubs, the lure of jazz became irresistible and he changed his major to music. Graduating in 1942, he enlisted in the Army, and shortly thereafter married Iola Whitlock, a fellow student at Pacific.
While serving in Patton's Army in Europe, he led a racially integrated band. The U.S. Army was segregated at the time, as was the South. In an interview for Ken Burns' PBS miniseries "Jazz," Brubeck talked about playing for troops with his integrated band, only to return to the U.S. to see his black bandmates refused service in a restaurant in Texas.
After his discharge from military service in 1946, he enrolled at Mills College in Oakland, Calif. to study composition with French composer Darius Milhaud. Milhaud encouraged him to pursue a career in jazz and to incorporate jazz elements into his compositions. This cross-genre experimentation with like-minded Milhaud students led to the formation of the Dave Brubeck Octet in 1947.
In 1949, Brubeck with Cal Tjader and Ron Crotty, fellow Octet members, cut their first award-winning Dave Brubeck Trio recordings. After suffering a near fatal diving accident in 1951, Dave formed the Dave Brubeck Quartet with alto saxophonist Paul Desmond, who was also a member of the Octet. The legendary Brubeck-Desmond collaboration lasted seventeen years and beyond.
The Dave Brubeck quartet's recordings and concert appearances on college campuses in the '50s and early '60s introduced jazz to thousands of young people. The quartet's audiences were not limited to students, however. The group played in jazz clubs in every major city and toured in package shows with such artists as Duke Ellington, Ella Fitzerald, Charlie Parker, Dizzy Gillespie and Stan Getz.
In 1958, the Quartet made their first of many international tours. The U.S. State Department sponsored the Quartet's performances in Poland, India, Turkey, Sri Lanka, Afghanistan, Pakistan, Iran and Iraq. The 1959 recording "Time Out" experimented in time signatures beyond the usual jazz 4/4. To everyone's surprise "Time Out" became the first jazz album to sell over a million copies and "Blue Rondo a la Turk" and "Take Five" (now in the Grammy Hall of Fame) began to appear on jukeboxes throughout the world. (Article continues after video.)
Throughout his career Brubeck experimented with integrating jazz into classical forms. He performed as composer-performer with most of the major orchestras in the United States and with prestigious choral groups and orchestras in Europe and America. Brubeck cited as some of the highlights of his career the premier of his composition "Upon This Rock" for Pope John Paul II's visit to San Francisco and the performances of his mass "To Hope! A Celebration" in St. Stephan's Cathedral in Vienna and in Moscow with the Russian National Orchestra and Orloff choir.
In the '80s Brubeck led a quartet that featured clarinetist Bill Smith, a former Octet member, with his son Chris on electric bass and Randy Jones on drums. This group toured the Soviet Union in 1987 and along with former bassist, Eugene Wright, accompanied President Reagan to Moscow to perform at the Reagan-Gorbachev Summit in 1988. Since the Dave Brubeck Quartet's first appearance at a State Dinner for King Hussein of Jordan during the Johnson administration, Brubeck has performed at The White House on several occasions and for many different presidents.
In 1969, Brubeck wrote "The Gates of Justice", a cantata based on the words of Martin Luther King, Jr. and the Old Testament. This major work was written as a way to forge Black-Jewish unity during the tumultuous upsurge of the civil rights and antiwar movements.
Yet Brubeck said the work has the universal message of unity of all. As he notes in a video about the piece, "this world could really disappear on us unless we really get down to believing in the original meaning of all the great religions and the brotherhood of man."
Brubeck's compositions include a popular Christmas choral pageant "La Fiesta de la Posada", oratorios and cantatas, ballet suites, a string quartet, chamber ensembles, pieces for solo and duo-piano, violin solos and orchestral works. A mini-opera based on Steinbeck's "Cannery Row" was presented at the Monterey Jazz Festival in 2006.
Brubeck received national and international honors, including the National Medal of the Arts from President Clinton and a Living Legacy Jazz Award from Kennedy Center.
Brubeck's most recent recording was a highly praised solo piano album "Indian Summer."
Source: davebrubeck.com
Photo: Dave Brubeck performs at the 2007 Detroit International Jazz Festival. (Conlawprof/CC)