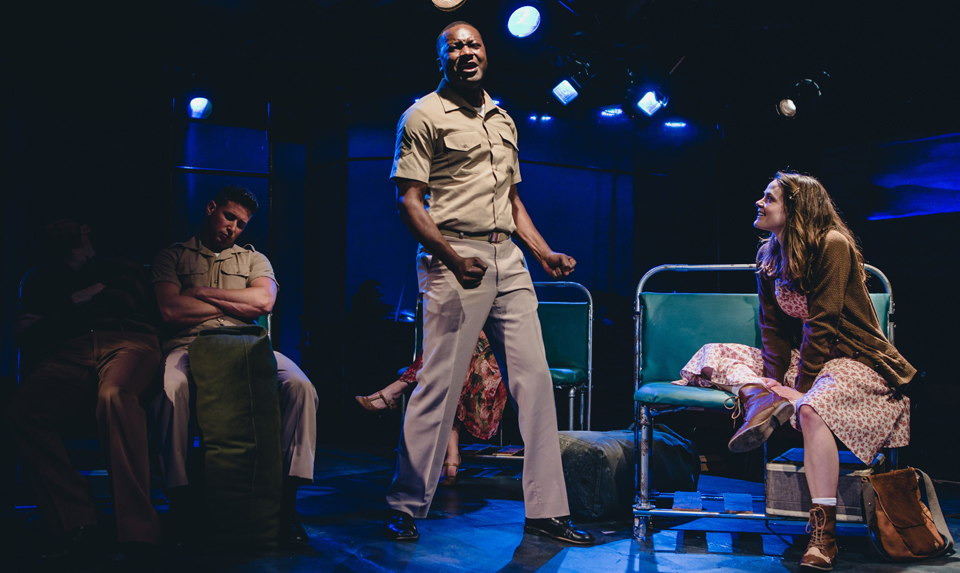 HOLLYWOOD, Calif.—Actors Co-op Theatre Company is currently offering the redemptive musical Violet, with music by Jeanine Tesori, book and lyrics by Brian Crawley, based on the short story "The Ugliest Pilgrim" by Doris Betts.
In 1964—as President Johnson is ramping up the war in Vietnam, and as racial discrimination is still common throughout the South—a young North Carolinian named Violet rides a bus through Tennessee and Arkansas to visit a TV evangelist in Tulsa, Oklahoma, convinced he can heal her facial scar that resulted from a traumatic childhood accident. Along the way, she meets two young soldiers—one white and the other African American—who teach her about love, courage and the true meaning of beauty. A rich score packed with numbers reflecting our varied American musical traditions moves the story through its challenging storms toward a sunny ending.
Now wait a minute, you may be thinking. Didn't People's World just recently review this show? Yes, we did, in a different production by the Chance Theater in Anaheim, Orange County, back in February.
At the moment I cannot lay my hands on it, but somewhere I believe there's a quote from the highly regarded music critic George Bernard Shaw—yes, though remembered chiefly as a playwright and a passionate advocate for socialism, he is still regarded as one of the finest music critics who ever wrote—to the effect that he writes in such a way that a reader fifty years from now who neither attended that performance nor perhaps ever heard nor heard of the works under review, would still find his writing interesting reading.
Now I don't compare myself to the incomparable GBS, but that idea always sits at the bottom of my consciousness as I report on culture for a People's World readership that is truly global and which may never have the opportunity to see or hear the works I am writing about. What do I have to say to them? That the tenor's phrasing in his big aria was exquisite, and that the audience thrilled to the soprano's high C's? I don't believe readers fifty years from now who come across my review in whatever form is available at the time—maybe using their universal brain implant to simply conjure it up on their virtual reality contact lenses—will have much interest in the tenor or the soprano, but might rather want to know how the work expressed the ideas and values of its epoch, whether or not it helped to advance or to retard human progress, or if it seemed to have promise as a lasting artifact of culture.
Much of the production of any era soon drops into the cultural compost heap, and that is not a criticism: That heap forms the humus that nurtures those artists and visionaries who will go on to create the enduring works by which a period will be remembered. This never-ending process surrounds us every day.
By the way, I believe we can profitably apply the same GBS philosophy not just to cultural reviews but even to news stories. What is it about the events of today that give them meaning insofar as they reverberate both backward (their historical underpinnings) and forward (their possible consequences)?
I was eager to see Violet again (opening night, May 11) in a new incarnation, because I believe that its powerhouse score by Jeanine Tesori will be regarded as, and maybe has already become, a modern major musical in the American canon, with much to say about our country and about important life issues. As the composer also of Fun Home, Caroline, or Change, and the new musical Soft Power that opens shortly at the Ahmanson Theatre in Los Angeles, she is an artist, working with important collaborators (such as, respectively, Alison Bechdel, Tony Kushner and David Henry Hwang), who I feel is making a big difference in our time.
Another production brings out discernibly distinct qualities. In the first place, whereas the Chance version was an intermissionless 105-minute stampede, at the Actors Co-op we have a two-act version with a break that allows viewers the opportunity to take stock and assess the work so far. Each version has its plusses.
A second hearing also allows a listener to pick up what s/he might have missed the first time. For example, in my review of the Chance production, I implied that Violet's healing begins with the flawed charlatan of the Tulsa preacher who despite his phoniness nevertheless gave her some helpful counsel to mull over. Now I understand that her process began significantly earlier than that, even in the very act of saving up for this trip and imagining its curative outcome, however misguided that was from the beginning.
The story still largely unfolds on the Greyhound bus, but here, instead of the passengers sitting on their luggage, we have several actual bus seats on rollers which the characters move about the thrust stage with audience seating on three sides. At times the characters are sitting right next to audience members. The walls of the cramped theatre are decked out with long bus windows, as though the whole audience is on that road trip with Violet. For after all, don't we all have our crosses to bear, various scars and wounds that still need more time to heal?
I also did not adequately pick up on Violet's constant fascination with other people's physical features as she fantasizes about having this movie star's eyes, and that one's nose and the other's lips. The creators of Violet are issuing a strong critique of our national Hollywood obsession: It's time to let go of the commercialized div/o worship and realizably appreciate the beauty in oneself and the caring people around us.
One more thing I never focused on before is the very name Violet. In the Christian calendar, this color is most prominent during the Lenten season, especially Good Friday, signifying sorrow and suffering—by Jesus, of course, during his 40 days in the desert. The color violet represents penance, humility, and melancholy, but immediately precedes Easter—the green Resurrection and the defining event of the Christian year. Violet's road trip is not only a coming of age story, and far more than a girl-meets-boy retread, but finally a journey of salvation.
In this regard it's worth mentioning that Actors Co-op defines itself as "the first Christian-based professional theatre company in the United States," founded in 1987, "dedicated to Christ and excellence in theatre…in order to be an outreach of Christ's hope." Its 2018-19 season is announced in the program: Rope, She Loves Me, Anna Karenina, Steel Magnolias, and The Christians, all but the latter with (to me, at least so far) no ostensible connection to Christianity as such, but if you can apply the messages of charity, love and hope to your work, you will likely find such significance in almost anything you do, as we see with Violet.
Richard Israel directs a great cast that includes Claire Adams (Violet), Lily Zager (Young Vi), the two soldiers Jahmaul Bakare (Flick) and Morgan West (Monty), John Allsopp (Father), Kevin Shewey (Preacher), and in a variety of smaller roles and members of the choral ensemble, Lori Berg, Benai Boyd, Patrick Cheek, Matthew Podeyn, Emuna Rajkumar, and Lauren Thompson.
From the keyboards, Musical Director Taylor Stephenson leads a terrific ensemble that includes violin, cello, guitar, bass and drums.
The production and design team includes Julie Hall (choreographer), Nicholas Acciani (scenic design), Martha Carter (lighting), Cameron Combe (sound design), and Wendell C. Carmichael (costumes).
Violet runs through June 17, Fri. and Sat. at 8:00 pm, Sun. at 2:30 pm, with two additional Sat. matinees May 19 and 26 at 2:30 pm. For tickets or reservations visit www.ActorsCo-op.org or call (323) 462-8460. Actors Co-op Crossley Theater, 1760 N. Gower St., Hollywood 90028 (on the campus of the First Presbyterian Church of Hollywood).