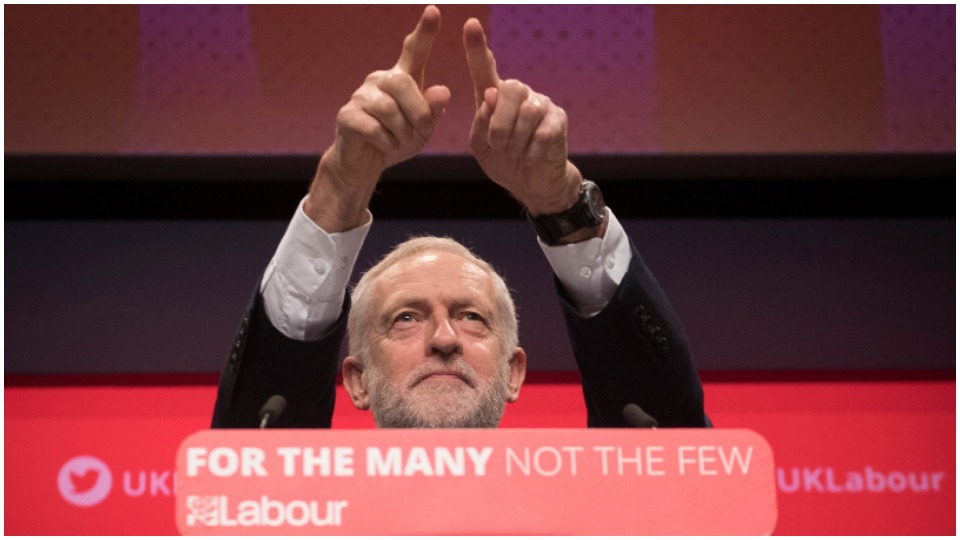 Britain's public health care system, the National Health Service, turns 70 on July 5. It was established as part of a wave of social democratic reforms in that country in the years immediately following World War II. The market for health services was swept away in 1948, with all treatment becoming free at the point of service—no bills, no insurance companies to fight. The following op-ed by Labour Party leader Jeremy Corbyn appeared in the June 30 edition of Morning Star, Britain's daily socialist newspaper. A major march was held that day to mark the anniversary of NHS and organize against efforts to privatize it. A further note to U.S. readers: In his column, Corbyn refers to Windrush, which was a ship—the Empire Windrush—that brought one of the first large groups of West Indian/Caribbean immigrants to the U.K. in 1948. Those aboard and their descendants have become known as the Windrush generation. 
I'll be marching to celebrate 70 years of the NHS today. I think grassroots pressure has created progressive political changes we've seen in this country and right across the world. Real, long-lasting change comes from the bottom up, and the NHS is no different.
The NHS is one of our greatest achievements, not just as a Labour Party but as a country. And it provides a model for other public services.
We want the national education service to be the great legacy of the next Labour government, just as the NHS is the great legacy of Clement Attlee's 1945 Labour government.
Nye Bevan's experiences with miners' welfare helped develop ideas for the NHS, and I think it's important to remember just how comprehensive the NHS was always intended to be, covering mental health, social care, and public health.
I think that under most governments there has been progress for the NHS, but Margaret Thatcher's introduction of an internal market and the 2012 Health and Social Care Act stand out as terrible moments for the NHS as it has been pushed towards privatization by the Tories.
The impacts these decisions have are plain for all to see. This year, there's been a spike in the number of deaths across the country and we've seen A&E [Accident and Emergency, equivalent to the Emergency Room in U.S. hospitals, Editors] waiting times reach their worst level ever recorded.
At the same time, there's been a big growth in non-NHS firms winning contracts—which is mirrored by the government seeking to open up the NHS to overseas corporations in trade deals with the U.S.
In my constituency, Islington North, because of cuts, there are proposals to close mental health services which provide a vital support service for local people.
I know so many people who have been helped by the vital work done by these centers. It's a disgrace that far too many people are left to suffer alone—from a health crisis that could affect any of us, at any time—because of Tory underfunding.
Under this government, the NHS is facing death by a thousand cuts, and that is no model for any public service.
It's also facing a recruitment crisis with record nursing shortages—while the government has refused visas for qualified health professionals.
The contribution of migrants to all areas of our NHS has been immense, and I think this is something recognized by people up and down the country.
It is of course the 70th anniversary of Windrush, which reminds us all of the amazing contribution made by migrants in all areas of life, all across the country.
Windrush arrived only a couple of weeks before the launch of the NHS, and there are remarkable stories of generations of Windrush families working in the NHS: The NHS, quite simply, wouldn't have achieved what it has without them. Of course, the treatment the Windrush generation have endured at the hands of this government is absolutely shameful.
Public and private-sector employers depend on migrants, and Labour will offer fair rules and the reasonable management of migration in the interests of our economy. Clearly, the NHS is right at the heart of our economy and society, and sufficient staffing is key to ensuring it can perform its vital function.
So is ending the outsourcing of NHS services and the use of private finance initiative (PFI) deals to fund hospitals.
PFI contracts are nothing short of a rip-off, transforming our public services into a profit-making operation for the benefit of the few.
As a consequence of PFI, our public services—health, rail, prisons, even our armed forces' housing—are struggling, and while companies cream off profits, people are left without the quality of service they deserve.
I hope we have a huge turnout for the march so that the government recognizes that people see what they're doing to the NHS, that people won't stand for it, and that together we can ensure that under a Labour government the NHS is restored as the properly funded, fully public health service it was always intended to be.