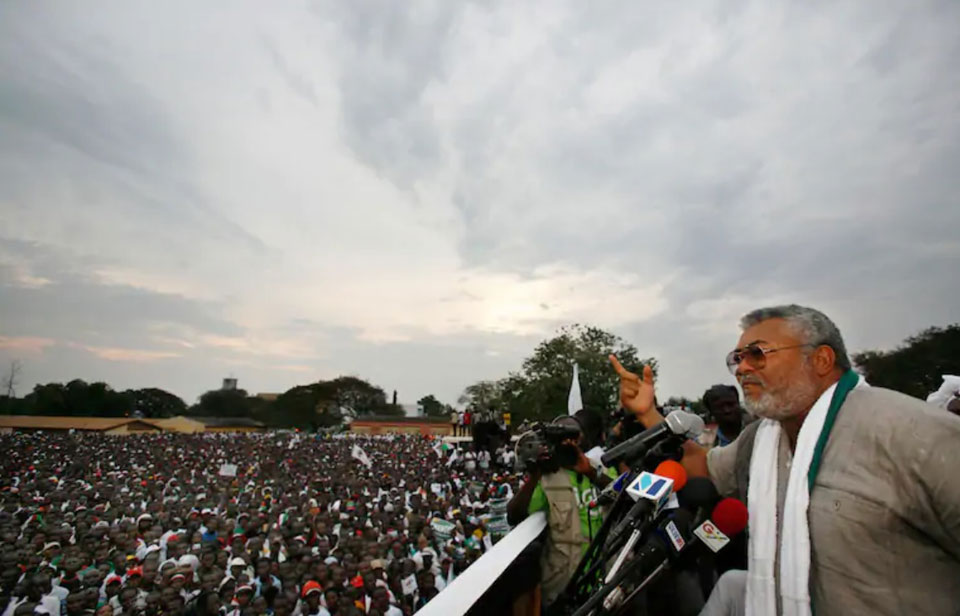 The revolutionary and statesman Jerry John Rawlings, former President of Ghana, died on Thursday at the age of 73 and after a short illness. Seven days of mourning have been declared in the West African nation and campaigning for next month's general elections has been suspended.
African Union Commission chairperson Moussa Faki Mahamat declared: "Africa has lost a stalwart of Pan-Africanism and a charismatic continental statesman."
Hours after the announcement of Rawlings' death, the Black Stars, Ghana's national football/soccer team, dedicated its 2-0 victory against Sudan to the late president. Andre Ayew, the squad's captain, explained: "I think we fought hard to get a win in honour of His Excellency J.J Rawlings. We know the history and his contribution to the growth of Ghana so the win is dedicated to him."
Affectionally known as "J.J." and "Papa J"  to several generations of Ghanaians, Rawlings first came to power in 1979 as the young leader of a small band of radical soldiers who overthrew a corrupt and inept dictatorship. About two decades later, in 2001, he handed over government to an opposition party after serving two terms as a democratically elected president.
Unlike most politicians before him, Rawlings did not hail from one of Ghana's elite families or dominant ethnic groups. His humble origins and identification with ordinary Ghanaians shaped Rawlings' politics throughout his life. "I am not an expert in economics and I am not an expert in law, but I am an expert in working on an empty stomach while wondering when and where the next meal will come from," he explained, in 1979. "I know what it feels like going to bed with a headache, for want of food in the stomach."
Rawlings shaped Ghana into the country it is today and his influence on the structure and imagination of the nation is second only to that of independence hero and founding-president Kwame Nkrumah. Both Nkrumah and Rawlings were vilified as "dictators" during and after their presidencies by ethnocentric and right-wing political parties, the ancestors of Ghana's current ruling National Patriotic Party (NPP). Though they opposed the socialist and Pan-Africanist policies of Nkrumah in the 1960s and Rawlings in the 1980s, these reactionaries were forced belatedly to acknowledge the profound accomplishments and public adoration of both leaders. In recent years, the NPP has abandoned its historic animosity to Nkrumah and recognized Rawlings as a revered elder statesman. Indeed, Rawlings remained wildly popular across Ghana, as evidenced by the masses of youth who cheered him at rallies of his National Democratic Congress (NDC). He is also respected across the African continent for Ghana's undeniable economic and political transformation under his leadership.
Rawlings was born on June 22, 1947, to a Ghanaian mother and a Scottish father in Accra, then the capital of the Gold Coast colony. On March 6, 1957, Ghana won its independence from British colonial rule under Nkrumah who pursued massive development projects, industrialized the economy, and allied with socialist nations. Under Nkrumah, Ghana actively supported liberation movements fighting for freedom from European colonial rule across the continent and emerged as a center of Pan-Africanism. Though he survived several assassinations attempts and other terrorist attacks by neo-imperialist forces, Nkrumah was finally overthrown in a February 1966 coup supported by the United States and the United Kingdom.
The following year, Rawlings graduated from the country's premier secondary school, Achimota College, and joined the Ghana Air Force, where he rose to the rank of Flight Lieutenant. After Nkrumah's overthrow, Ghana entered a dark period of economic collapse, ethnocentric politics, and rampant corruption under a series of incompetent regimes whose leaders today are footnotes in history. During those years, Rawlings immersed himself in radical theory and politics and developed a socialist, Pan-Africanist worldview.
Frustrated by the poverty and inequality that prevailed in Ghana, Rawlings and his comrades burst onto the international stage in 1979 as leaders of what is now known as the June 4th Uprising. After the execution of three former heads of states and several military officers for the crimes of corruption and mismanagement, the Armed Forces Revolutionary Council organized elections, handed over power to a new president, and returned to the barracks, all within three months.
Amid food shortages, spiraling inflation, and desperation among Ghana's rural and urban poor, Rawlings suddenly returned to lead the 31st December Revolution in 1981, one of the most historically important events in Ghana's history. The Provisional National Defence Council (PNDC), a joint civilian-military administration which Rawlings chaired, initially pursued socialist policies and strong alliances with the socialist world. Workers councils and neighborhood organizations modeled after the Cuban Revolution were established across Ghana. Rawlings encouraged Ghana's youth to serve the nation as volunteers and led by example, famously joining workers laying railway tracks to expedite the delivery of cocoa from the hinterland to the coast for export. He formed close friendships with revolutionary leaders like Thomas Sankara in Burkina Faso, Ghana's northern neighbor, and was a vocal opponent of the racist apartheid regime in South Africa.
The early 1980s were a tumultuous period in West Africa, as hundreds of thousands of Ghanaians were abruptly expelled from Nigeria, where they had sought employment during Ghana's lost decade of the 1970s, and drought and famine wreaked havoc across the region. Faced with these crises, on top of Ghana's collapsed economy, the result of maladministration and fraud by previous regimes, Ghana turned to western financial institutions in 1983 for assistance under the infamous Structural Adjustment Program. Though it was a bitter pill for the revolutionary leaders to swallow, Ghana gradually and remarkably emerged as a political and economic success story. The PNDC invested in the country's long-neglected infrastructure, extending electricity and water access to remote communities, connecting distant regions with new highways, and building schools and hospitals throughout Ghana. It also drafted a new constitution with input from civil society organizations. In 1992, Rawlings handily won multiparty elections, judged free and fair by international observers.
As a democratically elected president and leader of the NDC, Rawlings continued to emphasize infrastructure, health care, and education across the country, as exemplified by the establishment of the first university in Ghana's historically marginalized north in 1992. Throughout the 1990s, Ghana was hailed as a "model" for Africa because of its democratic culture and institutions and growing and dynamic economy. Rawlings was re-elected to a second, and final, presidential term in 1996 and, four years later, handed over power to the victor in the 2000 elections, J. A. Kufuor of the opposition NPP.
At the time, Rawlings was praised across Africa as a role model to other long-serving leaders who refused to relinquish power. His detractors have always sought to portray Rawlings as an unrepentant authoritarian ruler who presided over the killings of Ghanaian officials, including several judges in the early 1980s. Yet, as the study of history demonstrates, the fervor and disruptions of revolutions often result in the tragic loss of life, frequently initiated by the masses and beyond the control of the leadership, as societies are transformed for the benefit of the majority. The former elites, those who lost their privileges and power, shout the loudest about alleged human rights abuses while refusing to acknowledge the suffering of the majority population before the upheaval. Over the years, Rawlings has expressed regret for the loss of life during that revolutionary era, but most Ghanaians focus on the positive legacies of his visionary leadership: stability, prosperity, and development.
In the decades since he left office, Rawlings served as a diplomat-at-large, appointed by the African Union as an ambassador to war-torn Somalia and by the United Nations to promote volunteerism. He continued to reside in Ghana, unlike many African rulers in the past who moved abroad after losing power, and he regularly drove his own car through the streets of Accra, where he was welcomed by spontaneous crowds who would shout "J.J.! J.J.!"
Rawlings was also honorary leader of the NDC, whose candidate in the December 7 elections, former President John Mahama, is well positioned to defeat the incumbent president, Nana Akuffo-Addo, leader of the neoliberal NPP, which has presided over economic decline and sensational corruption during the past four years.
Rawlings is survived by his wife, Nana Konadu Agyeman Rawlings, also a veteran political leader, a son, and three daughters, including Zanetor Rawlings, an NDC member in Ghana's parliament.