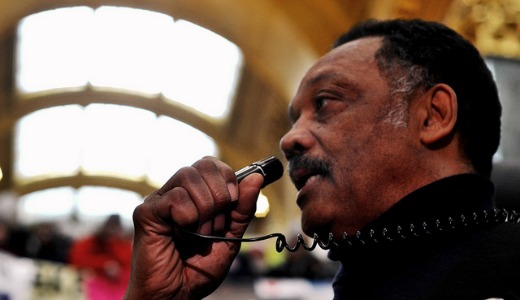 Calling Appalachia "ground zero" in the fight against poverty, Jesse Jackson called for a new federal commission to fight poverty.
Recalling the Great Society and War on Poverty waged by the Johnson administration, Jackson, speaking in at Ohio University in Athens, Ohio, said, "Only the president has the platform to ignite this debate and Congress has the moral burden to close ranks behind his leadership and lift millions out of the sinking sand of poverty."
A recent study by the Census Bureau shows a dramatic rise in poverty, with some 46 million now living below the poverty line – an almost 30-year high.
According to the Census Bureau's report, the number of people who lacked health insurance has risen to nearly 50 million, an increase due mainly to unemployment. Health insurance premiums have risen 9 percent in the last year alone.
African Americans and Latinos have the largest percentage of Americans living in poverty – nearly one in three – the child poverty rates even higher.
Jackson chose Ohio University to issue his call, because it there that President Lyndon Johnson declared his "War on Poverty" in the 1960s.
While the Great Recession is the most recent cause of increased poverty, Jackson pointed to the larger systemic problem as well. "Twenty-five million people are in need of full-time work … A good many of the poor have jobs, but receive too little pay to lift their family up from poverty. But poverty was rising even before the latest economic collapse; the middle class has been losing ground for more than 30 years."
"Poor people are invisible in our nation's capital," he continued. "Republicans defend the affluent, calling them 'job creators,' Democrats champion the middle class and [the] boldest stand with 'working families.' The poor go without mention," he said.
The majority of families in poverty however are the working poor.
Jackson however focused the lion's share of his criticism on the GOP: "You never hear these guys in Congress arguing for poor people. They're arguing for tax cuts, they're arguing for war, they're arguing for wealth. You would not think that there are poor people in their districts, and yet their people are facing the need for public housing and public transportation."
Tavis Smiley and Cornell West recently concluded a poverty tour calling for renewed attention to poor and working Americans. The tour stirred controversy for criticizing President Obama for not forthrightly addressing their problems. Jackson did not join the tour.
The Obama administration, however, argues that many of its initiatives, particularly the new health care law, assist the poorest Americans.
President Obama's new jobs bill would provide employment to 2 million persons now looking for work.
Many believe a federal jobs program would be the most effective anti-poverty program.
The AFL-CIO has called for a week of action October 10 to 16 to campaign for jobs. A teach-in featuring the campaign will be held at American University on October 12.
Photo: Jesse Jackson in an earlier stock photo. TBenZ // CC 2.0