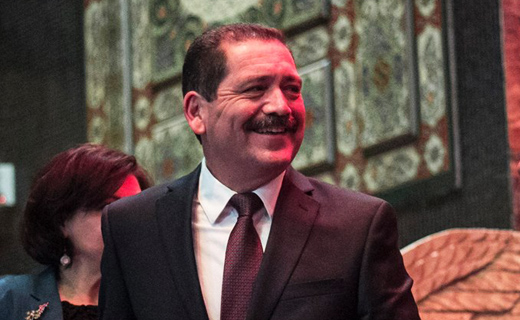 LOS ANGELES – Latino progressive candidate and Cook County Commissioner Jesus "Chuy" Garcia came to Los Angeles to raise money for his run-off election for Mayor of Chicago. Chuy's grassroots and working-class vision, along with a broad based people's campaign, has forced the current corporate and Wall Street candidate, Mayor Rahm Emanuel, into an important and historic run-off election.
Mayor Emanuel assumed he'd be easily re-elected given his corporate support, enormous advantage in cash, and having the established city Democratic Party structure behind him. The 58-year-old Garcia, a popular grassroots Latino candidate, ran a forward-looking campaign that rallied middle and low-income voters to the polls with his anti-corporate agenda.
This campaign is significant. Chuy's campaign put the blame on Wall Street for the city's budget mess, targeting Emanuel's corporate giveaways, which created massive cutbacks and job losses. Chuy took Emanuel by surprise. Emanuel's campaign had outspent Garcia's campaign 12 to one.
Garcia's strong working-class background had a profound impact on Chicago voters. His family came to the United States when he was only 10 years old. His father worked in the fields picking fruit in Texas and California. Later the family moved to Chicago, where his father worked in a cold-storage facility. The Garcia family would move into the Chicano Latino neighborhood of Pilsen. Later Garcia would be elected as the current County Commissioner with long ties to Chicago's working-class communities.
In Los Angeles Chuy stressed the need to end the corporate welfare approach to fixing Chicago's problems, which have been stepped up recently by the Rahm Emanuel administration. The large Latino audience in L.A. strongly supported Chuy's support for comprehensive immigration reform.
Chuy asked the audience to join him in making history with this groundbreaking campaign. If elected, Chuy Garcia would be the first Latino mayor of Chicago. A special appeal was made for sustained financial backing for his campaign, and the candidate stressed the need for a strong voter turnout. The Garcia campaign raised over $200,000 in L.A., with commitments still coming in. The runoff election is set for Apr. 7.
Photo: Garcia for Chicago Facebook page