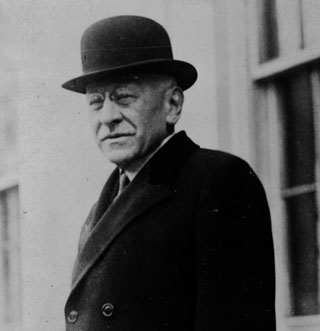 Aviva Kempner's new documentary film Rosenwald is the incredible story of Julius Rosenwald, son of an immigrant peddler who never finished high school yet rose to become head of Sears and Roebuck.
No ordinary capitalist, Rosenwald was deeply affected by the plight of African Americans in the United States, whom he came to see akin to the sufferings his own relatives endured under the the pogroms of tsarist Russia.
The filmmaker has up to now largely concentrated on making documentaries with Jewish content. She made Partisans of Vilna, about the valiant Resistance fighters of World War II (Vilna is the Yiddish name for the city of Vilnius in Lithuania).She also wrote, directed and produced The Life and Times of Hank Greenberg, an award-winning film about the Jewish baseball player who fought anti-Semitism in the 1930s and 1940s. In 2009, she released Yoo-Hoo, Mrs. Goldberg, a 90-minute documentary on Gertrude Berg, one of America's favorite radio and television personalities, who starred in an original situation comedy, "The Goldbergs."
Inspired by Booker T. Washington and the traditional Jewish commitment to repairing the world (tikkun olam), Rosenwald transformed himself during the first half of the 20th century into a thoughtful, progressive philanthropist and civil rights advocate. With his offer of matching grants, he launched the establishment of YMCA residences that would be open to African Americans, allowing them to move from the oppressive rural South to cities and good jobs. The Rosenwald Fund disbursed generous grants and helped foster the careers of what we can see now as a catalogue of black writers and intellectuals such as W.E.B. DuBois, James Baldwin, Langston Hughes, the painter Jacob Lawrence, and the captivating contralto Marian Anderson.
New York Times reviewer Daniel Gold captures the film's essence, noting that Rosenwald's affiliation with Booker T. Washington produced broad results on the grassroots level. The philosophy behind their work together included "sweat equity" in countless African-American communities throughout the Jim Crow South of their day. Together they built over 5,300 Rosenwald schools.
As noted in the Times, "At one point in the pre-civil rights era, it was estimated, one in three black youths in the South attended a Rosenwald school."
Kempner wrote, produced and directed the film, which includes commentary by leading historians, civil rights leaders such as Julian Bond and John Lewis, and Rosenwald family members.Former Rosenwald students such as Maya Angelou and Democratic Representative John Lewis of Georgia remember the healthy environment of their formative years in Rosenwald schools. Kempner draws a stirring portrait of an extremely wealthy yet modest and moral man, rescuing him from oblivion for modern audiences.
Kempner also devotes attention to other aspects of Rosenwald's life such as his influence in helping found the NAACP; with the Tuskegee Institute and World War II's Tuskegee Airmen; as well as his mark on affordable middle-class housing for Chicago's African-American community.
Julian Bond called the film "A great American saga of interracial cooperation." CBS Radio has hailed it as "A powerful Civil Rights story engaging both the heart and the head."
As Gold noted: "If Rosenwald is not well known today, that is partly because of his belief that foundations should not be self-perpetuating; The Rosenwald Fund closed in 1948, 16 years after his death."
With Rosenwald under her belt now, Kempner has turned to co-writing and producing Casuse, the story of Larry Casuse, a young Native American activist who kidnapped the mayor of Gallup, N.M. to draw attention to the plight of the Navaho people and to expose the hypocrisy of the establishment.
Two thumbs up, Rosenwald!
Thanks to Eric Gordon for editorial assistance.
Photo: rosenwaldfilm.org