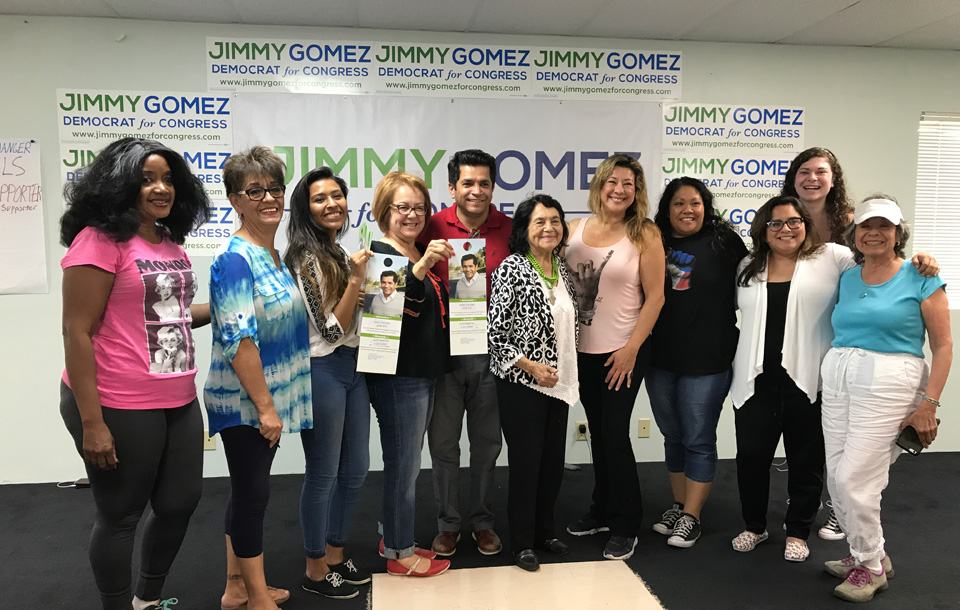 LOS ANGELES—Turnout was expectedly light in the special election held Tuesday, June 6, in Congressional District 34, encompassing downtown Los Angeles and adjacent areas including Koreatown, Eagle Rock, Highland Park and Boyle Heights.
California Assembly member Jimmy Gomez, 42, won a plurality in the recent primary election held to choose a replacement for long-serving Congressman Xavier Becerra, whom Gov. Jerry Brown tapped as the new state attorney general. His runner-up, a Korean-American named Robert Lee Ahn, 41, scored well in the Korean-American population in the district, but that represents only 6 percent of the area's demographics. The district is mixed racially and ethnically but with a preponderance of Latinos and especially Mexican Americans.
In this East L.A. district, 91 percent of the population are people of color. It is one of the poorest districts in the L.A. area, and the one that most benefited from Obamacare, with a significant reduction of the uninsured. It has had Democratic Latino representation in Congress for many decades.
Gomez is a lifelong Democrat, endorsed by the Democratic Party and various caucuses within and around it, such as Democracy for America and Our Revolution, as well as most of the major unions, Sierra Club, immigrant rights groups, Equality California, Planned Parenthood Action Fund, and the Los Angeles Times.
Ahn, a former L.A. city planner, only recently became a Democrat; for most of his adult life he had been a registered Republican. C.D. 34 is the only district in Southern California that supported Bernie Sanders in the Democratic presidential primary, so Ahn's chances as a Republican would have been extremely slim. A list of his donors reveals that Republican money still went his way, as his positions on the most critical issues consistently fell to the right of Gomez.
The California State Senate recently passed SB 562, which would create a universal, single-payer health care system in California if it passes the Assembly and if it is signed by the governor. Even passing the Senate was a major accomplishment, and Jimmy Gomez played a key role in making it possible as one of the bill's key co-authors. His election presents an opportunity to make the Democratic Party in Congress more progressive, and build the momentum for single-payer, Medicare for All nationwide. Support for single-payer health care may soon become a default position for all Congressional Democrats, and could be a leading issue in the 2018 midterm elections.
Jimmy Gomez also helped pass a statewide $15 an hour minimum wage law and wrote the bill that expanded paid family leave. He's gotten laws passed protecting immigrants and Planned Parenthood.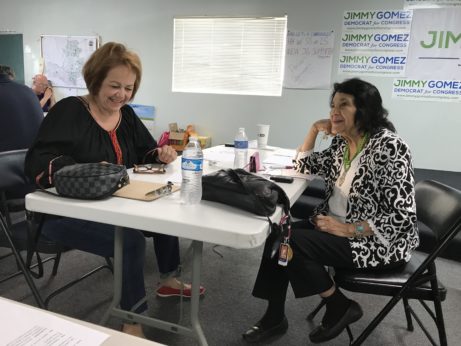 Phone banking with the stars
Helping Gomez to win this critical election, I crossed downtown L.A. from the Westside to the East to do some phone banking on Monday, the day before the election. This was going to be a low turnout election, so clearly every vote would count.
Campaign headquarters in Highland Park, in Northeast L.A., was a spacious room in a commercial complex, with tables set up for callers and a generous supply of caloric snacks and coffee. When I arrived the troops were thin, and I settled down to a table in the back where I could hear better against the hum of other callers and the many private conversations among old friends who met up there.
I had 14 pages of Democrats in the district to call, but most of them were NH—Not Home—so I had few live conversations, and we were instructed not to leave messages. From those people I did reach, apparently their phones have been ringing like church bells on a wedding day with calls for Jimmy Gomez, and that got pretty annoying. The campaign concluded that voters would rather not hear any more.
That's why some electoral activists, like Diego, who came in shortly after me, preferred precinct walking to phone calling. "You just get this little face-to-face opening and you can really have a conversation," he said.
A couple of campaign workers decided they needed my table to work on (closer to the coffee machine, I suspect), so I was displaced to another more central table in the room. At the next table to me, I could hear a sweet old lady on her phone.
"Hello, my name is Dolores Huerta, and I'm calling for Jimmy…." Yes, it was indeed the one and only, the iconic co-founder of the United Farm Workers, and one of America's great progressive standard-bearers, still going strong at the age of 87! I had met her once before, in 1999, when the Southern California Workmen's Circle/Arbeter Ring, which I headed up at the time, presented her with our headliner social justice award at a fundraising banquet. She remembered it well.
"It's nice to see so many young people on this campaign," she told me. By this point, after the regular work day, others had streamed in—at its height by the time I left, the multiracial campaign corps numbered almost 40. "They're motivated. And I've been getting all positive calls for Jimmy."
I actually had noticed that she seemed to be enjoying a higher success rate at talking with her voters than I was having. "How come?" I asked her—"I'm mostly getting Not Home." "They gave me the senior list," she answered.
Jimmy was there the whole day making calls himself, but he was working off lists of voters whom previous volunteers had marked Undecided. "I'm Jimmy Gomez," he would say into the phone, "and I'm calling undecided voters such as yourself to see if I can personally answer any of your questions. I could give you my 30-second campaign speech, but I'm calling from my personal cell phone to hear what your concerns are." I saw him pump his arm a few times after he felt he'd made a successful Gomez voter out of someone.
Seeing how willing he was to speak with folks, I happened to be on the phone with Luke, who had already sent in his absentee ballot. "May I ask if you voted for Jimmy?" I inquired. "Oh, yes," Luke reassured me.
"Well, he's sitting right next to me—do you want to talk with him or ask him anything? I'll hand him the phone." "Aw, thanks, no," he said, "I'm too shy."
At Dolores Huerta's table sat another political celebrity making calls. It seemed like she had mostly Spanish speakers on her list. "Yo soy Maria Elena," she'd say, "y yo soy voluntaria…." This was the estimable Maria Elena Durazo, former secretary-treasurer of the Los Angeles County Federation of Labor, widow of Miguel Contreras who held that position before her, and more recently an officer with UNITE-HERE concentrating on immigrant issues. But to the people on her phone sheets, she was simply Maria Elena, volunteer.
From time to time one of the other callers would hold out their phone and say "español?" indicating they needed a Spanish speaker for the voter on the line. Maria Elena, or Jimmy himself, or another Spanish speaker would take over the call to continue the conversa.
By around 7 I was getting kind of punchy after hours of calling, and my friend and I ended our day crossing the street for a bite of dinner.
As we left, I could still hear my fellow volunteer at the next table saying, "Hello, my name is Dolores Huerta, and I'm calling…."
The mail-in ballots will take a little longer to count, but on election night it was clear that Jimmy Gomez had won with all precincts reporting by 11 pm. Gomez won 60.12 percent of the vote, with 19,761 ballots cast for him, and Ahn got 39.88 percent, with 13,108 votes. Ahn promptly and graciously conceded the race.
Welcome to the U.S. Congress, Jimmy Gomez!