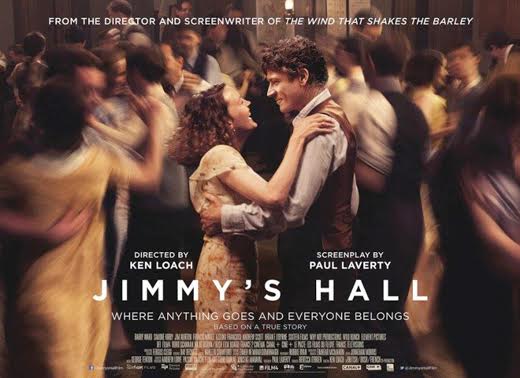 For those of you who love movies in the tradition of Sergei Eisenstein's Battleship Potemkin and Herbert Biberman/Michael Wilson's Salt of the Earth, I am the bearer of glad tidings: What is arguably the greatest contemporary leftist writer/director team in the English-speaking world now making pro-worker films is back! Director Ken Loach and screenwriter Paul Laverty's Jimmy's Hall began its national U.S. rollout earlier this month.
Based on a true story, Jimmy's Hall is about Jimmy Gralton (the handsome, charismatic Barry Ward), the only Irishman deported as an illegal alien from Ireland, the land of his birth, without so much as a trial! Of course, Gralton's true "crime" was his fight against the reactionary church, aristocratic landowners and narrow nationalism by setting up a hall where ordinary people could dance to jazz music, study art and pursue a more class conscious politics during the Depression.
It's the class struggle dimension of their outlook that pits Jimmy's Hall workers against -the narrow nationalism of the not-so-free Irish Free State of the 1930s. Here, the Loach/Laverty team return to historical terrain they already trod in the 2006 Irish Revolution epic The Wind that Shakes the Barley, with Ireland's left wing struggling with the less radicalized nationalists.
The Loach/Laverty team is in the socialist realist tradition of filmmaking and the kitchen sink school of British drama, focusing on ordinary people who do extraordinary things, inspiring proletarian protagonists who take a stand against all odds. Previously, separately and jointly, these undaunted progressives brought us the 1995 Spanish Civil War epic about the International Brigades Land and Freedom (written by Jim Allen) and jointly: 1996's Carla's Song about the Sandinistas; 2000's pro-unionization, justice for janitors Bread and Roses about Latinos on strike in L.A., starring Oscar winner Adrien Brody; the aforementioned epic The Wind that Shakes the Barley; the 2010 Route Irish about private contractors in Iraq; and Laverty wrote 2010's Even the Rain, about the Cochabamba water rebellion in Bolivia, starring Gael García Bernal.
Jimmy's Hall also contains great acting, which enlivens the mass action mise-en-scène and sensibility. As Oonagh, Simone Kirby – who has acted at the Abbey Theatre and Old Vic – possesses a smoldering sexuality, whose love and desire for Jimmy have been thwarted by deportation. Even more heartfelt is Aileen Henry, who plays Jimmy's mother. She calls to mind Vera Baranovskaya, who starred in Vsevolod Pudovkin's 1926 Soviet classic Mother, based upon Maxim Gorky's revolutionary novel. Even more so, this Irish earth mother is reminiscent of Jane Darwell, who movingly depicted Ma Joad in another immortal masterpiece of the silver screen, John Ford's 1940 adaptation of John Steinbeck's novel The Grapes of Wrath, screenplay by an Oscar-nommed Nunnally Johnson. (Darwell and Ford struck Oscar gold with their Wrath work.) As she blithely rescues Jimmy from being busted by the coppers, the scene-stealing Henry also recalls Sgt. Schultz – famous for exclaiming "I know nothing!" – in the 1960s POW TV sitcom Hogan's Heroes. Of course, Barry Ward's portrayal of the exultant rebel who loves jazz and Bolshevism has the poetry of a James Joyce novel.
This is great socialist cinema in the Eisenstein tradition of revolutionary filmmaking, a heritage that the Loach/Laverty team gloriously, lovingly perpetuates. Jimmy's Hall may be an ode to jazz, but it made me feel like singing those 1968 lyrics by the Rolling Stones, co-written by Keith Richards, whose grandfather was the first Labor Party representative of his district:
"Let's drink to the hard working people / Let's think of the lowly of birth / Spare a thought for the rag taggy people / Let's drink to the salt of the earth."
Jimmy's Hall (2014)

Director: Ken Loach
Writers: Paul Laverty (screenplay), Donal O'Kelly (play)
Stars: Barry Ward, Francis Magee, Aileen Henry, Simone Kirby
PG-13, 109 mins.
Photo: "Jimmy's Hall poster." Wikipedia (CC)