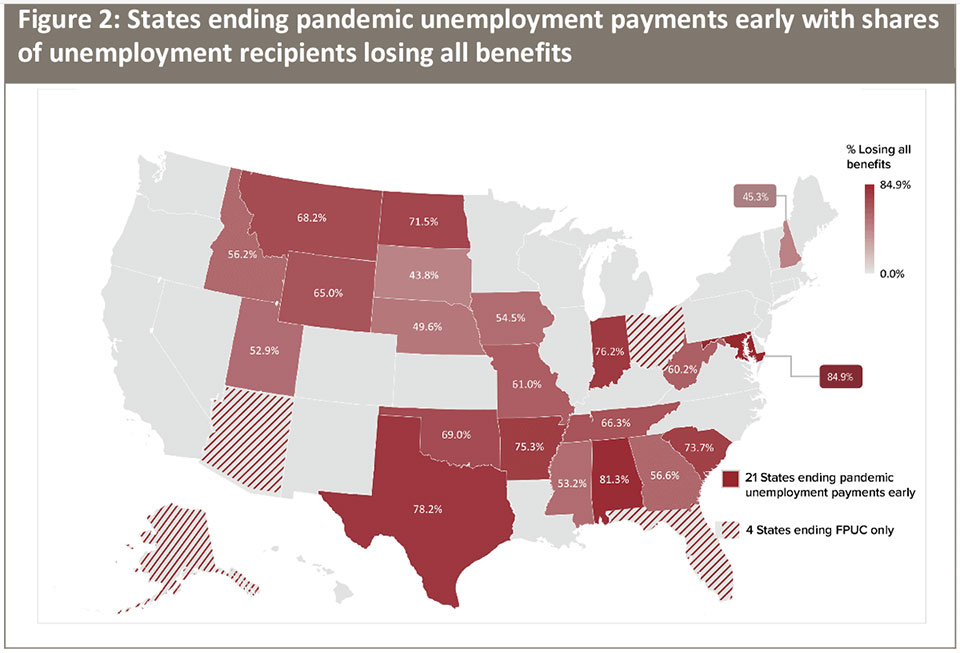 WASHINGTON—Nearly three in four workers now getting federal jobless aid—specifically the weekly $300 checks—could fall off an economic cliff in coming weeks and millions could get nothing at all, Economic Policy Institute Policy Director Heidi Shierholz and the National Employment Law Project warn.
"About three-quarters of people receiving UI (unemployment insurance) benefits are on" the two federal programs which disburse those $300 checks," Shierholz tweeted.
"So, in the 21 states where these programs are being canceled, a large majority of workers will not just lose the extra $300, THEY WILL BE CUT OFF FROM BENEFITS ENTIRELY (her emphasis)."
Jobless workers in Maryland will be the biggest losers, NELP's charts show. Some 84% will lose every aid.
Shierholz made that point about overall losses in discussing the weekly jobless benefits claims data from the Labor Department. That report showed there were 402,352 new claimants for regular state-paid jobless aid in the week ending June 12, and 118,025 for the $300 checks.
Combined, those figures rose by 83,896 claimants from the week before, indicating the economy is still recovering from the coronavirus-caused depression of last year. That depression shows up in year-to-year figures, where the new claims in 2021 were half those in comparable weeks in 2020.
But the figures that rang alarm bells for Shierholz and NELP were the numbers of checks for pandemic unemployment assistance (6.12 million) and for pandemic emergency unemployment compensation (5.16 million) in the week ending May 29. Those numbers always run two weeks behind the weekly new claims figures.
The first group is "gig" workers, independent contractors, and others who are ineligible for state aid. The $300 checks are their only jobless aid. The second group is workers who exhausted their state aid.
Both groups would fall off a cliff when the $300 check program ends just after Labor Day. But 21 governors, almost all Republicans, are pulling out of the $300 checks now or in the coming weeks. That could hit 3.606 million people right now, NELP said. And most of the losers are people of color, a NELP chart and map add.
The top five states in losers of those $300 checks—and the percentage of losers who are workers of color in each–are Texas (981,334 check losers, 59%), Ohio (484,782, 25.4%), Maryland (389,707, 57.7%), Georgia (278,122, 51.8%) and Indiana (231,790, 32.9%). The next five are Arizona, Tennessee, South Carolina, Missouri, and Florida, in that order.
All ten have GOP governors. When Maryland Gov. Larry Hogan cuts off the $300 checks on July 3, 84% of all of its jobless will lose money. #2 is Alabama, at 80%. Following are Indiana, Texas, Arkansas, South Carolina, North Dakota, Oklahoma, Montana, and Tennessee, all above 70%. The jobless aid cutoffs show "the depth and breadth of the havoc these governors," again all of them Republicans, "will wreak on their constituents with their unilateral actions," NELP added.